Everything you need to know about trail relays
Tips, advice and guidance on running a trail relay race with friends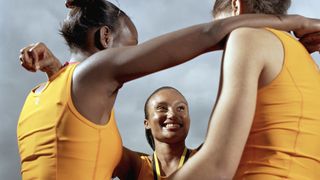 (Image credit: Getty)
Trail relays are a growing trend in sports events. You'll find trail relays popping up worldwide, but especially in America and the UK.
The basic format is that a team of runners completes loops or laps of a course one after the other. The loops could be all the same, or several different loops that start and finish at the same base camp.
In some trail relays, the loops are replaced for A to B legs and the sum of the legs totals a long-distance trail route that starts and finishes in a different place.
The traditional baton of track relay races is replaced with a GPS tracker that is handed from trail relay runner to runner.
In between each running leg or loop, teams hang out together waiting for a runner to return.
The winner in a trail relay is usually the team that finishes with the shortest overall running time. In an A to B trail relay, it is the fastest team to the finish line.
There's more to trail relays than simply running
Think of trail relay races as a combination of running, resting, recovering and socialising all in one race.
You don't need to be a long-distance runner but you should prepare for a trail relay because the challenge requires you to run repeatedly and over a period of many hours or days.
You'll need a tent so you can set up a base camp at the start and finish of each relay loop. Make sure the tent is large enough to accommodate all of your team and include some sleeping mattresses, sleeping bags and camping chairs as minimum camping kit.
Make sure you pack food and water, too. You might want to take a camping stove or cooker so you can enjoy hot food and drinks.
How to prepare for a trail relay
Training for a trail relay is similar to other trail races, except you need to think about the "in between" the running, as well as the running.
Once you have chosen your trail relay you can check out what sort of distances, elevation and terrain you will be facing on each lap or leg. Then try to simulate some of this terrain and elevation in your training.
You'll be racing during the day and night so you need to be prepared for all kinds of conditions and weather in the day and night time – and also get used to running by headtorch. Think about what the climate and temperature will be in the daytime and also consider what the conditions will be like after sunset.
Test your nutrition for the trail during training so you know what works and what doesn't.
Pack for running and also for resting. Make sure you running clothes are tried-and-tested and comfortable. Choose trail running footwear to suit the terrain and take a windproof or waterproof running jacket, or both. In between each of your loops or legs, you'll probably want to get out of sweaty clothes and into dry and warm clothing.
Although you will be running laps, with time spent back at basecamp in between, trail relays require runners to complete many miles over the course of the race. During training, you should ensure you are fit enough to run the total number of miles expected and also run repeatedly. It's a good idea to include running in the morning, at lunchtime and in the evening to test your endurance and capabilities as part of your training for trail relays.
Have a back-up plan in case one of your team gets injured. This means someone else, or several others in the team, will need to run extra loops or legs. If someone feels unduly tired or has a slight niggle or running injury, you could swap the order of the loops or legs that you each run.
Choose your team-mates carefully. A trail relay is a perfect way to socialise with friends but you also want people who are willing to keep going and who are not going to complain about the challenges of running loop after loop and through the day and night.
And choose good team name for the race. That is part of the fun of a trail relay.
How to run a trail relay
While trail relays are sociable, you should also be aware that you will be running your lap or leg solo. This means you should be self-reliant.
Use your downtime between your loops or laps to stretch, massage muscles with a foam roller, wear compression clothing, eat and hydrate.
You could take books or games for entertainment between the loops.
Pack ear plugs and an eye mask so you can get some rest in between laps if need and without being disturbed by a noisy basecamp.
Pace yourself in a trail relay. Don't give everything to your first lap because you will need to do the same again – and again.
It's not just a physical challenges. Trail relays can be mentally taxing, especially if you are running the same loop repeatedly during the day and night.
Which trail relay should I enter?
There is growing number of of trail relays taking place worldwide. We pick some of the most popular, well-known or unusual to consider.
Loop trail relays
Ragner is a big name in trail relays. The Ragnar Relay Series includes a number of long-distance running relay races. Teams of six to 12 runners complete 200 miles over two days and a night. Ragnar hosts both road and trail relays across the US and Canada. Ragner races are also set to arrive in Europe.
Frosty Moss Relay is an 80-mile running race on the Olympic Peninsula of Washington State. The course takes place on paved and singletrack trails. Teams of three or five complete 15 legs.
The American Odyssey Relay takes place on a mix of trails and tarmac. You choose your team numbers, from three to six, and there are nine legs of between 3 miles and 9.1 miles each.
In Utah, The Top of Zion Relay is a 195-mile, 24-to-36 hour, 12-runner relay race.
The Smoky Mountain Relay takes place in North Carolina and sees teams running a total of 200 miles on trails, gravel and dirt tracks.
For beginners, Lake Tahoe Marathon Relay challenges teams of runners to omplete a course of 26.2 miles along the rim of Lake Tahoe.
Trail relays: something different
Run a trail relay that takes place only at night. The Starlight Trails Relay series includes four legs of two "country" miles, but the courses vary in difficulty.
A to B trail relays see teams of four completing a route that journeys from one place to another rather than in loops or laps. For example, The Moray Way 100 Relay in northern Scotland offers a 100-mile route that is split into 12 sections of different distances and elevation. Each team must do at least three legs. The 100-mile circuit travels on trails and some roads between villages and towns from Forres to Forres. Team mates travel by vehicle to meet each runner. Find out more about what it is like to race the Moray Way 100 Relay.
Another A to B trail relays is the Endurancelife Classic Quarter – a 44-mile trail relay from Lizard's End to Land's End in southern England. The race is completed by teams of two or four.
The National Trail Relays in the UK sees teams of runner following one of 24 long-distance trails. There are 24 relays and 352 legs that total 2249 miles.
Try a "set time" trail relay, where teams run for 12 hours or 24 hours. Endure 24 is a race in Reading, England, that comprises an 8km course that teams compete on for 24 hours. The Loch Ness 24 takes place on the banks of the famous loch in the Scottish Highlands. Teams can be two to eight people with only one team member on the 7km loop course at once .
Explore new places, such as Run Slovakia, which is a 524km relay run with 7823m of elevation from Kosice to Bratislava. There is also the Lofoten Ultra-Trail relay race in Norway, which takes place in the never-ending light of midnight sun inside the Arctic Circle. The Mozart 100 is a 105km trail relay in Austria complete by teams of four runners.
Why do a trail relay?
As a team, you can achieve more together than you might be able to do on your own. For example, a 100-mile relay run is achievable for teams of runners, while relatively few people will contemplate setting out to run 100 miles solo.
No matter what team you form for the race, you'll leave the race as close friends. Running relays can really bond runners together.
On an A to B trail relay, you'll see more of a trail in a shorter time than if you were attempting to run it all solo.
All the latest inspiration, tips and guides to help you plan your next Advnture!
Fiona Russell is a widely published adventure journalist and blogger, who is better known as Fiona Outdoors. She is based in Scotland and is an all-round outdoors enthusiast with favourite activities including trail running, mountain walking, mountain biking, road cycling, triathlon and skiing, both downhill and back country. Her target for 2021 is to finish the final nine summits in her first round of all 282 Munros, the Scottish mountains of more than 3,000ft high. Aside from being outdoors, Fiona's biggest aim is to inspire others to enjoy the great outdoors, especially through her writing. She is also rarely seen without a running skort! Find out more at Fiona Outdoors.