External frame backpack vs internal: is old school now obsolete?
We explain the differences and benefits of an external frame backpack vs internal to see if there's a solid argument for bringing back the traditional pack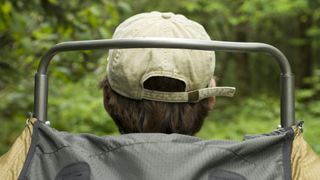 (Image credit: Joel Carillet)
It's funny how things move on. Youngsters probably wonder what on Earth the save icon is on a Word document. "What's a floppy disk?" they ask, eyes full of wonder. Speaking of which, Word documents are pretty much old school now – all Google Docs these days, ain't it? It is an actual human writing this little intro (for now), but increasingly sophisticated AI tech is set to automate much of the world of work.

What AI can't do for you, is carry your kit on a thru hike. However, hiking gear has also seen pretty rapid technological change over the years. Perhaps not on quite as dramatic a scale as the digital revolution of the 21st century but certain styles and designs are in danger of going the way of the floppy disk, existing only in the wistful memories of older hikers. "Back in my day..."
It used to be that external frame backpacks were the hallmark of an adventurous spirit. Young travelers trekking across a continent and seasoned thru-hikers explored the globe on foot with their giant packs sitting high, with foam sleeping pads and their best hiking boots lashed to the metal frames. But with the advent of internal frame backpacks, which use concealed aluminum bars that curve against your back, most hikers have surrendered their bulkier external frames for something more lightweight and compact.
Internal frame backpacks now dominate the market, and our list of the best hiking backpacks, and have become increasingly versatile and technical so therefore might seem like an obvious choice for your next hike. However, there are a few brands out there that are still investing in external frame styles, and a surprising number of hikers still seeking them out, so we decided to take a closer look at the pros and cons of external frame backpacks vs internal to see if there's a good argument for resurrecting the old beasts.
Today's best deals
Today's best deals on some of our favorite hiking backpacks.
Meet the expert
Julia has always had a love of the great outdoors. Growing up in Scotland, with the Munros of the Southern Highlands on her doorstep, she became used to carrying loads up and down hills earlier than most. She moved to America and fell in love with the majesty of the US' national parks. Now, back in Scotland, she's one of our top gear experts and still loves nothing more than shouldering a backpack and disappearing into the wild.
Does anyone still use external frame backpacks?
External frame backpacks are very rare these days
Brands like Kelty, Mystery Ranch and Vargo still sell some
You can buy used external frame packs on eBay and Amazon
Good question. Though external frame backpacks haven't quite gone the way of the dinosaur (or of wearing cotton on hikes), they're certainly a rare breed on the trails these days. Some hikers do still use them, perhaps out of nostalgia or a love of the retro vibe, but it also does give you a clue as to their durability.
That said, most of the big hiking backpack brands aren't turning out a lot of external frame packs these days. Kelty still makes its legendary Trekker 65 and sells a frame that you can attach your own pack or duffel to, Mystery Ranch stocks its Terraframe 65 and Vargo has the Exoti AR2, Bog and 50, all made with titanium frames.
Beyond that, you're probably looking at a US military backpack like the Alice Pack or Molle II. Unless you're willing to do quite a bit of scouring of the web, your best bet is to pick up a used one, or check out Amazon where a few brands seem to be selling off their last remaining external frame packs.
We've no way of knowing if backpack brands will make a U-turn in this regard, but with the advent of lighter external frames it's definitely possible. However, whether you're keen on picking up an external frame backpack, or curious about whether you finally need to upgrade to a more modern bag, here are the criteria you need to consider:
Weight and size
Classic external frame packs are heavier
Vargo's Exoti AR2 is relatively light, at 2lb 12oz
Internal frame packs are more packable and less bulky
One of the big reasons hikers were so quick to shed their external frame packs when internal frames came on the market was the number of pounds that went with it. Classic external frame packs added at least 5lb to your load, and that holds true for the Kelty Trekker 65 and Mystery Ranch Terraframe, while today's ultralight backpacking packs like the Osprey Levity 45 weigh in at a featherlight 1lb 12oz. That's a huge difference when you're walking for miles, but before you throw in the towel on external frames, Vargo's investment in titanium frames means their Exoti AR2 comes in at a very acceptable 2lb 12oz so if you are in the market for a new external frame, you're not necessarily committing to a heavyweight plod.
The bulkiness of external frames compared to internal is another factor to consider. Internal frames are more compact, sleek and frankly squishy, allowing you to more easily stow them in the overhead lockers when you're flying with camping gear, whereas the nature of the external frame makes the classic pack a little more unyielding.
Storage and load
External frame packs have more usable pockets and you can tether gear to the frame
However, gear secured outside the pack is exposed to the elements
Internal frame packs often come with straps for lashing gear
An external frame is preferable if carrying very heavy loads
Obviously in addition to weight, an important factor is how much gear can your backpack hold? In this regard, an external frame with a capacity of 65L is going to fit the same amount of gear as an internal frame with the same capacity. However, external frames tend to have a lot more usable pockets and the frame gives you a lot of real estate to securely fasten gear like your best sleeping bag to the outside of the pack. This leaves more internal space for stowage, but of course having your gear outside your pack leaves it exposed to the elements and sharp branches.
In comparison, the sleek design of internal frame packs means less pockets (and often less usable pockets), though they often have a couple of straps for lashing gear.
The robust frame of an external pack is meant to carry heavy loads, which might wear down the seams and straps of an internal frame pack more quickly, but with camping gear becoming ever more lightweight, this may soon cease to be a factor. However, if you are still hiking with heavy loads, an external frame is the way to go.
Fit and comfort
External frame packs sit away from the back, allowing good ventilation
External frame packs move around more, not ideal for technical ground
Internal frame packs move along with you better and are easier to adjust
Internal frame packs sit snugly to your back but provide less ventilation
External frame backpacks sit away from your back and up quite high, making for quite a comfortable fit for walking upright while transferring the load onto your hips and legs. The gap between the pack and your back also allows for ventilation, which means you and the pack don't get as sweaty. However, they traditionally haven't been as easy to adjust, meaning you need to find one that's a really good fit for you, but again, the newer Vargo ones offer lots of adjustability. They also move around more on your back, so they're less stable for technical hikes and scrambling.
Internal frame backpacks are usually contoured and are designed to fit flush against against your back, so they're preferred for those more technical hikes because they don't move around so much when you do. They sit lower than an external frame pack, though, which means you tend to have to lean forward to counter the weight, which isn't as comfortable on long treks. It's usually quite easy to adjust a backpack with an internal frame to accommodate your body proportions, but of course being snug against your back means they – and you – get sweaty.
Durability
As the external frame takes the weight, these packs are very durable
Internal frame packs aren't as durable as the weight is transferred more to seams and straps
Obviously quality has a lot to do with the durability of any gear, but external frames are arguably more durable because the frame takes the weight, rather than the seams and straps, whereas an internal frame pack might fray at the edges more quickly. You can also keep the external frame of your backpack and replace the canvas with a new bag or duffel, which you can't really replicate with an internal frame. With either option, the key is to invest in a good quality backpack, and take good care of it, really.
Price and options
Little difference in price between internal and external frame packs
You can get excellent deals of external frame packs though
There are many more options when it comes to internal frame packs
Often, when a piece of gear is becoming extinct, it will be cheaper than its more state-of-the-art counterpart, but we found little difference between current external and internal frame packs. The external frame packs we found on the market were up there with the best internal frame packs in terms of pricing and while extremely technical internal frames can get really expensive, there are lots of affordable options out there. That said, because there's a good chance you'll be buying your external frame pack used or one of the last remaining available through a third party, you can get some really good deals.
In terms of options, internal frame backpacks are the clear winner – the world is your oyster when shopping for an internal frame backpack, whereas there are currently far fewer choices when it comes to external frame backpacks.
External frame backpack vs internal: comparison table
Swipe to scroll horizontally
| Header Cell - Column 0 | External frame backpack | Internal frame backpack |
| --- | --- | --- |
| Weight and size | Heavier, although new ones are getting lighter with titanium frames. Less yielding if you want to stow it in the overhead locker on a plane. | Light or ultralight, and easier to squeeze onto planes and into car trunks. |
| Storage and load | More pockets, easier to lash gear onto the frame. Designed for heavy loads. | Usually less pockets, fewer straps for external gear. Won't hold up against as heavy loads as external frames as well. |
| Fit and comfort | Sits away from your back and high, meaning more ventilation and better for your posture, but not so adjustable and less stable. | Sits flush to your back, so more sweaty but more stable when scrambling. |
| Durability | Arguably more durable, since frame bears the load. | Arguably less durable, since straps and seams bear the load. |
| Price and options | New backpacks are comparable with high end internal frame packs, but most are used and therefore cheaper. Very few new options. | Can be budget-friendly and eye wateringly expensive, but loads of choices. |
The verdict
Internal frame packs better for portability and use on technical trails
External frame packs are well suited to carrying heavy loads over long distances
Needless to say, if you're in the market a new backpack, it's going to be easier to get your hands on an internal frame backpack. If you're looking for something lightweight that you can haul on and off planes and carry up narrow, technical slopes, an internal frame backpack is a no-brainer.
But external frame backpacks are getting lighter and they do make a lot of sense if you're looking for something where you want to walk a long way with good posture, and don't like getting sweaty while you do it. They're a little trickier to get your hands on, so you kind of have to really want one to make it worth the hunt, but if you still own one, don't send it to the recycling plant just yet – these sturdy haulers are great for heavy loads and hold up to the test of time.
All the latest inspiration, tips and guides to help you plan your next Advnture!
Julia Clarke is a staff writer for Advnture.com and the author of the book Restorative Yoga for Beginners. She loves to explore mountains on foot, bike, skis and belay and then recover on the the yoga mat. Julia graduated with a degree in journalism in 2004 and spent eight years working as a radio presenter in Kansas City, Vermont, Boston and New York City before discovering the joys of the Rocky Mountains. She then detoured west to Colorado and enjoyed 11 years teaching yoga in Vail before returning to her hometown of Glasgow, Scotland in 2020 to focus on family and writing.