Best footcare for runners: 8 tips to keep your feet in top condition
Following this guide to the best footcare for runners could help you get more out of your runs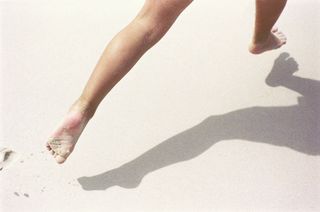 (Image credit: Getty Images)
Comfortable and pain-free feet is key to happy running. So it's important that you follow a good footcare routine to ensure your feet stay in the best condition possible.
Here are some of the best tips for footcare for runners.
1. Wear the right footwear
Ensure your running shoes fit and that you have chosen the right pair to suit your running gait. Poorly fitting shoes could lead to blisters, pressure points and even bunions.
If you wear running footwear that is too short, you'll end up with bruised toes and damaged toenails so always seek professional advice when choosing the best trail running shoes for you.
You should also keep an eye on your shoes. Know when your running footwear is worn out because old or worn footwear can lead to sore feet.
Comfort is key to maintaining good footcare for runners and your shoes play an important part in this.
2. Wear moisture-wicking socks
The best trail running socks are those that are designed for runners. Look for socks that include natural fibres, such as wool or merino, which will help to prevent sweaty and hot feet. Many running socks also have areas of good ventilation, support and are cushioned in the right places, too.
Wearing good quality and comfortable socks will help to maintain good footcare for runners.
3. Blister proof your feet
There are lots of tips for preventing blisters and the best one is to avoid getting them the first place. There are blister-proofing methods, especially for long runs, such as using body glide or petroleum jelly on hot spots.
Many runners aim to keep feet soft and supple by regular moisturising. The last thing you want is hard bits of skin. A trip to a chiropodist or podiatrist could be a good idea so they can asses your feet and make sure they are in the best condition from the outset.
If you are prone blisters or you are taking part in a long run or race, it's a good idea to use tape on areas where you might get blisters. Some people wear socks with toes knitted to prevent rubs between the toes.
4. Ice feet after a run
A great idea for reducing swelling and allowing your feet to recover faster is to ice the after a long run.
5. Foot massage
Massaging your feet will help to reduce your chances of niggly injuries from tight tendons or muscles. By massaging your feet you will also get to know where there are problem spots.
6. Trim toenails
Keep your toenails neat and tidy to prevent unnecessary damage and bruising when running. If you nails are too long they might dig into the skin of other toes or you will end up with pain when running, especially downhill.
7. Keep on top of ailments and irritations
Issues such as Athlete's foot are common with runners. If you won't take care of your feet, you'll end up with fungal infections and rashes. Always ensure you wash and dry feet after every run to keep them clean.
Wear clean socks and try not to run in damp shoes. If you do end up with an infection, seek medical advice as soon as you can. A trip to a pharmacist should help with most simple ailments and there are plenty of treatments that can be bought off the shelf.
8. Air feet when you can
Rather than always having feet cooped up in socks and shoes, try to walk about barefoot in the house or outside on dry days. It's good to let fresh air get to the skin and walking about barefoot is a great for strengthening muscles of the foot.
Following all the tips and keeping a good footcare routine for running should ensure your feet stay in great condition.
All the latest inspiration, tips and guides to help you plan your next Advnture!
Fiona Russell is a widely published adventure journalist and blogger, who is better known as Fiona Outdoors. She is based in Scotland and is an all-round outdoors enthusiast with favourite activities including trail running, mountain walking, mountain biking, road cycling, triathlon and skiing, both downhill and back country. Her target for 2021 is to finish the final nine summits in her first round of all 282 Munros, the Scottish mountains of more than 3,000ft high. Aside from being outdoors, Fiona's biggest aim is to inspire others to enjoy the great outdoors, especially through her writing. She is also rarely seen without a running skort! Find out more at Fiona Outdoors.