What is a hammock underquilt – and do you need one?
A hammock underquilt helps ensure an extra cozy night of sleep when you're swinging between two trees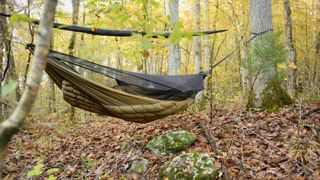 (Image credit: sshepard)
If you're planning on having some hammock adventures this year, you've probably noticed that hammock camping isn't quite as minimalist an approach as you might have originally thought. Stringing your hammock up between two trees and sleeping anywhere you please in the wilds sounds romantic enough, but if it's buggy, you'll want a mosquito net so you don't become a feast for the forest and if there's any chance of rain you'll need a good hammock tarp. Fortunately, lots of great setups like my Ticket to the Moon Original Pro come with integrated bug nets and compatible tarps that you can order separately, but none of these details address a lingering – but large – question. How do you stay warm in a hammock?
Even in the heat of summer, overnights outside can get chilly once the sun sets, especially if you're exploring at altitude. When you're tent camping, your tent doesn't really offer any insulation (unless it's a winter tent), but it will block a cold wind, which your breathable hammock won't. Most of your insulation comes from your sleeping pad, which protects you from the cold ground, but when you're suspended, there's cool night air circulating on all sides, and as it turns out, your sleeping bag may not be enough to keep you snug as a bug. For this reason, hammock makers have devised a useful piece of gear called a hammock underquilt.
What is an underquilt for a hammock?
An underquilt for a hammock looks and feels a lot like a sleeping bag, but it attaches to and wraps under your hammock to provide warmth while you sleep. So won't your sleeping bag be enough to keep your warm? Well, in order for your sleeping bag to provide insulation, it has to have loft, which means there needs to be air between the feathers or fibers that gets heated by your body. However, the weight of your body compresses the part of the sleeping bag that's underneath you, and therefore it doesn't keep your underside warm. This is why, when you're camping in a tent, you sleep on a sleeping pad. In a hammock, an underquilt can essentially take the place of a sleeping pad.
Do I need a hammock underquilt?
A hammock underquilt isn't essential, but if it's cold, you'll be glad to have one. The pros of using a hammock underquilt are that it adds a lot of insulation that will be valuable if you're camping in cold weather, and it makes your hammock camping experience feel a lot more like sleeping in a cocoon. There's no annoying rustling with an underquilt, and it doesn't affect your sleeping position at all since it's outside your hammock.
The cons of using a hammock underquilt are that they can be a little bulky and heavy (though how much really depends on the fill and warmth rating), they're not always the most versatile items, and they can be a little tricky to set up (more on that in a moment). That said, my Ticket to the Moon Moonquilt doubles as a sleeping bag for sleeping on the ground, so they can be quite versatile.
What can you use instead of a hammock underquilt?
You can use a sleeping pad with your hammock, and some hammocks even come with a sleeve for your pad. If yours does, you can easily use an inflatable one whereas otherwise, you might want to bring a foam sleeping pad and trim it to fit your hammock.
Whether a sleeping pad is lighter or more packable than an underquilt really depends on the make and model and truly, the difference between the two might be negligible. A sleeping pad will provide insulation, but it won't be quite as cozy and might make that annoying crinkly sound and move around a little with you if your hammock isn't pad-compatible. That said, a sleeping pad is more versatile, meaning you can use it for any type of camping, and if you already have one it's going to be the budget-friendly choice.
You may also be able to rig up a camping quilt, an old sleeping bag, or a camping blanket to use as an underquilt if you're handy. In a pinch, or for a really lightweight option, an emergency blanket wrapped around your hammock will provide some protection from the cold.
How to set up a hammock underquilt
The best way to set up your underquilt is to hang your hammock first, then lay the underquilt on top of it to start, so it's not at danger of lying on wet ground. Attach it to your hammock suspension rig, then you can switch it so that it's on the underside. Get into your hammock, and adjust the underquilt attachment cords so that it's flush to your hammock, and therefore your body, with no gaps. This will ensure maximum protection against a chilly night.
All the latest inspiration, tips and guides to help you plan your next Advnture!
Julia Clarke is a staff writer for Advnture.com and the author of the book Restorative Yoga for Beginners. She loves to explore mountains on foot, bike, skis and belay and then recover on the the yoga mat. Julia graduated with a degree in journalism in 2004 and spent eight years working as a radio presenter in Kansas City, Vermont, Boston and New York City before discovering the joys of the Rocky Mountains. She then detoured west to Colorado and enjoyed 11 years teaching yoga in Vail before returning to her hometown of Glasgow, Scotland in 2020 to focus on family and writing.