Hardshell vs softshell: the key differences when it comes to choosing your outer layer
In the battle of hardshell vs softshell we consider the advantages, disadvantages and uses of different types of hiking jacket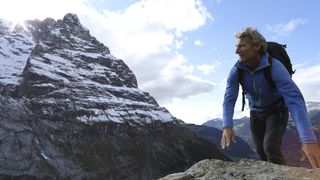 (Image credit: Getty)
Here it is: the grand battle of hardshell vs softshell. We pit the classic water and wind proof hard shell up against the comfort and warmth of the softshell. Which will come out on top for long camping expeditions? Which one is better for a snowy mountain traverse? Is there a case for having both? Read on to find out…
We've all been there. Soaked, cold and miserable at the end of a day hike in the mountains. The weather forecast had been "okay" and as we're glass-half-full kind of people we neglected to bring the best waterproof jacket. After all, our insulated jacket is "water resistant" anyway (see Waterproof versus water-resistant) and the weather wasn't supposed to be that bad.
Well, the weather in the mountains often has a way of reminding us who's boss: Mother Nature, that's who. On days like these, a quality jacket is the difference between enjoyment and mystery. But, what's the difference between a waterproof jacket and a hardshell? Is there even a difference? What exactly is a softshell? And with buzz phrases like water resistant, GORE-TEX, FutureLight, DWR coating, hydrostatic head and four-way stretch flying around it can be difficult to know what is best for your planned adventures.
Hardshell vs softshell: the hardshell
When it comes to a hardshell, the clue is in the name. They're usually made of tough waterproof fabrics like GORE-TEX that effectively repel both wind and rain, keeping you warm and dry in all but the most horrendous conditions. As well as jackets, you can also get waterproof hiking pants and some backpacks even boast these qualities.
Some brands have developed their own waterproof technologies, such as North Face's FurtureLight and Revolution Race's Hypershell. Look out for a product's hydrostatic head rating: the higher the number, the more water pressure your jacket can cope with. There's something wonderfully satisfying about seeing droplets of water bead on the outside of your jacket, while your warm and dry underneath.
Hardshell advantages
As well as providing an effective shield between you and Mother Nature's wrath, hardshells are usually quite thin, which brings two benefits. One, it packs down small, which is ideal considering hard shells spend most of their time in the bottom of your day pack. Secondly, it makes them relatively light, so they're perfect for long expeditions, multi-day trail races and thru hikes. Another advantage is durability; we're talking about strong fabrics here that should last you several years.
Hardshell disadvantages
A hardshell's relatively thin material means it's not the best insulator of heat and it won't keep you quite as warm as a softshell. As they're designed to stop moisture getting in, they're not great at letting it out either, so they're not the most breathable item of clothing in your outdoor arsenal. Many hardshells come with zippered vents around the arm pit so that you can ventilate a little if conditions aren't too gnarly.
The fabrics are more rigid than those of a softshell, which means they don't give you the same range of movement. On a rock scramble or a climb, this can be quite irritating. This rigidity gives the fabric a crinkly feel and sound. When it's raining cats and dogs, the swooshing of your hardshell brushing against your swivelling hips and you turning head under a tight hood becomes a familiar sound, along with the tap tap tap of drips falling onto the membrane.
Another thing to bear in mind is that nothing lasts forever. Over time and after repeated use, a fabric's waterproof qualities will fade. Fortunately, there are products out there that you can wash your jackets, pants and other waterproofs with to return them to their bead creating best.
Hardshell vs softshell: the softshell
Softshells are generally made from woven synthetic materials, often with elastane to give the fabric a stretchy quality that gives the wearer freedom of movement. Occupying the middle ground between fleece or down jackets and hardshells, they're designed to give you the best of both worlds: offering warmth and comfort, with some protection from wind and rain.
Softshell advantages
Straight off the bat, softshell jackets are more comfortable than their hardshell counterparts. Their stretchy fabric enables great freedom of movement when you're tackling rocky steps or moving quickly in the mountains. Look out for jackets that boast four-way stretch, which means the fabric can be pulled both width and lengthwise.
Softshells also claim victory in the breathability stakes. Just like the best base layers, they're often constructed from fabrics that insulate well but also allow some heat and moisture to escape. This means a softshell will help you regulate your body temperature during strenuous activity. Softshells designed for colder conditions may include fleece or down lining for increased insulation.
Softshell disadvantages
While most quality softshells come with a 'water repellent' tag, they won't cope anywhere near as well as a hardshell in a deluge. They are usually treated with a water repellent, such as DWR (What is DWR?), which gives them the ability to cope with light rain or snow. Similarly, a softshell is merely wind resistant rather than fully windproof.
Swipe to scroll horizontally
Hardshell vs softshell

| Header Cell - Column 0 | Hardshell jacket | Softshell jacket |
| --- | --- | --- |
| Packability | Packs down small | Bulkier than a hardshell |
| Weight | Relatively light | Heavier than a hardshell |
| Durability | Strong fabrics; should last years | Less durable than a hardshell |
| Insulation | Won't keep you as warm as a softshell | Warm and insulated |
| Breathability | Not very breathable | Breathable |
| Comfort | Less comfortable, more restrictive | Comfortable; good freedom of movement |
| Waterproof | Yes | No |
Hardshell vs softshell: the verdict
If we had to choose just one to take on the trails, the hardshell edges it for its packability, its weight and the fact it is more resistant to the elements. No, it may not be as warm and cosy and on most days the softshell will offer more comfort and do the job perfectly, but the insurance of having a hardshell can't be overstated. Even in the height of summer, with a perfect, blue sky forecast, if we're going into the mountains, there's a hardshell at the bottom of our day pack.
Of course, in an ideal world, you should take both a hardshell and a softshell with you on the trails. Softshell jackets work perfectly as a mid-layer underneath a hardshell outer when it's raining. When the sun comes out, you can stash your hardshell away and show your softshell off to the world. For most day hikes and even on thru hikes, your softshell will probably be your outer layer, it's just always good to have the hardshell ready and waiting in reserve.
All the latest inspiration, tips and guides to help you plan your next Advnture!
Alex is a freelance adventure writer and mountain leader with an insatiable passion for the mountains. A Cumbrian born and bred, his native English Lake District has a special place in his heart, though he is at least equally happy in North Wales, the Scottish Highlands or the European Alps. Through his hiking, mountaineering, climbing and trail running adventures, Alex aims to inspire others to get outdoors. He is currently President of the London Mountaineering Club, training to become a winter mountain leader, looking to finally finish bagging all the Wainwright fells of the Lake District and hoping to scale more Alpine 4000ers when circumstances allow. Find out more at www.alexfoxfield.com