How to store a tent while on a camping trip – and at home
Learning how to store a tent will help ensure one of your most expensive camping items stays in good condition and stands the test of time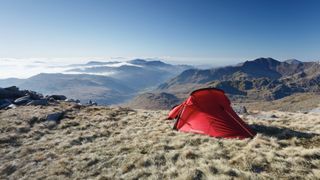 (Image credit: Getty Images)
A tent, even the smallest type, can be an awkward product to pack away and store. Plus, it's usually the case that far less thought is put into dismantling a tent than putting it up.
Yet, your tent is likely to be one of the most expensive camping purchases you make – and it will spend more time being stored than used.
This simple guide to how to store a tent will help to ensure your best camping tents are stored well and stay in good condition for your future camping trips
How to store a tent when camping

The type of camping that you have planned will dictate the care of storage. Once you have chosen the ideal tent for you (learn how to choose a tent in our expert guide), you can decide If you are camping for a few days or weeks at a campsite, or if you will go backpacking with a tent.
If you are at a campsite, the chances are you will erect the tent and then pack it away at the end of your holiday. You might well have access to a car, so it is possible to do only a basic pack up – and then finish the task in the comfort of your home.
If you are camping while backpacking, the tent will be put up and put away many more times. This requires a good system of care and routine.
Try to leave the tent packing until the last opportunity when wild camping because it will have a chance to dry out from the moisture caused by your overnight breathing, dew and rain.
Obviously, you can't wait for it to dry out completely, but the drier the better.
How to store a tent in a backpack: stuff or roll?
There are those that advocate folding and rolling and others that believe it is better to "stuff" the tent into a bag.
When you are repeatedly packing the tent for a backpacking or hiking trip, the answer to the question "roll or stuff?" will depend on which one saves the most space.
Reducing the volume that kit takes up in a hiking backpack will be key to your decision.
If you choose to stuff it, try not not to be too harsh or pushy with the tent fabric – even though a tent should be robust enough for you to stuff it carefully into its bag.
There is an argument that states that stuffing the tent into a pack, rather than folding it the same way each time, will mean there is less likelihood of damage from repeat crease lines.
The aim is to ensure the tent stays in good condition throughout the trip.
It is only at the end, when you get home, that you will need to pay further attention to how to store a tent.
Again, there are two schools of thought on longer-term storage of the tent. Some believe it is better to fold and roll the tent, while others believe that stuffing it into a loose fabric bag is the best approach.
The most important factor for long-term tent storage is ensuring it is fully dry. Obviously, this might not be possible day to day while camping, but it is vital that you do not store a tent for longer than a day or two while damp.
How to store a tent: drying your tent

If you do nothing else, make sure that your tent is dry before you store it. A tent that is damp when stored will develop mildew – and it will end up smelling.
The damp and moisture can also cause damage to the polyurethane waterproof coatings and leave your tent irreparable.
So, before you pack it away long-term, make sure the tent is fully dry. Find a spot in your home or in a sunny, but shady, part of the garden where the tent fabric can be aired and dried.
Try to drape it so that it is fully laid out and aired. For example, you could hang it over the stair bannisters, or position two chairs apart and place the tent over the top of these.
The longer you can leave it to fully dry out the better.
It is not a good idea to dry a tent directly over a hot radiator because this can damage the fabric.
How to store a tent: cleaning your tent

If it also important that the tent is clean when you pack it away. Yes, this will take a little time with a big family tent, but it's more than worth it. Inspect the fabric of the tent for dirt and dust. For example, look for bird droppings, mud, tree leaves and tree sap.
Make sure you fully clean the tent using cold water and a mild, non-detergent soap. Aim to clean only the dirty area rather than the whole tent. Make sure the detergent is fully washed from the tent for storage. You can buy tent cleaning products and kits, too.
Another good tip is to make sure all the zips of the tent work smoothly before packing it away. You could clean then by brushing them lightly with a toothbrush.
Check the guy lines, too, for wear and cleanliness, as well as the tent pegs. Storing any parts of the tent while still dirty will mean that there is a greater chance of wear and degradation of the quality of the tent.
How to store a tent at home

Many tents come with a bag that aims to make the packed away product as small and compact as possible. After all, a selling point of a tent will be how neatly it packs away.
But this often means that getting the tent into the bag is a struggle. There is usually very little space for all the parts so the tent has to be squeezed into the tent bag.
But cramming a tent into a small space is not great for the fabric. Think about a t-shirt crammed into a small pocket of your rucksack and how this will result in it being creased. Leaving any fabric for a long time that is creased into a small space is not recommended.
So, the next tip is to keep the tent in a loose bag. A pillowcase might be a good solution for a smaller tent or use an old duvet cover for a larger tent. The aim is for the tent to be kept loosely in a bundle with lots of air around it.
You want to keep the tent clean so the bag around it will help but make sure it is a breathable bag, rather than something like a dustbin bag that might end up with moisture inside.
Also make sure the tent poles are folded up so as to reduce the tension on joints of the poles and also the internal elastic cords, if this is what your tent utilises. Try to collapse the poles evenly by starting at the middle when folding them up.
Place the tent pegs in their own bag, once they have been cleaned and dried.
Then store everything in a cool and well-aired place in the house. An attic, basement or a bedroom cupboard should be fine but check every so often that the air temperature is not too hot or cold
When it comes to your next trip, you should find the tent and parts in good working order. This is when you can use the smaller tent bag that came with the product, so that carrying the tent in the car or a backpack is done more easily.
All the latest inspiration, tips and guides to help you plan your next Advnture!
Fiona Russell is a widely published adventure journalist and blogger, who is better known as Fiona Outdoors. She is based in Scotland and is an all-round outdoors enthusiast with favourite activities including trail running, mountain walking, mountain biking, road cycling, triathlon and skiing, both downhill and back country. Her target for 2021 is to finish the final nine summits in her first round of all 282 Munros, the Scottish mountains of more than 3,000ft high. Aside from being outdoors, Fiona's biggest aim is to inspire others to enjoy the great outdoors, especially through her writing. She is also rarely seen without a running skort! Find out more at Fiona Outdoors.