Liner socks for hiking: what are they for and why do you need them?
By Julia Clarke
Stop blisters from slowing you down on the trail with liner socks for hiking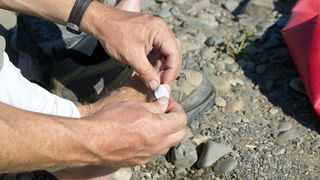 (Image credit: Getty)
You've just set off on an overnight backpacking adventure when you notice an annoying twinge in your heel. After days spent carefully packing your kit and planning your route, the mountains are finally spread out before you and you already have a couple of miles of trail behind you but you know before long your steady pace is going to be hampered by an annoying, painful blister. A blister can be a big nuisance for such a small entity, but fortunately liner socks for hiking could help you. 
What are liner socks for hiking for?
Hiking boots and shoes take a lot of the blame for blisters, but in truth they're not always the culprit. While you want to make sure you've chosen the best hiking boots for you, another detail to consider is liner socks for hiking. 
Liner socks for hiking are thin, lightweight socks similar to pantyhose and made from material like wool or a synthetic like nylon or polyester. You can wear them on their own, but for hiking you'll more likely wear them under your regular hiking socks as a preventative measure for uncomfortable rubbing. 
Liner socks can provide an extra layer of protection between your thick socks and your skin and they also reduce moisture from sweat which can increase friction. They offer an effective and affordable solution to rubbing without having to stop and get the first aid kit out.
Why do you need liner socks for hiking? 
If you're prone to blisters , you'll want to seriously consider getting hold of some liner socks before your next hike. Hiking blisters form as a result of friction and most frequently appear under warm, moist conditions, such as inside a sweaty hiking boot. These fluid-filled sacs are designed to prevent any further injury by providing some cushioning, but they can also prevent you from taking any more steps on your journey. 
Hiking boots are not always known for their breathability and can make your feet extra sweaty, so a liner sock can be a good substitute for ventilation. Liner socks work by "wicking" the sweat away from your skin and sending it towards the outer layers of your clothing, the same way a base layer does for your upper body, keeping your feet dry to reduce the friction that causes blisters.
Though not all walkers swear by them, liner socks for hiking are a relatively easy and affordable addition to your kit so it can be worth testing them out to see if they are right for you. You'll also want to check out our article on how to prevent blisters when hiking for some more tips and ideas. 
What to consider when buying your first pair of liner socks for hiking
Avoid cotton liners. Cotton won't keep your feet dry therefore it won't prevent rubbing.
The best fabrics for liner socks are the synthetic ones like nylon and polyester.
Wool has the added benefit of regulating temperature to keep you cool in summer and warm in winter. 
Make sure your liners have a snug fit. If they are too loose they might rub and cause blisters themselves!
Sock liners come in different lengths, from low-cut to high-. You'll want to pick the cut that matches your choice of sock and shoe. If you wear high-top hiking boots, make sure you find a sock liner that comes higher than the top of your boot to prevent rubbing.
Julia Clarke is a staff writer for Adventure.com. She is an author, mountain enthusiast and yoga teacher who loves heading uphill on foot, ski, bike and belay. She recently returned to her hometown of Glasgow, Scotland after 20 years living in the USA, 11 of which were spent in the rocky mountains of Vail, Colorado where she owned a boutique yoga studio and explored the west's famous peaks and rivers. She is a champion for enjoying the outdoors sustainably as well as maintaining balance through rest and meditation, which she explores in her book Restorative Yoga for Beginners, a beginner's path to healing with deep relaxation. She enjoys writing about the outdoors, yoga, wellness and travel. In her previous lives, she has also been a radio presenter, music promoter, university teacher and winemaker.
All the latest inspiration, tips and guides to help you plan your next Advnture!
Thank you for signing up to Advnture. You will receive a verification email shortly.
There was a problem. Please refresh the page and try again.