My bikepacking essentials: the gear I rely on when adventuring on two wheels
What you definitely need to pack for different types of bikepacking trips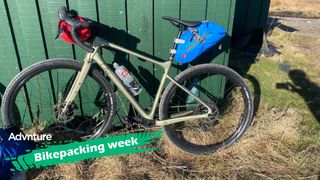 (Image credit: FionaOutdoors.co.uk)
I enjoy bikepacking adventures, especially in Scotland, and over the years I've learned to make sure I pack all the essentials, as well as a couple of luxuries. The bike packing essentials list does depend on the type of cycling tour I have planned. If I am going off-grid, the pack will include more essential items, compared to adventures where I stay in hostels and B&Bs.
My bikepacking essentials for all trips
Padded cycling shorts: For comfort in the saddle, I always wear padded cycling shorts. I choose female-specific for the best fit and to avoid saddle sores and rubs.
Hoo Ha Ride Glide: I take a small tube or tub of butt rub. The one I choose, Hoo Ha Ride Glide, is formulated for women's nether regions.
Waterproof jacket: You never know what the weather will throw at you and a lightweight waterproof jacket is vital for keeping out the rain and wind.
Waterproof socks: I wear waterproof socks if I think it might be wet or boggy when bikepacking.
Cycling gloves: Cycling specific gloves are designed for comfort when holding the handlebars for many hours at a time.
Lightweight insulated jacket: An extra layer, such as a puffer jacket, that will keep you warm when you stop while bikepacking is essential. This is useful for food stops, times when you might need to stop to sort punctures or mechanicals and at overnight camps or evenings at a hostel/B&B.
Spare clothes: Cycling can make you sweaty and damp clothes will leave you chilly. I usually pack a spare baselayer, or two, depending on the time of year, and an extra pair of cycling shorts and socks.
Puncture repair kit: You need to be prepared for the possibility of a puncture, so make sure you have all the kit with you that you need to fix a tyre puncture. It is useful to take a few other essentials such as a chain link fixer and Allan key set.
Sun cream and sunglasses: If it is going to be warm and sunny, you will need to be protected from the sun's rays.
Helmet: Most cyclists now wear a bike helmet for protection should they fall off their bike.
Bike lights: If you plan to be cycling after dark or on early mornings, a set of bike lights are a good idea.
Power bank: A small and fully charge power bank is useful for charging a phone, sports watch and bike lights.
Ear-plugs: If you will be sharing a dorm room at a hostel, a pair of er plugs could be the difference between a good night's sleep and no sleep at all.
My bikepacking essentials for camping trips
As well as the above list, when camping on a bikepacking trip, you'll also need to add essential kit. These items include a lightweight tent or bivvy bag, sleeping bag, inflatable mattress, cooking system, gas canister, lighter, plate, cup, cutlery, food, coffee or tea and water.
Snacks: Pack a range of easy to eat snacks so that you can maintain energy as you ride your bike.
Midge net: If you are bikepacking in northern England and Scotland in the summer months, you'll need some kind of protection from biting midges. A midge net and/ or midge repellent are vital.
Tick remover: The number of ticks is fast growing and many people are reporting an increase in tick bites. Make sure you have a small tick remover with you.
Head torch: If you have bike lights with you, a front light will provide light after dark. If not, take a small head torch or head lamp.
Small toiletries set: Take the basics, including a toothbrush and toothpaste, antibacterial hand wash or gel, moisturiser etc. You won't need anything fancy if you are camping.
Evening wear: Think about what you will wear when you are not cycling. It might be you wear your cycling clothes and shoes, or you may decide to take a clean pair of shorts or lightweight trousers, a t-shirt and a lightweight jacket for walking about and going out for a meal.
Navigating gadgets: If you are following a new route, it's a good idea to have some way of navigating as you cycle. Take maps and you can also upload routes to GPS gadgets that fit on to the bike, or use your sports watch. I also load the route on to a map app, such as OS map.
First aid kit: I carry some basic first aid items, including pain killers, surgical wipes, plasters and blister plasters.
Wet wipes: A small plastic bag of wet wipes will always come in handy. Remember to take home used wipes
Emergency foil blanket or bag: You never know when an accident might happen, so you should always carry some kind of emergency blanket or bag. This will keep an injured rider warm while help arrives.
Night wear: You might choose to sleep in your cycle kit, but many people prefer to wear a clean top and leg wear. I usually take running tights and dry socks for overnights when bike packing and camping.
Plastic bags: If you change your wet socks but are still wearing wet or damp cycling shoes, a great tip is to put your socked feet inside plastic bags - supermarket bags work well – before then putting on your shoes. This means you will keep your dry socks dry while at your camp spot.
Camping trowel and dog poo bags: Toileting in the wild requires forethought. Take a trowel and bury your poo properly. Take home used toilet paper double wrapped in two dog poo bags.
SOS device: If I am going off the beaten track, I always carry an satellite communicator gadget, such as Garmin inReach. This means that if the worst happens and I need emergency support, I will be able to communicate with SOS services even when my mobile phone has no reception.
And a few bikepacking luxuries
Warm socks and gloves: I suffer with cold feet and hands due to Raynaud's syndrome, so I like to take a spare pair of warm gloves and socks for overnights.
Small hot water bottle: Another ida for extra warmth is to carry a small hot water bottle to pop inside your sleeping bag at night.
A wee dram: I enjoy a couple of drams of whisky, or a camping cup of wine, so I usually pack some alcohol in a whisky flask or a plastic bottle,
Headphones: If you like drift off listening to music, an audio book or watching a downloaded film, it's worth packing small headphones so that you don't disturb the peace, or other people around you.
A piece of sleeping mat: Sitting on damp ground can leave you wet and cold. I take a small corner of an old sleeping mat with me to sit on. It slots neatly into the side of my bikepacking bags.
These essential pieces of kits – as well as a couple of more luxurious items – for bikepacking should mean you have an enjoyable adventure.
This article is part of Advnture's Bikepacking Week 2023 (running from Monday 22 to Sunday 28 May), our ultimate guide to adventuring on two wheels including essential advice, gear, and features to help you plan the perfect expedition.
All the latest inspiration, tips and guides to help you plan your next Advnture!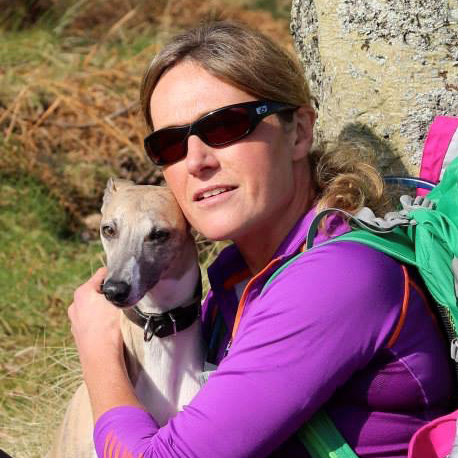 Fiona Russell is a widely published adventure journalist and blogger, better known as Fiona Outdoors. She is based in Scotland and is an all-round outdoors enthusiast with favorite activities including trail running, mountain walking, mountain biking, road cycling, triathlon and skiing (both downhill and backcountry). Aside from her own adventures, Fiona's biggest aim is to inspire others to enjoy getting outside and exploring, especially through her writing. She is also rarely seen without a running skort! Find out more at Fiona Outdoors.