What is Columbia's Omni Heat technology? And does it really work?
Those gold dots on the inside of a Columbia puffer jacket definitely look like they're just there for show, but do they really keep you warmer on the hill?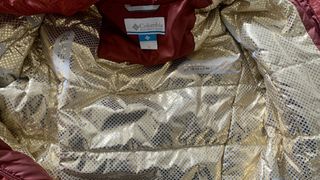 (Image credit: Future)
With colder weather on the horizon, we're looking at all the best technologies to keep us warm on the mountain, from the more traditional strategies like down insulation in our jackets and sleeping bags, to the more cutting edge, like Omni Heat. If you've been eyeing up a new puffer jacket this season, you may have noticed that some, made by Columbia, seem to be ultra ornamental, with a gold lining that would look more at home on the runway than on a hiking trail.
So what is Omni Heat technology anyway, and how does it work? We examine this reflective technology designed to keep you warmer in cold weather, and explain how it can work for you.
What is Omni heat?
Omni Heat is one of the many technologies created by Columbia Outdoors to provide insulation to their outdoor clothing and boots. I was recently at Columbia's headquarters in Geneva, where I learned that they were the first company to incorporate NASA technology into outdoor gear when they developed Omni Heat, 10 years ago.
That's right, Omni Heat uses the exact same technology as emergency blankets, or space blankets as they're often known, to reflect your body's heat back to you. When you pick up a garment that uses Omni Heat technology, such as the Columbia Omni-Heat 3D Knit Crew II base layer, you'll see that the inner is decorated with an expanded pattern of metallic dots. These days, Columbia is using it more in their puffer jackets, and while it definitely gives the garments an element of bling that you might find unusual in outdoors gear, it's there to keep your body temperature when the conditions on the hill deteriorate.
How does Omni Heat keep you warm?
To understand how Omni Heat works to keep you warm, you only need to understand how an emergency blanket works. Emergency blankets, which basically just look like large sheets of foil, come from a technology engineered by NASA to protect their equipment in space.
The technology used in emergency blankets was developed in the 1960s as a means to deflect the sun's heat and protect spacecraft, equipment and personnel from the heat of the sun when they don't have the protection of the ozone layer available. The technology works by using a technique called vacuum metallization which had previously been reserved for mirror making and manufacturing novelty items like tinsel. Metallizing involves applying a metal coating onto a non-metal surface – in this case, a thin layer of aluminum to plastic. The shiny aluminum coating deflects infrared rays, which are invisible rays that we experience as the sensation of heat.
Now, as it turns out, the sun isn't the only object in the universe to emit infrared rays – your body does too. In an emergency on a mountain, where you're at risk of hypothermia, you can wrap yourself in a space blanket, but instead of turning the foil side towards the sun to keep heat out, you turn it towards your own body where it reflects your own radiant body heat back towards you, keeping you warm.
Omni Heat uses this exact technology, and keeps you warmer by reducing the amount of heat you lose through your skin. Now, emergency blankets are made for use in situations where you might be sitting huddled on a windy hillside, so they don't need to be breathable, but if you were to try to go hiking while wearing one, you'd most likely get pretty sweaty pretty quickly, and then you'd only end up colder. With Omni Heat, Columbia cleverly arranges the metal in small dots, leaving space between them to allow vapor from sweat to escape while you're on the move.
Does Omni Heat actually work?
I get why you'd ask this, because there really is something about the Gorpcore look of Omni Heat that makes it seem like a fad. Only it isn't.
I've only recently experienced Omni Heat myself for the first time, when I traveled to the French Alps for a hut hiking expedition to test out the new line from Columbia. One piece of gear I was testing was the Arch Rock Double Wall Elite jacket, which looked like a regular synthetic puffer jacket. When I unzipped it though, I felt a bit like Vincent Vega opening the briefcase in Pulp Fiction.
The lining of this jacket is constructed using Omni Heat Infinity, which is the latest incarnation of this technology, and the outer shell has a further peppering of the stuff, on the inside, facing my body when I wear it. Now, we happened to enjoy unseasonably warm and sunny weather on our trip, but since we were sleeping at over 6,300 feet, I was anticipating big temperature drops in the evening, and I wasn't disappointed.
On our second day, a group of us went out on a pre-dinner hike, arriving at our turnaround point at dusk and hiking down in the pitch dark with our headlamps on. It was freezing, but once we stopped climbing I soon felt the chill in the air, especially as I'd got a little sweaty hiking up. No worries though – I whipped my jacket out of my backpack, pulled it on and genuinely couldn't believe how warm and snug I was. In case you're wondering, I've spent a lot of time at high altitude, in cold temperatures, wearing puffer jackets, and this one definitely had me feeling more toasty than a typical down jacket. In another fairly unscientific test, USA Today last year doused a doctor in ice water while he was wearing an Omni Heat jacket to see if it retained its heat – it did.
If this is all sounding a little too subjective for you, I do get it, but remember – if the technology is enough to protect a spaceship from the sun's rays, it's probably powerful enough to reflect your infrared rays back towards you. If you're looking for a real winter warmer this year and often find a regular down jacket doesn't quite do the trick, these tiny gold dots may be just the gold you've been searching for.
All the latest inspiration, tips and guides to help you plan your next Advnture!
Julia Clarke is a staff writer for Advnture.com and the author of the book Restorative Yoga for Beginners. She loves to explore mountains on foot, bike, skis and belay and then recover on the the yoga mat. Julia graduated with a degree in journalism in 2004 and spent eight years working as a radio presenter in Kansas City, Vermont, Boston and New York City before discovering the joys of the Rocky Mountains. She then detoured west to Colorado and enjoyed 11 years teaching yoga in Vail before returning to her hometown of Glasgow, Scotland in 2020 to focus on family and writing.