Find refuge in a mountain hut during fall hiking season in the French Alps
We head to France's highest natural reserve to discover the joys of Alpine hut hiking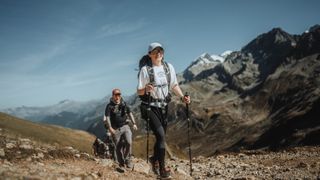 (Image credit: Manon Guenot)
From my resting point high up on a mountain pass in the Vosges Mountains of France, under a cloudless sky, I'm finding it impossible to imagine French and German soldiers battling here in World War I. How were they able to resist the temptation to set down their arms, agree to shake hands and drink up these splendid views?
I have other thoughts too as I plop down on the rocky ground, breathing heavily after the long climb to get here on such an unseasonably warm day. How did the Tour de France riders of 1949 ever make their way up this grueling climb on two rickety wheels when I've struggled in my state-of-the-art hiking boots? And, how is it possible that just four weeks ago, 2,700 UTMB runners came over this pass in trail running shoes and didn't leave mark?
I'll get back to those questions in a moment, but first, let me set the scene. I'm here for three days as part of a gear testing expedition with Columbia Sportswear, to find out how their new line holds up in Alpine conditions. So far, my kit hasn't had to contend with much in the way of cold or snow, but I'm happy and comfortable.
Straddling either side of the saddle I'm sitting on, pristine valleys slope down steeply, framed by jagged Alpine peaks through which shafts of dusty morning sunlight gleam. There's barely a whisper of a breeze, which only adds to the solitary effect, and the only sounds are the occasional warning chirp of a marmot echoing off distant cliffs.
Since yesterday, we've climbed nearly four thousand feet (1,200 meters) over about six hours in total to arrive here at the Col du Bonhomme, a pass which takes its name from the nearby village of Le Bonhomme. For 50 years, at the turn of the 20th century, the pass served as a border crossing between Lorraine, a historical region of France and Alsace, which at the time had been ceded to Germany. It was here at this spot that seven French soldiers were killed by a German artillery attack in 1914. Today though, the place is pure peace.
The quietude is due in part to how strenuous a journey it is to get here, which must deter some people, and also because the area is a National Park. Les Contamines Montjoie is France's highest nature reserve, and the only protected area in the Mont Blanc range. Its 5,500 acres stretch from 3,608 feet (1,100 meters) at the gates in Contamines-Montjoie, the village from where we embarked yesterday afternoon, all the way up to the 12,769 foot (3,892 meter) summit of l'Aiguille Nord –Tré la Tête, a mountain on the south side of the Mont Blanc Massif. The dramatic altitude gain means the landscape fades from spruce to peat bogs and pastures to glaciers as we ascend, scanning the protected hillsides through our binoculars for a glimpse of the elusive ibex, chamois and ptarmigan that reside here.
Like most National Parks, the area is managed by rangers who have the authority to ticket people for offenses like walking dogs off leash and illegal wild camping, but as the ranger guiding us explains, people generally observe the principles of Leave no Trace here. Just a week after the legendary UTMB ultra marathon came through here there wasn't a trace of their presence.
A crumbling stone pillar informs us that we're at 2,239 meters above sea level now and though we could go higher, we decide to save our legs and return to the mountain cabin where we stayed last night. Two hours later, we're sitting on the sunny stone patio outside Refuge de Près eating mouth watering cheesy quiche and green salad, served family style to the picnic tables where we gather in small groups. The hut is one of hundreds that make up the network of alpine refuges in France, where hikers-in-the-know can find a comfortable bed, a hot shower, a delicious meal and a fine beer.
These huts are remote, well equipped and affordable for hikers tackling treks like the famous 100-mile Tour du Mont Blanc, which encircles the Mont Blanc Massif and brings more than 10,000 hikers through this valley each year. Until this year, however, those hikers, and skiers in the winter, had nowhere to stay in the area. One such backcountry skier, Pascal Chapelland, spied an opportunity in the form of an old alpine chalet and started pressing for permission to restore it.
Once he got the green light, it took nearly two years to build the hut, including a period where Chapelland cleared snow himself in order to allow construction to resume after winter. Des Près opened this year and is accessible 10 months a year to hikers, snowshoers and skiers. In the shoulder seasons, they open to groups like us and have a focus on bringing schoolchildren and young people to explore the mountains.
Traveling to Refuge des Près
Getting there: Fly to Geneva then mountain shuttle to Notre Dame de la Gorge
Nightly rate: €72/night (inc dinner)
Accommodations: Eight shared rooms (seven with four bunks and one with two), communal shower rooms and toilets
Availability: Open 12 months a year, closed for a month around late November and May
Website: www.lerefugedespres.com/fr/
A new sauna smell from the pine interior hits you as soon as you enter the welcoming bar and restaurant, which are open to passing hikers and day hikers in need of a hot chocolate, an artisan beer brewed in nearby Saint Gervais, or the dish of the day before they continue their journey. Daily dishes are prepared using local and seasonally sourced ingredients and often err on the healthful side – the night before we were delighted to be plied with vegetable soup, a coconutty vegetable curry with quinoa and berry tart.
If you're staying the night, you'll be sleeping in a shared room where you'll find simple but comfortable sleeping arrangements – a single bunk with a reading lamp, storage for your gear (there's also a boot and ski room downstairs), hooks for your jacket and a single electrical outlet so you and your roommates can argue over who gets to charge their Apple Watch first. Basically, it's got everything you need to recuperate after a long hard day of hiking or trail running in the Alps, an area which is known for its lack of switchbacks and steep climbs.
Because it's here, hikers can pause for the night then continue over the Col du Bonhomme in the morning to the next hut, or use it as a base as we did. From here you can explore the reserve on foot, hiking up to the pass, to the popular Lac des Jovets or taking a trail up above the hut, which we do that evening after a recovery yoga session outside. We reach our highest point at sunset, then hike down in the dark under a moon so bright our headlamps stay in our backpacks.
Arriving back to the warm glow of our mountain cabin, we're greeted with a classical Alpine culinary experience of charcuterie and fondue, served with multiple pourings of cold Vin de Savoie. The festive vibe runs high for a couple of hours, but soon peters out as the long day catches up with us. Bellies full of cheese and wine and hearts and minds buzzing with adventure, we retire to our bunks where sleep arrives quickly.
In the morning, after a simple breakfast of granola, bread, jam, cheese and coffee, we load up our packs and begin our descent, back down the Roman Way which was used by the Romans to access these valleys and stretches all the way to the Italian border. We take it only to back to the surprising church at Notre Dame de la Gorge, where we picnic by the pleasant Bonnant river before catching our shuttle back to Geneva.
On the hour-long ride out of the Alps and back to the city, I feel grateful that these huts have allowed so many generations before us to explore these incredible mountains in safety and comfort, and will remain to usher future explorers into high altitude zones. They're by nature communal experiences, where you can't help but be drawn into conversation with strangers that might become friends. They don't make Alpine hiking trails any easier, but they certainly make Alpine hiking an even more pleasurable pursuit. And as for those Tour de France riders? Well, I've absolutely no idea how they did it.
What to pack for fall hiking in the Alps
Though we were fortunate to experience warm daytime highs, the weather can be unpredictable at this time of year and cold temperatures are common, especially overnight, so proper hiking layers are essential. Here's what I wore:
All the latest inspiration, tips and guides to help you plan your next Advnture!
Julia Clarke is a staff writer for Advnture.com and the author of the book Restorative Yoga for Beginners. She loves to explore mountains on foot, bike, skis and belay and then recover on the the yoga mat. Julia graduated with a degree in journalism in 2004 and spent eight years working as a radio presenter in Kansas City, Vermont, Boston and New York City before discovering the joys of the Rocky Mountains. She then detoured west to Colorado and enjoyed 11 years teaching yoga in Vail before returning to her hometown of Glasgow, Scotland in 2020 to focus on family and writing.