The 5 types of insulated jackets for hiking
Understand the five main types of insulated jacket for hiking, the pros and cons of each, and figure out which one you need for your greatest adventures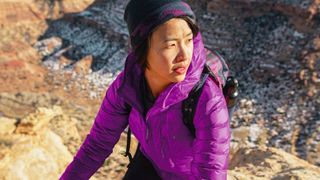 (Image credit: Columbia)
If you're planning on spending any time outdoors, the chances are extremely high that you need an insulated jacket, whether you wear it for cold weather hiking or it mostly stays in your hiking backpack in case of emergencies. Hiking layers serve different purposes. You've got a base layer next to your skin to manage sweat and keep you dry and you might have a waterproof jacket, hardshell or windbreaker as your outer layer to stave off the elements. Between those two layers, you'll want an insulating layer any time the temperatures are low to provide warmth and help you avoid hypothermia.
So you need an insulated jacket, but what kind? Do you need a giant puffy jacket that makes you look like the marshmallow man or can you get by with something lighter? It all depends on what you'll be doing and the conditions where you'll be doing it really. Some insulated jackets are best for very cold temperatures while others are more versatile and can even act as both outer and mid layers. Read on for the five main types of insulated jacket for hiking, the pros and cons of each, and learn what you need for your greatest adventures.
1. The fleece jacket
It's hard to even conceive of an outdoorsy wardrobe without a fleece jacket or two. These jackets have been a mainstay of hiking gear for decades, ever since Polartec devised fleece fabric as a more affordable alternative to wool. These days, fleece is used in lightweight base layers like the Montane Protium Lite Pull On and mid layers as well as thicker jackets intended for cold conditions such as the Patagonia Better Sweater.
Though you can't necessarily see it, the "pile" surface of fleece (kind of like a mini shag carpet) creates tiny pockets which trap air that is subsequently warmed by your body heat. These jackets can be very soft and cozy and will definitely furnish you with some welcome warmth on cold hikes.
Pros of fleece jackets: Fleece jackets are sturdy, versatile as both a mid and outer layer, reasonably lightweight, somewhat moisture-repellent, quick drying, affordable and easy to care for.
Cons of fleece jackets: Made using synthetic materials, fleece jackets aren't particularly eco-friendly. They can also be quite bulky, get stinky, may be prone to pilling and are flammable, so you don't want to sit too close to the campfire in yours. The breathability of a fleece is also variable from jacket to jacket which matters if you're exercising vigorously.
2. The down jacket
Also known as a puffer or puffy jacket, a true down jacket is made using a light synthetic shell that houses natural down from geese or ducks. Down is the soft under plumage that keeps water birds warm and dry when they're hanging out in the water, and long ago, crafty humans realized that it can be sourced for the same reasons in keeping us warm, too, though the birds probably don't care for us harvesting their insulation for our recreation.
In a down jacket, the down is kept in small pockets known as baffles that are stitched into the jacket to stop all the down from simply gathering around the bottom of the jacket. The air between the clumps of down gets trapped and warmed by your body heat to create insulation. Down jackets have different fill power which will determine exactly how warm they are, but they're usually the warmest jackets on this last. Down jackets may be bulky with hoods or more of a sweater design such as the Sierra Designs Whitney Down Hoodie which can moonlight as a mid layer in cold weather.
Pros of down jackets: Super lightweight and packable, superior warmth-to-weight ratio, very compressible.
Cons of down jackets: Can be ethically questionable, expensive, doesn't insulate when wet, difficult to care for.
3. The synthetic puffer jacket
On the surface of things, a synthetic puffer jacket looks just like a regular down jacket, but the difference is in the stuffing, so to speak. Instead of using those micro feathers, synthetic down is manufactured by creating clumps of polyester fibers that mimic the insulating properties of natural down.
The resulting jacket definitely looks the same as a natural down jacket but in performance, it has some differences. Namely, it's not usually as warm and is a bit bulkier and heavier, which doesn't sound great, but it's also more affordable and doesn't have the ethical considerations of natural down. It does, however, have environmental implications as a plastic-based product, but more and more are being made using recycled materials such as the North Face Thermoball Eco which we loved in the field.
In any case, there are good reasons to consider a synthetic puffer, namely it's more durable and versatile when it comes to weather, since it will continue to insulate when it gets wet.
Pros of synthetic down jackets: Very durable, continues to insulate when wet, budget-friendly and easy to care for.
Cons of synthetic down jackets: Not as warm, light or compressible as natural down, derived from petrochemicals which don't biodegrade.
4. The wool jacket
No, we're not talking about a city slicker pea coat here. Increasingly we're seeing some great hiking jackets made using wool as insulation, such as the IBEX Wool Aire Hoodie and Fjällräven Keb Wool Padded Jacket. To the naked eye, these could easily pass as synthetic softshells or even puffers, but in fact the insulated lining harnesses the natural insulating properties of wool.
Wool traps air to keep sheep warm on a blustery moor and it works just as well inside your jacket. It's also genius because it can help cool you down when you get hot, so it's quite versatile and unlike some other insulating materials, it continues to keep you warm if you get caught in a downpour. It's also used in base layers, thermal underwear and hiking socks for just this reason and people love it because it doesn't get stinky.
Pros of wool jackets: Breathable, moisture-wicking, non-stinky, water-repellent, biodegradable, can be ethically produced.
Cons of wool jackets: Expensive, not always ethically produced.
5. The softshell jacket
Though they don't usually provide the degree of warmth of the other jackets on this list, softshell jackets can be adequate for certain climates and activities. To be honest, softshell jackets are a bit of a vague classification and though they have distinguishing properties – lightweight and breathable, made from stretchy, woven material that offers some protection from cold, wind and rain – there's also some overlap with synthetic down jackets. The best softshell jackets are lighter alternatives to full-on waterproofs for days where you're pretty confident you're not going to face a deluge or absolutely Baltic conditions.
Softshell jackets can come in lightweight versions that easily double as mid layers or summer outer layers, and warmer versions that may have a fleece lining like the ThruDark Centurion Alpine Jacket that can make for a solid outer layer for winter hiking, skiing and ski touring in arid conditions. Softshell jackets don't provide as much insulation as a puffer jacket, but they're super breathable so they can be great for cold adventures where you're likely to get sweaty but not going to encounter wet weather.
Pros of softshell jackets: Lightweight, breathable, stretchy, versatile and some wind resistance.
Cons of softshell jackets: Not as much insulation as other options, not always the most durable, made from synthetic materials.
All the latest inspiration, tips and guides to help you plan your next Advnture!
Julia Clarke is a staff writer for Advnture.com and the author of the book Restorative Yoga for Beginners. She loves to explore mountains on foot, bike, skis and belay and then recover on the the yoga mat. Julia graduated with a degree in journalism in 2004 and spent eight years working as a radio presenter in Kansas City, Vermont, Boston and New York City before discovering the joys of the Rocky Mountains. She then detoured west to Colorado and enjoyed 11 years teaching yoga in Vail before returning to her hometown of Glasgow, Scotland in 2020 to focus on family and writing.