Gorpcore? Who cares if you wear outdoor gear on the street?
Hiking boots on the high street? Puffer jackets in the pub? We explain the Gorpcore phenomenon and why it doesn't matter if folk want to wear technical outdoor gear on the streets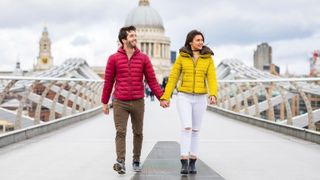 (Image credit: Westend61)
A few weeks ago a colleague forwarded me a tweet by a well-known consumer affairs journalist poking (friendly) fun at teenagers these days – including her own kid – who dress in all the best gear from The North Face and Berghaus just to go to school and hang out with their friends.
"I wanted to look like a teenage vampire, the current kids want to look like 40 year old hillwalkers," she wrote.
As a 41-year-old hillwalker, I can't say I see the big deal. Yes, I'm generally to be found out in the hills having an adventure in my hiking boots, trail running shoes, on skis or on belay, but when I'm at home in Glasgow, a relatively cosmopolitan city of more than 1.5 million residents, I'm often found wearing outdoor gear. And when I'm comfortably standing at the school gates in my warm down jacket and hiking gloves on a frigid winter day, surrounded by shivering parents underdressed in leggings and belted trench coats, I must say I feel rather pleased with myself.
A few weeks prior to receiving that tweet, I'd interviewed Kian Patel, Columbia Hike Society Ambassador and frontman of an organization called All Terrain 95, which according to their publicist represents a new wave of young, stylish hikers that a form "part of a new fashion-conscious cohort of outdoorspeople who subscribe to the Gorpcore trend".
'Gorpcore' was a new word to me, but a quick Google search on my part showed that it's been in usage since 2017, peaking in 2021 according to the Guardian and Vogue. That year produced the rather unforeseeable collaboration between The North Face and Gucci, now in its second line, which has brought us oversized puffers and hoodies with mountain graphics that can be yours for just $1,600.
The word 'gorpcore' derives from the phrase 'good old raisins and peanuts', which alludes to us hikers' propensity for trail mix (it's true, I love it), but applies to people who do considerably less trail mix-snacking and much more latte-sipping as they pose in urban settings for Instagram in their slouchy beanies and giant puffy jackets. It's like like term 'cottagecore' to describe people who live as though they're in a quaint village in the English countryside even though they're not. You know, backing sourdough bread and wearing wellies for no reason.
"I'll be honest, I don't like the word," admits Patel, whose Instagram account shows him clad in Berghaus jackets and Merrell hiking shoes on the hills and at home on the streets of Bolton, near Manchester. He says that for him, getting outdoors and finding a great beauty spot always comes first, while putting the outfit together and getting a great photo comes second. But, he says, just because he doesn't like the word, doesn't mean he doesn't like what it represents.
"I don't think anyone can really be too angry, because at the end of the day, everyone's going out enjoying the outdoors."
Right now, I'm sitting in a coffee shop in Glasgow where I often come to work. It's January, it's 5°C out and drizzling. I walked the five minutes down here in my Danner Mountain Pass hiking boots, which are great for going up a hill, but also look fab with a pair of jeans, which is exactly how I'm wearing them. I'm wearing Darn Tough hiker socks because I can wear them for weeks without washing them and they never stink, and my EDZ Merino base layer, which keeps me super warm, and this cafe is sometimes a bit chilly. It just looks like a figure-hugging black sweater, also great with my Calvin Kleins, thank you very much. Slung over the back of my chair is my new North Face Thermoball 50/50 jacket and I still haven't taken off my Helly beanie because I haven't washed my hair in five days.
Looking around, it's not even like I don't fit in here. The barista is wearing a beanie by The North Face. Looks cute. I spy a nice-looking pair of yellow Sauconys under a table that I think are the Peregrine 12s, and they're definitely at the end of a pair of legs clad in jeans and sported by a fellow that doesn't look particularly like he's about to go on a trail run. And there are technical-looking waterproof jackets galore here. Did I mention that my Montane Phase Lite comes everywhere with me in my Osprey Talon Earth 22 backpack in case the heavens open? After all, here in Scotland it rains even when it's sunny and a gal can't be too prepared.
All things considered, I agree with Patel – who cares if you wear outdoor gear on the street? We 40-year-old hikers have been doing it forever, following in the footsteps of the now 80-year-old hikers before us who started the trend. Is it ok for us because we do hike, but not for those who don't? There are lots of very fashion-forward influencers and actual A-list celebrities sporting the trend right now who perhaps won't ever see the top of a mountain or indeed a muddy trail leading up to one, but don't they, too, deserve to be warm and dry? After all, it's not like the elements end the moment you get back to the trailhead. In fact, at our morning meeting today, my colleague Pat Kinsella mentioned it's -7°C down in Devon today (that's 19°F for those of you across the pond). Are you telling me that Pat should don street clothes to pick up his daughter from school this afternoon just to avoid the wrath of Twitter?
You don't have to be a resident of Baltic Minneapolis to need serious weather protection for urban living – cities from New York to San Francisco experience cool to cold and damp weather all the time and, even though you might be able to get indoors and warm up much faster than you can on Mount Washington, it still benefits you not to get chilled and damp, even it just means you're in a better mood.
So staying warm and dry are great reasons to wear protective gear in any environment, but do you really need to be wearing those hiking boots to walk down 5th Avenue? Here's where I think back to my first 20 or so years of life, growing up in a big city where as a teen and early adult, I wouldn't be seen dead out without a pair of heels on. Fashion footwear, and in particular heels, have been associated conclusively with injuries and pain, but fortunately for me I went on to spend most of my twenties and all of my thirties in Vermont and Colorado, where nobody would be seen dead without a gilet and hiking boots. I'm certain my feet thank me every day for that life decision. So maybe you don't need the protection from rocks and ankle stabilization of leather hiking boots to walk down the street, but if you do so, you'll certainly have healthier feet and ankles.
There's an argument that this trend has and will benefit the outdoors brands that we love so much. It's true that outdoor brands have been negatively impacted in the past by getting too trendy, but if they can stick to their guns, it's an economic boon.
"It's not even like the hiking market has been affected. I feel the high end fashion market sort of took a hit," muses Patel. So long as function isn't being sacrificed for fashion (as in the $1,600 The North Face/Gucci hoodie that's definitely made from cotton and no good for hiking in damp weather), I'm totally down with this argument. Further, Patel explains that some high end fashion outlets might actually be making their clothing more functional in response.
"You see brands like Louis Vuitton and Balenciaga adapting that technical wear and that sort of style."
I have to take his word for it, however, because it's about 20 years since I picked up a fashion magazine.
It's also likely that the growth of people wearing outdoor gear on the streets is gently strong-arming outdoors companies into making their gear more flattering, which may not matter to you one iota, but I must say I appreciate it. I've definitely noticed that a lot of the gear I've loved for the hills in the last couple of years is much more stylish than that of the past, such as my Montane Ineo Pro hiking pants and Rab Infinity Microlight down jacket. As I've said to my boyfriend a hundred times, I don't always want to go for a pint or to an art opening looking like I've just come down from Ben Nevis.
So long as you're planning on actually wearing the clothes that you buy, and you're not buying more clothing than you need, then I don't see why you can't splash out on a hiking jacket instead of a designer fashion version, though as Patel says you certainly don't need the protection of a £1,000 hiking jacket if you're not actually going hiking.
Finally, there's the matter of safety. For years, we 40-year-old hikers have been looking on in despair as we watch novice hikers make their way up steep slopes in flip flops, Doc Martens, jeans and flannel shirts, woefully unprepared for the conditions at higher elevations such as windchill and uneven terrain. More people than ever before are taking to the mountains in search of the benefits of hiking and now, if some of them already have a closet full of technical hiking gear at their disposal, aren't they more likely to go in better prepared?
I don't know about you, but if you want to wear hiking boots on the high street and puffer jackets to the pub, I can't see the problem. Better than heels on the hill, anyway.
All the latest inspiration, tips and guides to help you plan your next Advnture!
Julia Clarke is a staff writer for Advnture.com and the author of the book Restorative Yoga for Beginners. She loves to explore mountains on foot, bike, skis and belay and then recover on the the yoga mat. Julia graduated with a degree in journalism in 2004 and spent eight years working as a radio presenter in Kansas City, Vermont, Boston and New York City before discovering the joys of the Rocky Mountains. She then detoured west to Colorado and enjoyed 11 years teaching yoga in Vail before returning to her hometown of Glasgow, Scotland in 2020 to focus on family and writing.