Hiking in Scotland: an insider's guide
Our expert guide to hiking in Scotland covers the best walks and everything you need to know before walking in the Highlands and beyond, from wild weather to unmarked trails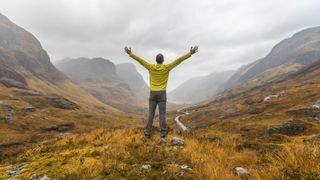 (Image credit: Westend61)
With its world-famous stunning peaks, sweeping glens and long distance trails, it's no surprise that people travel in their millions from across the globe to go hiking in Scotland each year. This small northern country was named one of the top hiking destinations in the world in a recent study, but even if you're used to hiking, there are some special considerations you'll want to take before you hit the hills in Scotland. And no, we don't just mean bring your best hiking boots.
The people of Scotland are generally known for being quite friendly, however the weather is less than hospitable and the hiking trails here are far less developed than other popular spots, such as America's National Parks or even the Lake District in England. Whether you're already resident in the UK and just looking to get off the beaten track a bit, or you're coming here from afar, you'll want to do some careful planning to make sure you get the most out of your time. To help you prepare for hiking in Scotland, we travelled to the Highlands to talk with some local experts.
Does Scotland have good hiking?
Scotland has fantastic hiking, or hillwalking as it's better known here. Though it's so small you can cross it in not much more than an hour in parts, between its three major mountain ranges, Scotland harbors no less than 282 Munros – mountains over 3,000ft tall – plus 221 Corbetts, which are between 2,500ft and 3,000ft, and a further 219 Grahams, which are between 2,000ft and 2,500ft above sea level. So if mountains are your thing, you'll never run out of options in Scotland. Then you've got several dozen long distance walking trails such as the West Highland Way, the Cape Wrath Trail and the John Muir Way and over 6,000 miles of coastline to explore on foot.
According to mountain guide Mike Pescod of Abacus Mountain Guides who has been providing skills training and guiding around Fort William for over 20 years, the geography is made all the better by its relative remoteness compared to other popular hiking spots in the UK like the Lake District.
"The centers of population around the Lake District are massive. Huge numbers of people live there and it's accessible so lots of people go there, lots of people talk about it, and it's their escape from their urban lives, So it's no surprise that it's highly regarded and busy, whereas up here, fewer people live here, it's not that accessible, and the number of people that visit here is much lower than in Snowdonia and the Lake District. So that all works for us in our favor," says Pescod. If you're seeking solitude on your hiking trails, and many of us are, Pescod's top tip is to skip the Munros and go for the slightly smaller mountains.
"If you walk up a Munro, you'll probably see three or four other teams. If you walk up a Corbett you aren't going to see anybody, and if you go up a Graham, there isn't even a path, it's brilliant."
Now of course, if you're used to hiking in the Lake District, or the popular Rocky Mountains, seeing only three or four other groups might sound idyllic to you, so if Munro bagging is your jam, have at it.
What is the best walk in Scotland?
Well, naturally this is a matter of great debate with so many hills to choose from, but according to the study we referenced earlier, Ben Nevis and the West Highland Way are the most popular hiking spots here. Ben Nevis near Fort William is the tallest mountain in the UK, so it draws people for that reason alone, and we've written extensively about it in our article on climbing Ben Nevis.
If you have the time and want the mileage, the West Highland Way is a stunning 96 mile long distance trail that stretches from the lowlands to the Highlands and comes highly recommended by local guides like Pescod.
"It's just brilliant. To go from such an urban area in the outskirts of Glasgow all the way up through the west Highlands to Fort William is just incredible, and you can finish that with Ben Nevis or keep going on the East Highland Way to Aviemore, the Great Glen Way that goes to Inverness or the Cape Wrath Trail for three weeks of walking all the way up to Cape Wrath."
What is the easiest hill to climb in Scotland?
If you're looking for something less daunting than a massive snow-covered peak or a multi-day trek, don't worry – Scotland is chock full of short day hikes and meandering paths. In fact, you might want to start out with our guide to the best hikes near Glasgow and combine your time in nature with all the luxuries of staying in a metropolitan area.
Can you hike anywhere in Scotland?
Another aspect of hiking in Scotland that makes it so desirable is the abundance of access. The Land Reform (Scotland) Act, which came into force in 2005, grants everyone the right to access most land and inland water, often known here as "right to roam". This doesn't, however, mean that all land in Scotland is public – you still need to stay off golf courses and quarries for example – and it doesn't mean you can do whatever you want on it.
Mark Gibbons, Commercial Manager of the Chamber of Commerce in Lochaber, otherwise known as the Outdoor Capital of the UK, highlights the importance of behaving responsibly on Scottish land.
"One of the problems we were having is the Instagram battle where people take their camper vans and drive straight onto land that is protected land with protected species living in it. As an image, that looks incredible, but when you break it down, all you've done is left tire tracks on land that will take hundreds of years now to recover, you've damaged areas without really thinking ahead or even knowing what you've done, says Gibbons, pleading "Just don't go about driving into fields."
So, you can hike just about anywhere in Scotland, but only if you behave yourself. And, if you respect the land and other users, you can also go wild camping in Scotland, or even use the system of bothies for free if you don't want to brave the Scottish weather in your tent.
Hiking in Scotland: what do you need to know?
Hopefully by now we've persuaded you of the innumerable joys of hiking in Scotland, but as we mentioned in the beginning of this article, there are a few things you need to know before you go. Follow this guidance from our local experts and we promise you'll have a brilliant time hiking in Scotland.
1. Hiking in Scotland: plan for wild weather
The weather is the first thing you'll need to be prepared for when you come hiking in Scotland. If you're keen on hiking, chances are you might not be afraid of a spot of rain, but please be clear that rain rarely arrives in mere spots in Scotland. Preparing for rain is the first tip from Gibbons when it comes to hiking in the Highlands, or indeed anywhere in Scotland, but that's not to say all it does is rain here.
"Expect to be walking in the sunshine, then the clouds come over suddenly and you might get soaked so have a pretty decent waterproof," explains Gibbons.
In fact, it's the changeable nature of Scottish weather that catches so many people by surprise. Rarely will you set off on a hike in brilliant sunshine only for it to stay that way. And if you already own a light waterproof shell that's seen you though hiking in the Alps, you should be aware that it won't be enough. Get a really good waterproof jacket and waterproof trousers for starters.
"There's waterproofs and then there's waterproofs in Scotland," advises Pescod. "If you're walking up Ben Nevis for eight hours in the rain, it's really hard to keep yourself dry. Bring very good waterproofs, not softshells."
The abundance of moisture in Scotland – on average about 60 inches of rainfall per year – combined with it being the windiest country in Europe makes it often feel a lot colder than the weather forecast might sound. Again, if you're used to high altitude hiking in a dry climate like Colorado, you might look at Scotland's daily springtime highs of 50°F/10°C and think it sounds quite balmy indeed, however 50°F in Scotland is not the same as 50°F elsewhere. Dress in breathable hiking layers and, Pescod advises, wear more warm clothes than you usually would and carry extras in case you get caught in a downpour.
And all of that's just in summer when the weather is good. Come winter, which up in the Highlands is basically any time from September to May, if you're braving big mountains then you'll want to be prepared for snowy conditions with mountaineering gear like winter hiking boots, crampons and an ice axe, even if it's sunny at the trailhead.
"It might be beautiful at the base but as you go higher you're losing a couple of degrees with every thousand feet that you're going, the conditions change, it could be bright sunshine down low and chucking it down with snow at the top," warns Gibbons.
2. Hiking in Scotland: you're way up north
Another aspect that can catch people out when hiking in Scotland is how far north it is. Though it's a short flight from anywhere in Europe, and seems like it's just a short hop across the Atlantic to New York City, it's on the 56th parallel, which makes it just north of Moscow to the east and Saskatchewan to the west.
"Most people that come here in the summer are surprised that it's still light at 11 o'clock at night, and then obviously in winter if you come here in December it's dark at 4 pm. The daffodils bloom a month later up here, so we're a long way north. It's colder, the weather can be worse," says Pescod.
So, if you are planning a late fall, winter or early spring trip to Scotland, know that your hiking days will be shorter as well as colder. You won't be able to hike without a headlamp before about 9am and you'll want to be finished by 3pm (see our guide to the best headlamps for some good options). On the plus side, if you go closer to the summer solstice, your hiking day almost never ends.
3. Hiking in Scotland: know how to navigate
Now one of the main advantages of hiking in Scotland is how untouched it is, but that brings its own challenges, according to Pescod, who says that on the smaller hills such as the Corbetts and Grahams, there's barely a footpath, so you've got to be able to navigate.
"We keep our hills quite clean of infrastructure. If you go walking in Switzerland, it's a great place to walk, lovely, very well built trails that are signposted to tell you where to go and how long it's going to take. It's all kind of set out for you. We don't do that here. We prefer people to have their own skills to be able to lead themselves," says Pescod, who encourages you to not just carry a map and compass, but know how to use them, and to find enjoyment and satisfaction in that.
"We'll do work on paths to minimize erosion but it's not to encourage access, so you get quite a raw experience here, it's more in touch with nature," he explains.
4. Hiking in Scotland: go with a guide
There's another option when it comes to navigating: hire a guide to do it for you. Everyone we spoke to in Lochaber strongly recommended hiring a guide when you're hiking in Scotland for the first time, especially if you're tackling a bigger mountain or going further afield into a more remote location.
"If you're coming here climbing and it's your first time, connect with a guide and go for a guided experience. You'll absolutely love it. For that small investment, you're essentially ensuring you have a great experience, and also you'll be safe," suggest Gibbons. Safety is a great reason to hike with a guide, agrees Pescod, who also works in mountain rescue and reports that the majority of summer rescues are for people who have misjudged the sheer scale of the mountains here – perhaps because the country itself is so small – and become tired, leading to injury or simply running out of steam.
We go into more detail in the benefits of hiring a guide in our article on guided hiking, but suffice to say that in addition to safety, the advantages range from learning more about the surrounding area to supporting the local economy.
5. Hiking in Scotland: beware the Highland menace
Finally, we'd be remiss if we didn't warn you about the greatest menace of all in Scotland: the fierce midge. Whereas in the Rocky Mountains you have to watch out for bears and mountain lions on the trail, in Scotland you might get eaten alive by tiny, biting flies that hover in vast swarms and are enough to drive even the hardiest outdoor person indoors. Please understand that even if you're used to mosquito bites, there's nothing that can quite prepare you for embarking on war against a cloud of midges. In addition to arming yourself with the world's best insect repellent, you'll want to read our article on how to avoid midge bites before setting foot in Scotland in the summer months.
All the latest inspiration, tips and guides to help you plan your next Advnture!
Julia Clarke is a staff writer for Advnture.com and the author of the book Restorative Yoga for Beginners. She loves to explore mountains on foot, bike, skis and belay and then recover on the the yoga mat. Julia graduated with a degree in journalism in 2004 and spent eight years working as a radio presenter in Kansas City, Vermont, Boston and New York City before discovering the joys of the Rocky Mountains. She then detoured west to Colorado and enjoyed 11 years teaching yoga in Vail before returning to her hometown of Glasgow, Scotland in 2020 to focus on family and writing.