Trail running in Scotland: an insider's view on everything you need to know
Tips on where to go, what to expect and the essential kit for runners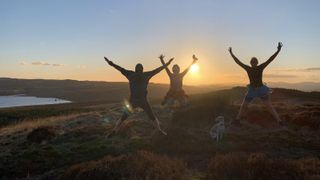 (Image credit: Fiona Outdoors)
If you are a trail runner, or thinking about getting started with trail running, Scotland is a location that offers a huge variety of options. It might be a comparatively small country, but the diversity of landscape and the many, many miles of trails make it very attractive for runners.
Here we reveals some of the things to know about trailing running in Scotland.
6 things to know about trail running in Scotland
1. There are trails for all
From signposted trails close to Scotland's villages, towns and cities to remote hill and mountain singletrack, which require good navigation skills, there is a route to satisfy every fitness level and aspiration for adventure.
To start with, you could check out a network of Scotland's Great Trails. These are a series of long-distance walking routes, all with good quality signposting. If you can walk a route, you can generally run a route, too.
You could choose to run a five-mile section of, for example, the 96-mile West Highland Way, or complete the full Dava Way in one or two days. Every region and also many of Scotland's islands have signposted routes you can run.
Another great resource for running routes is Walk Highlands. This website has a huge catalogue of walks, which can be searched for according to area. You'll find short and easy graded routes and longer and challenging routes. The routes also include details about the type of terrain you will encounter, whether a well-maintained path, or terrain that is more off-piste. Many of these waling routes are great for runners, too.
There are various books, such as one called Scottish Trail Running and also Wild Running, that feature some of the best trail running routes in Scotland.
For other ideas you could join a local trail running group or an organised outing with a company such as Girls on HiIls or Trail Running Scotland. They will show you plenty of different trails and give you guidance on where to run and the sort of kit you'll need.
2. There's plenty of variety across the regions
It's difficult to choose a favourite region for trail runners because it depends on your ability, experience and desires.
In general, however, the east coast regions, such as East Lothian, Fife and Aberdeenshire are flatter or more undulating with gentler and smaller hills, as well as great coastal routes. Meanwhile the west coast regions, such as Argyll & Bute and the Highlands are more rugged with taller and steeper mountains.
The west coast still has plenty of coastal options and also routes that head through gorgeous glens, so even if you are new to trail running you will still find a great deal to enjoy.
The west coast offers the chance to take a trip to one of many islands, for example, Arran, Bute, Mull, the Outer Hebrides, or Skye. There are plenty of options for trail running on the islands.
Central Scotland, including Edinburgh, Glasgow and Stirling, as well as southern Scotland, boasts plenty more trail running options, too. The hills are not as steep or high as in the Highlands but the diversity amid a rolling countryside is amazing.
3. Every season has unique appeal
Spring in Scotland is one of the best times go trail running. Temperatures are generally milder and, while it can be wet, the climate will suit runners.
If you run at higher altitude you may encounter long-lying snow, even into May, so it's important to be prepared for this.
Summer is another good season for trail running in Scotland, especially as temperatures are rarely too high for pleasant running, however some popular trails will be busy with tourists and visitors.
The summer months bring sunshine and less frequent rain showers, but in Scotland you should be prepared for any season at any time of the year!
The summer is also midge and tick season. Midges are small insects that love to bite humans. They don't spread disease but many people suffer with the bites, which can become inflamed and itchy. Great swarms of midges are also very unpleasant. There are plenty of tips for dealing with the Scottish midge.
Ticks can be carriers of Lyme's disease and you need to remove them from your skin as soon as you can.
Autumn is another lovely time for trail running in Scotland. There are usually fewer tourists and trails start to become quieter. The weather can vary from cold to warm but it is generally drier overall.
The daylight hours start to reduce at the end of summer and you should be prepared for earlier sunsets in autumn. An advantage of this season is that midges and ticks begin to disappear.
Autumn is one of the best times for stunning landscapes, especially as the leaves and grasses change from green to a variety of colourful hues.
Winter is stunning season when snow and a beautiful low light paint the scenery with drama. There are obvious challenges of this time of year, including deep snow and ice and you need to be prepared with the right safety equipment.
However, running in winter will be quieter and you could end up running for many hours without meeting another person.
4. You need to think about your kit
What you wear or take in a running pack will depend on the season as well as how far you plan to run. It's the same as running in any country but it's worth being aware that Scotland can have very changeable weather.
For example, it might be mild and sunny at the base of a hill or a mountain, then turn very cold, wet or snowy the higher you climb. A longer distance trail run could start in the rain only to finish in sunshine, or vice versa.
Scotland is well known for throwing three or four seasons at outdoors fans in just one day.
You should aim to be prepared for the worst that the weather might bring. Check the weather forecast before heading out and pack your kit accordingly.
For example, whatever the season you'll need a waterproof and breathable running jacket (to wear or to take with you), trail running shoes suited to the terrain, running headwear and running gloves.
In addition, if you are heading off path, you'll need a map and compass, or, at the very least, the route uploaded to a map app.
If it's winter, you should consider microspikes or similar so that you can still run safety in snow and ice. It is important to have a headlamp with you, too, in case you are out after sunset.
Trail running poles are another great asset if you're on uneven terrain. An emergency bivy sack or blanket is another vital piece of kit for trail runners, especially if you are venturing into more remote areas.
In summer, remember sun lotion, sunglasses and midge/tick repellent.
5. There's no shortage of great views
One of the best things about Scotland is the opportunity for a fantastic view. From coast to mountain summit, through glens and forests, along rivers and over hills and from almost any corner of the country, there is a great vista to enjoy. (That's if the weather is in your favour!)
6. You can also try racing
There are many trail races taking place across Scotland each year. From 5ks to ultra running races, the choice is vast. The races allow you to explore new routes and to be surrounded by like-minded people.
Scotland is a fantastic place for trail runners and there is a huge variety of routes to try. But it's important to be prepared for the weather and summer insects. We're sure, however, that once you have visited, you'll be keen to return again and again.
All the latest inspiration, tips and guides to help you plan your next Advnture!
Fiona Russell is a widely published adventure journalist and blogger, who is better known as Fiona Outdoors. She is based in Scotland and is an all-round outdoors enthusiast with favourite activities including trail running, mountain walking, mountain biking, road cycling, triathlon and skiing, both downhill and back country. Her target for 2021 is to finish the final nine summits in her first round of all 282 Munros, the Scottish mountains of more than 3,000ft high. Aside from being outdoors, Fiona's biggest aim is to inspire others to enjoy the great outdoors, especially through her writing. She is also rarely seen without a running skort! Find out more at Fiona Outdoors.