Should I resole hiking boots – and how do I do this?
A guide to the pros and cons of resoling your favourite hiking boots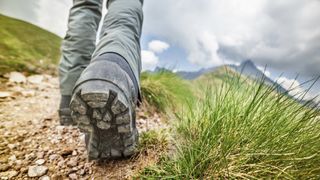 (Image credit: Getty )
We've all experienced the upset when our favourite hiking boots become too worn to be safe or comfortable to use in the hills and mountains. It's usually around the same time that the boots have become the most comfortable walking footwear that you own.
You'll notice a few things first, such as the boots letting in a bit of water or dirt; reduced levels of traction underfoot; and perhaps the sense that the rough ground is too close to the soles of your feet. When this happens, it usually means the soles have worn out.
Simply looking at the base of your boots will show you how they have worn and whether they are too worn to be safe to wear on steep slopes. If the treads or lugs look worn down then it's time to renew.
Most people find that the soles will wear out on good quality leather or mostly leather boots before the uppers. If you own lightweight fabric hiking boots, it's more likely that you will wear out the uppers before the soles, but not in every case.
Then the question is: should I resole my hiking boots, or head off to buy a new pair of the best hiking boots? In that case, you will want to follow this guide to buying new hiking boots.
Can I resole my hiking boots?
First, you need to know if you can resole hiking boots. Some modern boots and some of the best hiking shoes can't be resoled because of the quality of design and manufacture.
Usually, it is only possible to resole hiking boots with a "cemented" or a "double-stitched" construction. What this means is the construction design has a type of connection between the insole, outsole and other lower parts of the boots that allows for a clean separation so the boots can be renewed.
Boots made with a Strobel shoemaking technique are more difficult to repair. This type of sole has a non-woven insole sewn on to the upper using the Strobel stitch, which does form a solid unit. It can also be glued on. The outsole is then sprayed on.
The heel of the sprayed-on sole can be sanded down and a new outdoor heel glued on in its place. However, a complete sole replacement is not usually possible with this footwear design because a sprayed-on sole can't be removed without damaging the upper.
If you have the right hiking boot for resole repairs and replacements, it's worth checking with the brand to see if they will accept hiking boots for resoling. You have to pay for this service, but it's a good choice if you want the original brand to do the work.
It is also worth checking on warranties for some hiking boots. There are brands that will replace boots if they are within a period of warranty, or they will offer a discount to replace the boots.
There are independent repair companies, too, who specialize in resoling hiking boots. It's best to do an internet search for these because you might find a company that is local to you, or else you'll need to send the boots away for the work to be done. Make sure you know if the cost of postage is included in the repair service, or not, to assess whether it is worth sending your hiking boots for a resole.
Pros and cons of resoling hiking boots
If you do have a pair of good quality hiking boots that can be repaired, there are some pros and cons to consider when deciding whether to resole hiking boots.
Pro: it's budget friendly
It is usually cheaper to have good quality hiking boots resoled compared to the cost of buying new footwear.
Pro: it's more cco
It is better to conserve and reuse where possible to reduce the climate changing affects of manufacture. If you feel that the uppers of the hiking boots still have plenty of life, it's an environmentally positive choice to have your boots resoled.
Pro: it's a good safety call
A resoled boot will have lots more life and it will ensure you are safe in the hills and mountains. It might sound obvious but a resoled boot will give a lot more traction than a worn boot and this will help to keep you upright on rough and slippery terrain.
Pro: quality counts
The boots need to be of good enough quality to be considered for resoling. Many modern types of boots can't be easily resoled because they can't be considered for resoling. It's worth considering the quality of the boots when you buy them in the first place.
Pro: if you can't find the same again
If you have a pair of hiking boots that you have long trusted and enjoyed and then they start to wear out and you can't find the same boot as a replacement, your best bet might be to have them resoled and repaired.
Pro: it restores your edge
When replacing the sole, you'll get excellent new grip and also a sharp edge again. Grip and sharp edges are important in rough and steep mountain terrain for keeping you on your feet. They are also vital for good traction in snowy and icy conditions.
Cons: what about the uppers?
There is no point in replacing the sole if the uppers are already showing signs of wear and tear. If you choose to resole hiking boots, you'll want the uppers to last, too.
Cons: it won't restore cushioning
The resoling only replaces the hard outer sole (the part of the boot that gives traction), so it won't replace the lining or the shock absorbing materials.
It's not just about the boots
And if you find success when you resole hiking boots, you might then consider climbing shoes and approach shoes as well.
All the latest inspiration, tips and guides to help you plan your next Advnture!
Fiona Russell is a widely published adventure journalist and blogger, who is better known as Fiona Outdoors. She is based in Scotland and is an all-round outdoors enthusiast with favourite activities including trail running, mountain walking, mountain biking, road cycling, triathlon and skiing, both downhill and back country. Her target for 2021 is to finish the final nine summits in her first round of all 282 Munros, the Scottish mountains of more than 3,000ft high. Aside from being outdoors, Fiona's biggest aim is to inspire others to enjoy the great outdoors, especially through her writing. She is also rarely seen without a running skort! Find out more at Fiona Outdoors.