What are approach shoes? Our guide to this increasingly popular choice for outdoor enthusiasts
By Ross Taylor
In store or online, you've perhaps wondered: what are approach shoes? We outline their uses so that you can decide if they are your new footwear of choice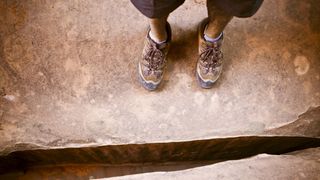 (Image credit: Getty)
We often get asked: what are approach shoes and how are they different to trail running shoes or hiking shoes? Approach shoes are a concept that has come out of rock climbing. If you've ever tried to walk in a pair of rock climbing shoes, the chances are you won't have tried to again. 
Climbing shoes are designed to cling to tiny ledges and give you maximum grip on rock. They should also be extremely tight, holding your foot together as one compact unit. Not only are they not designed for flat ground, walking any distance further than a few meters is rather uncomfortable. Due to this, climbers usually put their climbing shoes on at the bottom of a crag and remove them at the top. But what about on the way to the crag and the way back? Enter the approach shoe...
The crags, buttresses and cliffs climbers seek out often require an approach on terrain that is more technical than a walk but doesn't quite warrant lacing up their climbing shoes for. While the best hiking boots would certainly cope with this kind of terrain, the climber would then be left with a weighty burden when they reach the crag.
The solution was a lightweight hybrid that's part climbing shoe, part hiking shoe, comfortable and has the technical features to allow climbers to approach a route more safely. Features like carabiner loops mean that the approach shoe can simply clip into a harness and be carried when matters get more vertical. So, what other features set approach shoes apart?
What are approach shoes? The features
Approach shoes are not that dissimilar to a hiking shoe, but they have a couple of important differences. The first is that they are normally shod with the same rubber used on climbing shoes, which is a softer, more sticky compound that gives way more grip on rocky terrain. Standard hiking shoes use a harder rubber compound that is more durable but doesn't provide anywhere near the grip on rock. 
Secondly, approach shoes tend to be a bit stiffer across their length for edging, a climbing term for using the side of your shoe to step on small holds or 'edges' sticking out of the rock. This rigidity is what makes approach shoes more suitable than even the best trail running shoes when it comes to safety on technical ground. As well this, they are usually narrower for jamming into cracks in the rock. Many approach shoes will also have a rubber rand around the side to provide more grip when they're placed in cracks, which also protects the shoe's stitching from being damaged.
What are approach shoes? The uses
Approach shoes are obviously primarily designed for climbers, who spend most of their time in rocky places and enjoy the increased security and safety of having something super secure on their feet when accessing crags. Many climbing guides also wear them when taking their clients up easy routes.
Approach shoes are also preferable to hefty winter boots when there's a long walk in to a winter walk or climb. There's no need to trudge along easy trails for kilometer after kilometer in your B2s if there's room in your day pack for them. Instead, give your feet a rest and let them enjoy the feel of approach shoes until you reach the snow line.
They are also perfect for hikers who enjoy traversing exposed, rocky ridge lines or enjoy hikes with some easy scrambling. The only downside for some hikers may be the extra stiffness or lack of insulation in cold weather, although there are some heavier approach shoes designed for the greater ranges that are better insulated.
In the right hands (or feet, to be accurate), approach shoes also have the ability to take on some formidable vertical terrain, as proved by legendary climbers Alex Hannold and Tommy Caldwell. The American duo mostly wore approach shoes on the long-awaited Fitz Roy Traverse in Patagonia, often climbing together up to a grade of 5.10 (as hard as most regular climbers will ever climb) in their approach shoes. They only switched to proper rock climbing shoes when things got a little too tasty.
What are approach shoes? How to choose
The first commercial approach shoe was the legendary Five Ten Guide Tennie, but these days nearly all climbing-shoe brands produce their own approach shoes, including the following:
The best way to pick an appropriate approach shoe is to try a bunch on and see how they feel. If you imagine approach shoes on a continuum between a pure climbing shoe and a pure hiking shoe, then you'll find that some models will be more focused on rock performance while others are aimed at the hiking end of the spectrum.
If you're a rock climber or someone who does a lot of technical walking and scrambling, then you probably want to get something more climbing focused, with a stiffer sole, sticky rubber and performance fit. Whereas if you're after more comfort for walking and occasional scrambling, you can get something softer and less specialised with bigger sole lugs for muddy trails.
All the latest inspiration, tips and guides to help you plan your next Advnture!
Thank you for signing up to Advnture. You will receive a verification email shortly.
There was a problem. Please refresh the page and try again.