What are approach shoes? The essential guide
By Ross Taylor
While perusing pages of outdoor footwear, you've probably seen the term 'approach shoe' and wondered what differentiates these from trail shoes. We're here to help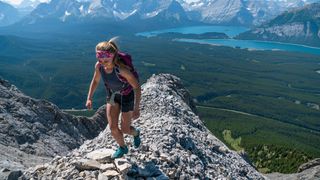 (Image credit: Ross Taylor)
Approach shoes are a concept that has come out of rock climbing. Many mountains, cliffs and crags have super technical approaches, requiring climbers to access routes by very steep and rocky trails. And because they are notoriously uncoordinated when they're not clinging to rock faces, many years ago climbers created a hybrid shoe that's part climbing shoe, part hiking shoe, which allows them to approach crags more safely.
Approach shoes are a hybrid because standard climbing shoes are terribly uncomfortable – imagine a visit to the footbinder – so approach shoes combine some of the technical ability of climbing shoes with the comfort and rugged build of hiking shoes.
Approach shoes would be perfectly fine for most day walking, but they've also got the ability to take on some formidable vertical terrain. The American climbers Alex Honnold (famous for soloing the 1000m face of El Capitan in Yosemite Valley, USA) and Tommy Caldwell (well known for climbing the hardest route on El Capitan) mostly wore approach shoes on the long-awaited first ascent of the Fitz Roy Traverse in Patagonia, often simul-climbing (climbing at the same time) up to 5.10 (as hard as most regular climbers will ever climb) in their approach shoes, only switching to proper rock shoes when it got harder. (You can see a brilliant film about their ascent at Red Bull.)
For the rest us mere mortals, approach shoes provide vastly better performance on rocky terrain, which can be a lifesaver, as it's amazing how many climbers have died on approaches.
What makes an approach shoe?
Approach shoes are not that dissimilar to a hiking shoe, but they have a couple of important differences. The first is that they are normally shod with the same rubber used on climbing shoes, which is a softer, more sticky compound that gives way more grip on rocky terrain. Standard hiking shoes use a harder rubber compound that is more durable but doesn't provide anywhere near the grip on rock.
Secondly, approach shoes tend to be a bit stiffer across the length of the shoe for edging (a climbing term for using the side of your shoe to step on small holds or 'edges' sticking out of the rock) as well as narrower for jamming into cracks.
Many approach shoes will also have a rubber rand around the side of the shoe to provide more grip when they're placed in cracks, which also protects the shoe's stitching from being damaged by the rock.
Who are they good for?
Approach shoes are obviously primarily designed for rock climbers, who spend most of their time in rocky places and enjoy the increased security and safety of having something super secure on their feet when accessing crags. Many climbing guides also wear them for comfort when taking their clients up easy routes.
But they can also be perfect for hikers who enjoy traversing exposed, rocky ridge lines or enjoy doing hikes with some easy scrambling. The only downside for some hikers may be the extra stiffness or lack of insulation in cold weather, although there are some heavier approach shoes designed for the greater ranges that are better insulated.
Picking a pair of approach shoes
The first commercial approach shoe was the legendary Five Ten Guide Tennie, but these days nearly all climbing-shoe brands produce their own approach shoes, including the following:
The best way to pick an appropriate approach shoe is to try a bunch on and see how they feel. If you imagine approach shoes on a continuum between a pure climbing shoe and a pure hiking shoe, then you'll find that some models will be more focused on rock performance while others are aimed at the hiking end of the spectrum.
If you're a rock climber or someone who does a lot of technical walking and scrambling, then you probably want to get something more climbing focused, with a stiffer sole, sticky rubber and performance fit. Whereas if you're after more comfort for walking and occasional scrambling, you can get something softer and less specialised with bigger sole lugs for muddy trails.
All the latest inspiration, tips and guides to help you plan your next Advnture!
Thank you for signing up to Advnture. You will receive a verification email shortly.
There was a problem. Please refresh the page and try again.