Running for stress relief: 6 ways running can help offset stress
Curious about running for stress relief? We look at the science behind how running affects your neurochemistry and other ways it can help you combat and cope with stress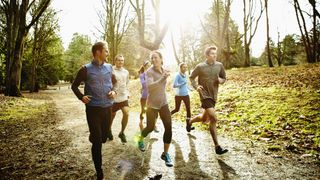 (Image credit: Thomas Barwick)
More and more people are seeking out calming practices like meditation, Tai Chi and yoga in order to combat the effects of stress, implementing relaxation as an antidote to the increasing momentum of a hectic existence. But what about running for stress relief? It makes sense to treat an overactive nervous system with rest, but is it possible that getting your trail running shoes on and doing intense cardiovascular exercise that stresses your body can at the same time relieve stress? Or does it just tire you out so you don't focus on your stress? We decided to take a look at the claim that running is effective for stress relief to understand if and how it works.
With two out of three American adults reporting increased stress in the 2020 Stress in America Survey, there's no question that we all need to be doing more to cope with the demands of modern life. After all, the effects of chronic stress on your body are far ranging and serious, according to the American Psychological Association (APA), from muscle pain and inflammation to impaired immunity and gut dysfunction.
Researchers from Duke University are among many that point to the effectiveness of meditation for relieving stress, and it makes sense that giving your body and mind a break from activity gives them the time and space needed to recover. So it might seem surprising that doing something vigorous, like running, can also help reduce stress levels according to the American Institute of Stress. Of course, for some people, the very thought of going for a run induces stress, and the act of doing it is more nauseating than liberating, but for many of us, running really is relaxing. So how does it work?
How does running relieve stress?
It turns out that exercise generally has been frequently verified in clinical trials as an effective treatment for stress, and not just for everyday worries – it's even been used to treat people with clinical depression according to the Journal of Clinical Psychiatry. But how can it be that running, which places stress on your body and mind, is relaxing? We did some digging and found six really strong explanations for this phenomenon.
1. Running and stress hormones
One claim you hear a lot is that running helps you to "burn off" the stress hormone cortisol, which your adrenal glands release under stress to increase sugars in your bloodstream and give you energy to fight or flee. Though this fight or flight response is a helpful part of your in-built survival mechanism, chronic cortisol from everyday stress is more of a health problem according to the Physical Therapy journal. Though some point to getting more exercise to metabolize these circulating stress hormones – even if you're just going for a jog and not sprinting away from a wild animal – this may not exactly be telling the whole story.
In fact, more recent research like a 2016 paper in the journal Frontiers in Psychology shows that while low intensity exercise like yoga and walking does decrease circulating cortisol, high intensity exercise actually increases it. However, the paper also makes an important distinction between good (physical) and bad (psychological) stress and explains that while a negative event in your life increases cortisol, it doesn't increase your body's capacity to return to homeostasis after the stressful event.
Placing positive stress on your body, however, like when you go for a run, increases both your circulating cortisol levels and your ability to adapt to stress and metabolize cortisol into cortisone, an inert steroid. So in short, running increases your stress hormones but also your ability to adapt to stress, which may mean it can help you cope with stress in a more balanced way.
2. Running can increase mood-boosting hormones
The same review paper that found that while aerobic exercise like running increases cortisol, it is also associated with another neurochemical increase, in levels of both dopamine and serotonin. If you like running, you'll be familiar with that warm, optimistic glow you get after a long run – that's at least in part due to dopamine, which helps you to experience pleasure, satisfaction and motivation, and serotonin, which stabilizes your mood and induces feelings of happiness and well being, according to Berkeley University researchers. In other words, running not only helps you adapt to stress, it can also make you happier, and that theory is backed by a 2018 survey of 8,000 runners by Glasgow Caledonian University which found that 89% of runners reported improved mood an well-being.
Then there's the question of the runner's high, a short-lived feeling of euphoria that many of us feel after a run. Though this was previously attributed to endorphins, more recent research from Johns Hopkins suggests that the relaxed feeling you get after a run is more likely due to the release of endocannabinoids, naturally occurring molecules with properties similar to cannabis that may be responsible for short term positive mood changes.
3. Running promotes self esteem
Moving on from the neurochemical effects of running, there's also the topic of increased self-esteem. The Journal of Health Psychology found that low self esteem can actually be a predictor of increased stress and anxiety, making you more prone to stress. Meanwhile once you get out on the trail and start seeing the pounds melt away and your physical strength and stamina improve, the chances are you'll feel more confident and at ease, which according to a 2016 literature review by the University of Athens in turn makes you less susceptible to the effects of incoming stress.
4. Running improves your sleep
Some people might argue that intense physical activity like activity doesn't reduce stress so much as it makes you so tired that you forget all your worries, at least for a few hours. Let's just say that's true for a moment. Is getting more tired necessarily bad? After all, according to the National Sleep Foundation, regular moderate to vigorous exercise has been shown to improve the quality of sleep. In a survey on stress and sleep, the APA reports that while stress decreases the quality and length of sleep, lack of sleep in turn increases stress levels. So running regularly can help you catch some quality Zs and thereby reduce feelings of stress, according to the folks at John Hopkins Center for Sleep.
5. Rhythmic exercise is more relaxing
All of the studies we've cited so far are on exercise generally and not running specifically but of course, we know that not all exercise is created equally. Those who turn to running for stress relief frequently point to its intrinsically rhythmic nature, which like swimming and rowing seem to make it more meditative than, say, ice climbing. Many of us feel like once we're warmed up, we find the flow state where we're fully immersed and focused. The science seems to agree, with studies on bilateral movement, where your limbs are moving symmetrically or alternately, suggesting that these types of movements produce more relaxed mental states.
6. Running can get you out in nature
Finally, there's the argument for seeing the green on the trees, hearing the birds and feeling the soft earth under your feet. Where the neurochemical results and impact on sleep could presumably be replicated on a treadmill, there's a good case for running outside to further enhance these positive effects, while running on a trail does so even more than on a pavement. After all, research from the Journal of Affective Disorders shows that green exercise, or exercising outdoors, helps with stress reduction because it removes you from common stressors like traffic, pollution and technology – even if you don't actually enjoy your time in nature. So even if you don't love running, your mind and body might love you for doing it.
Of course, as with anything, too much of a good thing can be detrimental, but in moderation, the science seems to back running for stress relief. If you're interested in getting started, check out our article on trail running for beginners and pair your run with these yoga stretches to enhance the positive effect on your life.
All the latest inspiration, tips and guides to help you plan your next Advnture!
Julia Clarke is a staff writer for Advnture.com and the author of the book Restorative Yoga for Beginners. She loves to explore mountains on foot, bike, skis and belay and then recover on the the yoga mat. Julia graduated with a degree in journalism in 2004 and spent eight years working as a radio presenter in Kansas City, Vermont, Boston and New York City before discovering the joys of the Rocky Mountains. She then detoured west to Colorado and enjoyed 11 years teaching yoga in Vail before returning to her hometown of Glasgow, Scotland in 2020 to focus on family and writing.