Is social exercise the key to a longer – and happier – life?
Two new studies implicate fulfilling relationships and exercise with a longer and happier life – we make the case for doing them together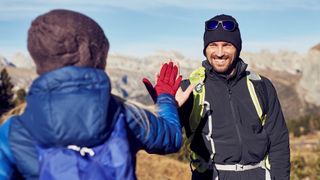 (Image credit: Getty)
When I'm weighing up whether to hit the hiking trail or go for a run by myself or with a friend, most of the time my decision comes down to simple logistics. Group hiking and running with a partner is a great way to socialize, but most of my adventures take place without much planning because I wake up, the weather looks good and I can make it fit with my day. Do I really have time to start calling round to see who's available, negotiate a trail that suits everyone and figure out a meeting point? Usually, the answer is no, especially when it's winter in Scotland and daylight hours are in short supply.
It's often just easier to lace up my hiking boots or trail running shoes and head out the door without any fuss, and I've long figured that I'm getting loads of benefits from green exercise even if I'm not socializing. But two new studies published this month in the British Medical Journal suggest that social exercise could be the key to a longer – and happier – life, and it has me thinking I need to pick up the phone more often. Though one study focuses on the benefits of exercise while the other implicates socializing in extending life expectancy, taken together, there's a persuasive argument for doing more social exercise, whether that means hiking with a group or joining that running club.
In truth, we already are living longer. In practically every corner of the globe, life expectancy has increased drastically in the last century. But, as a groundbreaking 2022 report by global consulting firm McKinsey points out, our quality of life hasn't changed. So in effect, we've actually increased the portion of time that we're living in poor health. So as we look at these studies, it's important to think about them not just in their implications for more years on the life clock, but how they can improve the quality of those years.
Let's start with social relationships. A 20-year study examined the correlation between satisfying relationships and health. Specifically, the authors surveyed 7,694 Australian women who were aged 45 - 50 years at the start of the study and free from 11 chronic conditions in 1996. Researchers tracked their sense of satisfaction with their relationships with partners, family members, friends and colleagues, and compared it with the instance of chronic conditions. They concluded that the lower their satisfaction with their relationships, the higher their risk of developing chronic conditions such as hypertension, cancer and diabetes. When the subjects enjoyed more satisfying relationships, they reduced their risk of chronic conditions, which is a major marker of increased life expectancy.
But how do you ensure your relationships are satisfying? That's a big question, certainly too big for this article, but for starters, there is research that indicates that hiking and other activities done in a natural setting can improve your relationships, which gives those activities an edge when it comes to figuring out how to increase your shelf life. Of course, if you are otherwise very socially active, you might feel the need to use your exercise time for occasional solace, but if you're already experiencing loneliness or isolation, joining a hiking or running group could be an excellent way to improve your relationships, personal health and live longer.
Next up, there's the exercise component. The second paper, a long term study on the timing of physical activity across adulthood on later-life cognition, is the latest of many to point to exercise as a contributor to later-life cognitive function. The study followed 1,417 participants over 33 years, asking them to report on their participation in leisure time physical activity five times between the ages of 36 and 69. The authors found that being physically active at any time during adulthood was associated with higher mental cognition at age 69, proving that it's almost never too late to begin exercising, while those who had maintained a regular fitness routine throughout adulthood saw the best results. In other words, maintaining a regular exercise routine throughout adulthood can improve your brain function as you age, which helps boost memory and reduce anxiety and depression, according to the CDC, and may even help to prevent dementia.
So, socializing can improve your physical health and help you live longer, while regular exercise can make sure you retain your mental capacities as you age. Can you do them separately for the same results? Absolutely, but there are only so many hours in the day and social exercise can have a host of other benefits too: it tends to motivate you, increases your safety if you're out on the trails and at the same time may make you more confident and adventurous in trying new things. And we're not the only ones who think social exercise may be the way to go. In fact, back in 2018, a study by the Mayo Clinic suggested that group sports and exercise tend to add a few years to your life compared to solo sports. If it could be the key to living a longer – and happier – life, why not invite a friend?
All the latest inspiration, tips and guides to help you plan your next Advnture!
Julia Clarke is a staff writer for Advnture.com and the author of the book Restorative Yoga for Beginners. She loves to explore mountains on foot, bike, skis and belay and then recover on the the yoga mat. Julia graduated with a degree in journalism in 2004 and spent eight years working as a radio presenter in Kansas City, Vermont, Boston and New York City before discovering the joys of the Rocky Mountains. She then detoured west to Colorado and enjoyed 11 years teaching yoga in Vail before returning to her hometown of Glasgow, Scotland in 2020 to focus on family and writing.