Can the right sports bra improve your running performance?
It's no secret that a lack of support can slow you down, but can a more supportive sports bra actually speed you up?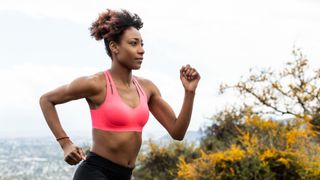 (Image credit: Brooks)
We all know that your gear can improve – or hinder – your running performance. Trade in your old trainers for a pair of lightweight road running shoes with a carbon plate and springy foam midsole like the Saucony Endorphin Pro 3 and you might lose seconds per minute off your race time. Head out on a long trail run with a well-fitting running backpack and hydration bladder instead of a book bag and water bottle bouncing around and you may be able to run for hours without chafing or experiencing dehydration. If you think we're just trying to sell you expensive running gear, check out the Ted Talk by David Epstein on how athletes have got faster, better and stronger and you'll soon change your tune.
But what about your sports bra for running? Yes, it's a necessity for most runners with breasts and yes, a poor-fitting one can definitely cause you pain – 32 percent of female London marathon runners experience exercise-related breast pain according to one 2012 study – but if you get the right fit, can your sports bra actually improve your running performance?
It sure can, at least according to a new study published in April 2023 in the journal Frontiers in Sports and Active Living, which examined the performance of 13 recreational runners. In the study, the participants ran three three-minute bouts on a treadmill wearing no bra, a low support bra and a high support bra and the study's authors observed a correlation between a high-support bra and running performance.
For this experiment, researchers filmed each runner using a 10-camera motion capture system so that they could study three-dimensional kinematics and ground reaction forces. Using this technology, they were able to observe that high breast support was associated with an increase in knee extension power as well as greater knee joint stiffness – stiffness, whether it be in your shoes, running surface, muscles or knee joints helps with the storing and release of elastic energy as explained in this 2021 study. So if you can reduce the rebound in your bra, it seems you may be able to increase the rebound in your feet and legs to move faster and more efficiently.
Yes it's just one study, but it's not the only one to notice a correlation between a more supportive bra and performance. In fact, the same researchers performed another study in 2021 that observed that a more supportive bra leads to reduced oxygen consumption and therefore improved running economy, to the tune of a whopping seven percent, which could make a big difference if you're sprinting to the finish line.
Returning to the more recent study, you may be asking yourself why on earth would your running bra impact your knee stiffness? Well, as the authors conclude, the connection between the two isn't fully understood yet, but an obvious hypothesis is that when you have less breast support and you're experiencing (or anticipating) discomfort or pain, you may unconsciously change your running pattern to decrease the impact that causes bouncing, kind of like how you'd soften your knees for landing when jumping down off a high wall. The result may translate into less rebound and less efficient running. Of course, if you're just going for a slow trail run on an already soft surface, this may not matter as much as if you're trying to set a personal best or running a half marathon and hoping to finish in under two hours.
Whatever the story, there's a compelling argument here to ditch your cheap stretchy gym bras and make sure that what you're wearing is optimally supportive for your fast-paced adventures. For small-to-medium breasts, a compression bra such as the BAM Bamboo Flexa Seamless Compression Crop Top may be ample, while for medium-to-large breasts, you might be more comfortable (and faster, as it turns out) wearing an encapsulation bra such as the Pure Lime Compression Bra which we rated very highly in the field. Get the right support, and you could not only reduce your suffering; you could get where you're going faster, and with less effort.
All the latest inspiration, tips and guides to help you plan your next Advnture!
Julia Clarke is a staff writer for Advnture.com and the author of the book Restorative Yoga for Beginners. She loves to explore mountains on foot, bike, skis and belay and then recover on the the yoga mat. Julia graduated with a degree in journalism in 2004 and spent eight years working as a radio presenter in Kansas City, Vermont, Boston and New York City before discovering the joys of the Rocky Mountains. She then detoured west to Colorado and enjoyed 11 years teaching yoga in Vail before returning to her hometown of Glasgow, Scotland in 2020 to focus on family and writing.