The North Face vs Columbia Sportswear: which is the right gear for you?
Trying to decide which company makes the better gear for you? We take a closer look at the similarities and differences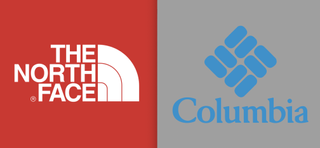 How do you choose which brand to buy when you need a new waterproof jacket or a replacement for your favourite trail running shoes, or any kind of outdoors apparel or gear? Is it based mainly on budget, or prior experience, fit, looks, ethics, or a mix of all of these? The chances are you will also take a look at expert reviews. Here, we'll take a closer look at the differences and similarities of two leading brands: The North Face and Columbia Sportwear.
The North Face designs, develops and sells a large range of outdoor clothing and gear for men, women and children across categories such as jackets and coats, tops, bottoms, footwear, accessories, bags and equipment. Different activities are covered, too, including mountaineering, snow sports, ski touring, hiking, trail running, training and climbing.
Columbia Sportswear also sells outdoor clothing, footwear, backpacks and accessories for men, women and children. Activity collections cover winter and summer sports, walking, trail running and urban adventures.
Hat-making roots: Columbia Sportswear
Columbia Sportswear, which is based in Portland, Oregon, started as a hat-making company. In 1937, Paul Lamfrom, his wife Marie and his family fled Nazi Germany and settled in Portland. They bought a small hat manufacturer, naming it the Columbia Hat Company after the nearby River Columbia.
The business eventually passed from Lamfrom to Neal Boyle, the husband of his daughter Gert. When Neal suddenly died of heart attack in 1970, Gert and her son Tim Boyle took over. The company expanded to cover a wide range of outdoor clothing including waterproof jackets.
Gert, who died in 2019, was known for her tough persona and perfectionism, and Columbia claims these same high standards continue to guide the company.
Columbia acquired footwear maker Sorel in 2000 and Mountain Hardwear in 2003. In 2006, it also bough Pacific Trail and Montrail, followed by prAna in 2014. In 2010, Columbia acquired OutDry Technologies, which develops and produces waterproofing membranes.
Hiking roots: The North Face
The North Face started in 1966 when Douglas Tompkins and Susie Tompkins Buell, who were keen hikers, opened a small camping and rock climbing shop in San Francisco. Two years later the shop was sold to Kenneth Klopp, who moved it to Berkeley in North California and started making products in-house.
Over some 30 years, the company was bought and sold several times. In the 1980s, trade and profits were strong for TNF, but in the early 1990s the company filed for bankruptcy. It managed to survive and came back but then faced charges of accounting fraud.
In 2000, VF Corporation bought TNF and still runs the brand.
Waterproof technology: The North Face vs Columbia Sportswear
Both The North Face and Columbia Sportswear use their own technology for waterproof garments. This differs from many other brands that use Gore-Tex.
TNF uses two of its own membranes. The first, Futurelight, is developed using a nanofiber material. The nano structure of the Futurelight membrane allows air to pass through for better venting and breathability, but without sacrificing waterproofness and durability. The membrane is made using a technique called 'nanospinning', which creates nano-sized fibres that allow improved air permeability while maintaining waterproofness.
The North Face describes Nanospinning as "a process that deposits a polyurethane solution from 200,000 nozzles on to a surface where it is collected in a randomised matrix to create the membrane. The solution is then used to form a breathable-waterproof film that is bonded to backer and face fabrics."
This fabric is used in products such as The North Face Lightriser Futurelight running jacket.
The other TNF waterproof fabric is Dryvent, which is engineered in a variety of weights, textures and performance characteristics. The company uses DWR treatment on this fabric, too.
Columbia uses its own waterproof-breathable technology, Omni-Tech. This comprises three layers, the outer of which is coated with Omni-Shield and gives the fabric the ability to ward off stains and grime, while also helping to repel water. The second layer is a waterproof membrane, while the third layer is said to work by utilising body heat to make the fabric moisture wicking. The overall feel of Omni-Tech is soft, not stiff, fabric.
Columbia also uses OutDry and OutDry Extreme technology for products such as in the Columbia Facet 60 Low Outdry Waterproof Hiking Shoe.
Green credentials: The North Face vs Columbia
Many more outdoors brands are aiming to reduce the environmental impact of their manufacturing processes and to be greener with fabrics and recycling, however it is important to be aware of greenwashing, too.
Let's consider The North Face. In recent years, the company has launched some environmental commitment goals, such as their recycling scheme, Renewed, sourcing all materials responsibly and eliminating single-use plastics, both by 2025.
TNF's ThermoBall Collection also now uses 100% recycled materials, plus their Explore Fund supports non-profit organizations with an aim of getting people outdoors.
Good On You, which rates fashion brands based on their ethical and environmental performance and policies, gives TNF a 'good' rating. The website reports: "The North Face has good animal welfare policies and has good policies to eliminate hazardous chemicals in its supply chain." The ratings include 3/5 for the planet, 3/5 for people and 4/5 for animals. Find out more.
Meanwhile, Columbia received a rating of 'not good enough' from Good On You. The watchdog claims: "Columbia is not taking adequate steps to manage its greenhouse gas emissions." Columbia received ratings of 2/5 across the board for planet, people and animals.
We also considered alternative consumer watchdog, Ethical Consumer, which assesses a number of outdoor companies on environmental issues, as well as ethics.
Ethical Consumer reveals that The North Face is one of only a few outdoors companies that has developed its own standards for down use. This is TNF's Responsible Down Standard (RDS).
TNF has been awarded a 'middle' rating for use of perfluorochemicals (PFCs), a compound used widely in this sector for its water-repellent properties and which is claimed to have climate damaging issues. The same report gave Columbia a "worst" rating because they use PFCs and have no phase-out date.
The same report considered carbon management and reporting. The North Face was given a best rating, while Columbia received a middle rating. The two brands also received the same rating (middle") for their policies on toxic chemicals use, that is they are "taking some steps in the right direction".
While outdoors brands do need sales of their products to make profits and survive, some are pushing a campaign to encourage consumers to buy second-hand or repair if possible. The North Face and Columbia both sell used products through ASOS vintage marketplace.
The eco report by Ethical Consumer was last updated in February 2022, while Good On You doesn't detail report dates. If in doubt of ethical considerations, it's worth contacting the company directly to ask for a full explanation.
Let's compare: product for product
Both The North Face and Columbia Sportswear have a wide selection of clothing and gear aimed at different needs. To compare, let's take a look at a waterproof hiking jacket from each brand.
Columbia's Men's OutDry Extreme Mesh Waterproof Shell Jacket is priced at £225 and comes in black only. It utilises the brand's own waterproof-breathable membrane and is made with a fully sealed construction. The pockets also feature water-resistant zippers.
The jacket is windproof and has a drop tail, bonded hood brim and adjustable hem and cuffs. The waterproof shell jacket is packable into its hand pocket. There is no information available for the jacket weight.
At the same price, The North Face Men's Dryzzle Futurelight Jacket is designed with the brand's own waterproof-breathable fabric, Futurelight and also has FlashDry moisture wicking fabric. TNF says the jacket includes recycled materials.
The jacket, which offers a choice of six colours, weighs 433g on average. Other features include a non-PFC DWR finish, adjustable, three-piece hood, reverse-coil, full-length centre front zip, internal chest pocket, hand pockets, internal stow bag, adjustable cuffs and a cinch at the hem.
The choice is yours – The North Face vs Columbia Sportswear
We have compared The North Face vs Columbia Sportswear on a number of different factors. There is not a great deal to differentiate the brands, expect that TNF has a better environmental rating according to two consumer watchdogs.
The choice of company will also include cost, size availability, color choice, looks, suitability for your activity and a bit of impulse. What do you consider when choosing between brands?
All the latest inspiration, tips and guides to help you plan your next Advnture!
Fiona Russell is a widely published adventure journalist and blogger, who is better known as Fiona Outdoors. She is based in Scotland and is an all-round outdoors enthusiast with favourite activities including trail running, mountain walking, mountain biking, road cycling, triathlon and skiing, both downhill and back country. Her target for 2021 is to finish the final nine summits in her first round of all 282 Munros, the Scottish mountains of more than 3,000ft high. Aside from being outdoors, Fiona's biggest aim is to inspire others to enjoy the great outdoors, especially through her writing. She is also rarely seen without a running skort! Find out more at Fiona Outdoors.