These are the traits and habits of trail and ultra runners today
A new widespread survey on the demographics and habits of trail and ultra runners paints a thorough picture of exactly these hardy athletes are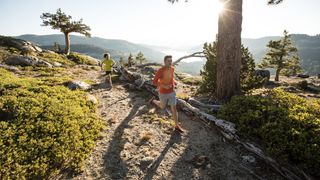 (Image credit: Getty)
Trail running, once in the domain of a hardy few, has seen a massive surge in recent years, both in the US and the UK, with more and more people trading in their road running shoes for something sturdier so they can tackle gravel, rock, mud and grass. The distances that trail runners run seem to be getting ever more gnarly (check out the Grand Slam of ultra running and Ramsay's Round if you don't know what we're talking about) and new FKTs on the soft stuff are set weekly.
But who are trail runners? We don't really need to have met a lot of individual trail runners ourselves to know these are some seriously tough individuals who may or may not be partially superhuman – but as of last week, we now know a lot more about them. Researchers at the University of Central Lancashire have just released the findings of a six month survey of 1,019 trail and ultra runners conducted in 2022 and it reveals a lot about the traits and habits of a trail runner. The report reinforces some of the things we already suspected, but some of its findings also turn our assumptions about what a trail or ultra runner looks like on their head.
Read on for some of the most interesting results from the survey, and what it tells us about the present – and future – of trail running.
1. They're white
If you've ever gone trail running with your eyes open, this one will come as no surprise. Over 95% of trail and ultra runners are white, which shows the sport has a way to go when it comes to diversity, but the reports authors are quick to point out, correctly, that this trend isn't just a trail running problem – the National Parks Service's 10 year survey in 2020 revealed that just 23% of their visitors were people of color, compared to 42% of the population. The outdoors sphere generally has some work to do when it comes to access and representation so it's no surprise that this is true for fast-footed trail travelers too.
2. They're not all men
In the trail running community, it's often reported that trail races are dominated by men, and many more male runners than female are sponsored, prompting women's-only groups like Girls on Hills UK to form, and leading many to speculate that trail and ultra running are male dominated. However, the figures show that the margins are narrower than race data might suggest, with females making up 40% of trail and ultra runners according to the survey, leaving 59.2% of trail runners male, 40% female and 0.9 non-binary or other.
Further, women train as often as men, with a similar weekly average mileage, and race just as often. There are some areas where female runners differ from male runners, however. Females are far more likely to run with others and be members of running clubs, perhaps because they value social interaction as the authors point out, but it's hard to deny that safety isn't also a concern for a lot of female runners.
Also super encouraging in this regard is that female runners were voted most inspiring in both the US (Courtney Dauwalter) and the UK (Jasmine Paris). Hopefully the end result of this data is that it will spur more outdoors brands to sponsor female runners.
3. They're middle aged
Ok, they're not all middle aged, but even though scampering across mountain tops sounds like it should be a young person's game, surprisingly few participants (16.3%) were under the age of 24. The vast majority of trail and ultra runners fall into the 35 to 64 age bracket, so you may still be able to get over the hill even if you're over the hill. Over half took up running in the past 15 years, while 27% have been running for longer than that, but nearly a quarter have taken up trail running in the past five years alone.
4. They're educated
Perhaps due to the fact that they've been on the planet longer, it turns out trail runners are an educated bunch as 43.5% have post-graduate degrees. In turn, that obviously translates into quite a lot of high earners too with nearly 34.5% reporting annual household income in six figures. This certainly helps to pay for all those trail running shoes – as we previously reported, figures of between 300 and 500 miles are usually suggested for the life of a running shoe, which means most of these runners would need to replace their shoes every two to three months. It also accounts for their ability to be able to spend so much time on the trails, since the most committed runners (those who run at least five times per week for over 60k) were also the most educated and highest earners.
5. They're motivated
No surprises here, but trail and ultra runners log a lot of miles on those GPS watches. The median weekly training mileage amongst those surveyed is 41 - 60k, which about a third of respondents run over the course of three to four runs. Almost a third of participants say they run between 21k and 40k every week and 20% run between 61k and 80k per week. Let's hope they're factoring in enough recovery time.
6. They own a lot of running shoes
A typical trail and ultra runner owns five pairs of running shoes! Though we can't account for all of those, we're certain that some own different shoes for different terrain, from regular trail running shoes to winter running shoes for cold weather and snow, mud running shoes for spring, fall and living in the UK at any time of year, and then you've got your road to trail running shoes for mixed terrain. Many may also be alternating between different models as part of their training, since a 2013 study in the Scandinavian Journal of Medicine in Science and Sports found that parallel use of different running shoes decreases running-related injury risk by 39%.
7. They're pretty healthy
We recently spoke to a GP in London about the health risks of ultra running, and learned that what research there is on the matter suggests that most side effects of ultramarathons are reversible within a few days of an event. Setting aside the potential for musculoskeletal or cardiovascular injury, this survey found that 73.8% of runners report excellent or good mental health – perhaps thanks to all that green exercise – compared to only 13% of UK adults in the general population.
Further, 33.3% of respondents follow an alternative diet, with 6.3 adhering to a vegan diet, 10.5% vegetarian and 14.7% mainly plant-based (14.7%), which is approximately twice the number who follow these diets in the general population of both the UK and the US. We've no idea how much of that diet is made of vegan running gels, mind you, but lets hope they're getting lots of fruit and veggies, since as we previously wrote about, the key to being a better athlete may lie in your gut.
All the latest inspiration, tips and guides to help you plan your next Advnture!
Julia Clarke is a staff writer for Advnture.com and the author of the book Restorative Yoga for Beginners. She loves to explore mountains on foot, bike, skis and belay and then recover on the the yoga mat. Julia graduated with a degree in journalism in 2004 and spent eight years working as a radio presenter in Kansas City, Vermont, Boston and New York City before discovering the joys of the Rocky Mountains. She then detoured west to Colorado and enjoyed 11 years teaching yoga in Vail before returning to her hometown of Glasgow, Scotland in 2020 to focus on family and writing.