What is a microadventure? Trips to the wild side don't have to be full-on expeditions
Learn how to press the refresh button on your life with a simple microadventure close to home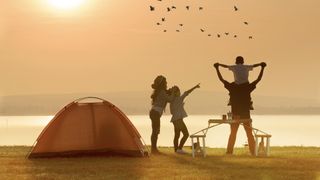 (Image credit: Getty Images )
A microadventure is defined in its simplest sense as an "overnight outdoor adventure that is small and achievable, for normal people with real lives".
A microadventure is a very flexible idea. Simply choose a location and a duration of at least a night.
In fact, the microadventure is meant to be local to your home, in a green or open space and it might even take place in your own garden. You could try garden camping, for example, which is also nicknamed "gamping (opens in new tab)". Another option for ease is to book into a nearby campsite, although it is better if it is the sort of facility that doesn't have all mod-cons.
A microadventure should ideally include a camp overnight, whether this is in a tent, bivvy bag, or hammock, so that you get to enjoy sleeping under the stars.
A microadventure is also meant to be affordable and doesn't need any expensive specialised equipment or a lot of money spent on travel and provisions. If you have a few basic items in your garage or loft then this will usually be enough for a good weather microadventure.
The microadventure was invented by British adventurer and author Alastair Humphreys (opens in new tab). He hoped to encourage more people to spend time outdoors for the benefit of their physical and mental health – and he wanted to show people, old and young, that you don't need to go far or take much time to enjoy a great outdoors adventure.
When to go on a microadventure
The best time for a microadventure is in good weather. It makes sense to take advantage of a fine day and night rather trying to camp out in rain or wind.
So, most people will try a microadventure in the summer months and that makes it ideal for a family summer holiday activity,
You can go on a microadventure by yourself, with friends, family, or work colleagues. You could walk to a chosen location, follow a trail running route, cycle or use public transport to get fairly close to your camp destination.
Arriving by car and then setting up camp next to the vehicle is not really what a microadventure is all about. There should be some kind of outdoors exercise to reach your camp spot.
What are the benefits of a microadventure?
A microadventure is described by Humphreys as a "refresh button for busy lives". It's a shorter style of adventure that requires less planning and only the basic equipment and kit, yet brings similar benefits of a big adventure.
Benefits include a chance to be surrounded by the calming environment of nature, improved mental health, de-stress advantages and the opportunity to switch off from electronic devices. Go solo and you will enjoy some me-time.
It's a great bonding experience for families, too, and a brilliant way to introduce youngsters to the great outdoors without investing a lot of time and money in a longer outdoor camping adventure.
What kit do I need for a microadventure?
The basic kit list for a microadventure includes a rucksack, sleeping bag, foam or inflatable sleeping pad, headlamp or flashlight, toothbrush and a phone.
You could choose to sleep in a simple tent – such as a two-person tent – but for a more exciting alternative is to try a bivvy bag, a basic orange plastic survival bag, a hammock or a camping tarp. Just make sure the chosen kit is suitable for the weather conditions.
Even in summer, the nights can be cold so make sure you also pack a waterproof jacket, warm clothes and a hat.
You should take food that doesn't require any cooking, or eat dinner before you go and have breakfast when you get back home. Two litres of water should be plenty for a night of microadventuring.
Make sure you do not break any countryside rules with your microadventure.
For example, the Scottish Outdoor Access Code (opens in new tab) easily allows for microadventures so long as people behave responsibly and leave no trace of their away night.
In other parts of the UK and the across the world there are plenty of opportunities to find suitable locations for a quiet, get-away-from-it-all microadventure. Use common sense and camp away from other people, homes, buildings, farms and livestock. Pack everything away and take all rubbish home with you, applying leave no trace principles so that no one will ever know you have been there.
One you have enjoyed a microadventure, the chances are you will do it again and again.
All the latest inspiration, tips and guides to help you plan your next Advnture!
Fiona Russell is a widely published adventure journalist and blogger, who is better known as Fiona Outdoors. She is based in Scotland and is an all-round outdoors enthusiast with favourite activities including trail running, mountain walking, mountain biking, road cycling, triathlon and skiing, both downhill and back country. Her target for 2021 is to finish the final nine summits in her first round of all 282 Munros, the Scottish mountains of more than 3,000ft high. Aside from being outdoors, Fiona's biggest aim is to inspire others to enjoy the great outdoors, especially through her writing. She is also rarely seen without a running skort! Find out more at Fiona Outdoors (opens in new tab).