What is a run streak? We explain the delights and the dangers
A Run Every Day (RED) challenge, or run streak, is seemingly innocent but surprisingly vicious. It'll test you physically and mentally in new ways, whatever your experience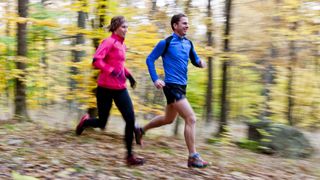 (Image credit: Getty)
A run streak, or a Run Every Day (RED) challenge, is where a runner completes a daily run without fail. There is no minimum distance, though many runners create their own personal minimum, and there is no set number of days, though a 30-day or month-long RED challenge are amongst the most popular durations.
But is it good or bad for you? Here are our top five dangers and delights that you can expect to encounter on a run streak:
The dangers
1. Getting overly ambitious
If you are an experienced runner, take your average (be honest now!) weekly mileage and divide it by seven. This is a good starting point for working out your daily target. If you are a new runner, a one-mile target is the way to go. Stick to one goal, and that goal is to run every day. To accomplish this, you want to make this as EASY as possible, not difficult. Just like hills are difficult by definition, so is the run streak, don't make it harder than you need to as you are liable to set yourself up for failure.
2. Failing to check your fuel gauge
Whether your preferred metric is training load, heart rate, volume, distance or duration, I think we all understand what it means when we talk about having 'nothing left in the tank'. To complete a run streak, you never want to finish a run with nothing left in the tank. Having at least 30% left in the tank will stop you from over exerting yourself (running too far or too fast). This will help protect you from picking up a niggle which then becomes a streak-ending injury. Incidentally, there is nothing wrong with having 80% left in your tank after a run.
3. Soreness, niggle or injury
There is the potential for all three. You will certainly get sore, but you need to put in the work to prevent it becoming more than that. A lot of us are pretty slack when it comes to stretching, rollering and genuinely looking after ourselves between runs. Luckily our bodies can do a lot of healing and maintenance between runs, but this changes very quickly when you start running every day. Tightness and niggles will start to say hello around day 10 if you are not looking after your body every day. A niggle is almost inevitable, but so long as you are not asking too much mileage from your body each day, you should be able to get on top of it.
4. Becoming a bore
If you think you talk a lot about running now, just wait until you start a run streak. Your friends and family are probably used to your run chat by now, but you might want to give them advance warning it is about to increase.
5. Mission creep
Both a danger and a delight. A delight because you have achieved an amazing goal, you feel good and you are ready for more. Now, pause for a moment. What do you want to achieve in extending the streak? Run streaks are addictive, but pretty much incompatible with any other running goal. Want to run a marathon and complete a run streak? You can do, but that marathon won't be as fast as it would be if it were the sole focus of your efforts. Few people run across a marathon finish line and then go in search of another 7.8km to also make it their first 50km run. The 50km run should be a new undertaking and there is nothing wrong with starting a new run streak at a later date.
The delights
1. Finding form
If you have set yourself a low minimum daily mileage target, you are more likely to experience one of those magical days where everything comes together and you have a new spring in your step. A run streak is a great way to break out of a rut. You will run for 30 days, rain or shine, so that elusive effortless run will be more likely to present itself, and it will feel so good.
2. All-aspects running improvement
A run streak with a high daily minimum distance is a bit of a blunt instrument. It will improve your fitness, but the cost will likely be your pace. Nothing wrong with that necessarily, but be aware of the trade-off. Whereas a smaller daily minimum distance offers you the flexibility to increase your distance, increase your speed and increase your fitness at the same time as completing a daily run. This is possible because you have allowed yourself the time to recover between runs and you have more flexibility on how you complete those runs.
Mental muscle
By making yourself go out running in all weathers, particularly at the time of the year when days are short, you will find a new level of mental toughness which will endure throughout the winter. Booking in a daily run now is also going to be very valuable if your life is being impacted by the pandemic. It draws you outside if you are now working more from home, it takes you away from your screens and places you back in nature and the outdoors, all is which is very valuable to your mental health.
4. Endorphins
When you are not running regularly, the endorphin hit can be harder to find. You may even start to question if it was there in the first place. A regular run means regular endorphins, give it a couple of weeks and you will definitely start to notice them.
5. Recognize your achivements
A run streak is a big deal and it should be celebrated. Set a defined goal, cross off the days and celebrate your achievement in the best way you know how. Whether you give into the temptation of mission creep or not, mark the completion of the original streak. All run streaks will end at some point, and rather than let it fizzle out, be sure to celebrate every milestone in this unique running challenge of you versus yourself.
As with any running goal, the key to success is being flexible and adaptable. If you start your streak with that in mind, it will still be unlikely that you will avoid all the dangers, but the delights will certainly outweigh them. Embrace the soreness, tough-out the rainy days and you will emerge a happier, fitter and faster runner.
All the latest inspiration, tips and guides to help you plan your next Advnture!
After competing professionally in triathlon from 2006 to 2011 – including two appearances in the 70.3 World Championships in 2008 and 2009 – Tom turned to writing and adventure-style event management. He organises trail, road, night and mud races in the UK under the name Relish Running, a company he set up to share his love of running, and all the secret trails he'd found while exploring the wilderness. He also wanted a career which was less tiring than being an athlete, it turns out being a race director was a terrible choice, it's exhausting.