What is a tent footprint? (And why you need one!)
A tent footprint is an accessory that can be worth its weight in gold on cold and wet camping trips. In this post, we explain why this multi-tasking marvel is something every camper should have in their kit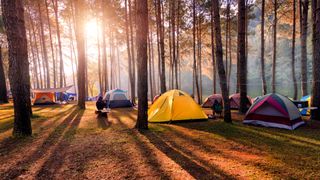 (Image credit: Getty)
What is a tent footprint?
Let's cut straight to the chase: of all the accessories you could possibly add to your camping and backpacking kit, few – if any – will offer quite so impressive an ROI as the humble tent footprint.
A tent footprint is a low-cost, lightweight piece of kit that can transform your camping experience in many ways, but one which rarely receives the praise it deserves due to our tents, sleeping bags, sleeping pads etc stealing all the thunder. Below, we take a closer look at what these handy little pieces of kit can bring to our camping setup and why they're well worth the (very modest) investment.
What is a tent footprint?
A tent footprint is, essentially, a sheet of fabric placed underneath your tent to provide added weather protection and insulation. The best camping tent becomes even better with one. Footprints are usually made with durable but relatively lightweight fabrics like polyethylene, oxford nylon, or polyester, and are available in a wide range of shapes and sizes, meaning you can find the perfect fit for your tent no matter how quirky its configuration. Some tents are sold with a footprint, but in most cases you'll have to make an additional purchase to get your hands on one. If the options available from the makers of your tent are too pricey, the other option is to use a basic tent tarp, which you'll find in our buyer's guide to the best tarps for camping.
5 reasons to buy a tent footprint
They're good for your tent
Few campsites are quite as smooth or lawn-like as we'd like. But while most of us are willing to accept the presence of the odd root or rock or twig under our sleeping area as part and parcel of the camping experience, every time we shift our weight onto any of these, we run the risk of puncturing our tent's groundsheet (see our guide to tent repairs). The main benefit of a tent footprint is that they "take one (or several, rather) for the team" by providing an added layer of protection between your tent and the ground – something that even the best tents need in rugged terrain. If your footprint does happen to get torn or punctured by anything on its underside, it'll be far cheaper to repair than your tent…
They double-down on waterproofing
The underside of your tent is – barring any rips or abrasions in the walls – the area most likely to spring a leak. This is because the weight of the tent's occupants and their kit increases – in wet conditions – the degree of water pressure placed on the fabric. While most groundsheets have a higher level of waterproofing than the tent walls, in extremely damp conditions (or if those occupants are particularly heavy!) it simply isn't enough to prevent water seeping through the floor. In such circumstances, a tent footprint is worth its weight in gold, providing an extra layer of waterproofing that will ensure you and your camping companions stay dry no matter how wet the conditions underfoot.
They boost insulation
Even the best sleeping pads have their limitations… While you may have chosen to fork out on a plush, pricey sleeping pad with a high R-value to ensure your underside is suitably insulated while you sleep, there's always a chance that your feet, legs, or an arm or two will slip off during the night, resulting in a chilly awakening.
Adding a footprint to your tent setup will go a long way towards mitigating this problem by adding another layer of insulation between your body and the cold ground, thereby reducing the extent of conductive heat loss, and could even negate the need for quite so pricey a sleeping pad in the first place.
They keep your tent clean
Decamping at the end of a trip in wet weather is never an entirely pleasant experience. No matter how much effort we put into wiping down our groundsheet before packing up, the chances are that it will have soaked and sullied the rest of the tent by the time we get home, leaving us with a time-consuming and labor-intensive cleaning job on our hands post-trip. A tent footprint, however, can save you all that hassle, acting as a "first line of defense" that keeps the rest of your tent clean. Most footprints will also come with a stuff sack that lets you keep them separate from the rest of your gear in your backpack – handy if you're camping for one night only, even handier if you're on a multi-day excursion.
They cost very little
While many tent manufacturers make their own, customized tent footprints to fit most models of tents in their range, the price tag can often be a little daunting. The good news is that DIY footprints are very easily made, can be customized to fit tents of all shapes and sizes, and cost not much more than a six-pack of beer. To make a DIY footprint, all you need to do is buy a sheet of waterproof tarpaulin, trim it to size, pick up a stuff sack to keep it in, and you'll have yourself a "bespoke" tent footprint that will do the job you need it to do every bit as well as branded models.
All the latest inspiration, tips and guides to help you plan your next Advnture!
Former Advnture editor Kieran is a climber, mountaineer, and author who divides his time between the Italian Alps, the US, and his native Scotland.
He has climbed a handful of 6000ers in the Himalayas, 4000ers in the Alps, 14ers in the US, and loves nothing more than a good long-distance wander in the wilderness. He climbs when he should be writing, writes when he should be sleeping, has fun always.
Kieran is the author of 'Climbing the Walls', an exploration of the mental health benefits of climbing, mountaineering, and the great outdoors.