What is the Beaufort scale? Understanding wind speed on your adventures
What is the Beaufort scale? How to interpret wind conditions in the wild so you can be prepared, modify your plans and stay safe outdoors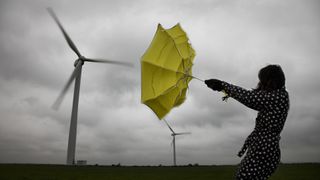 (Image credit: Andrew Bret Wallis)
If you've been trying to get a handle on how to properly read and digest comprehensive weather reports in order to be better prepared for your mountain adventures, you may have wondered what different wind speeds actually mean for your safety and enjoyment. Luckily, a handy gauge called the Beaufort scale for understanding how different wind strengths might feel and affect you when you're up a hill has been in use for hundreds of years. So what is the Beaufort scale, and how can it help you plan your hikes and other outdoor excursions?
This article contains everything you need to know about the Beaufort scale, including how to use it to interpret conditions where you're heading, so you can be prepared and make a change of plans if needed.
What is the Beaufort scale?
The Beaufort wind force scale is an explanatory table which describes the force of wind on a scale of zero to 12, with zero being no wind at all and 12 being a hurricane. This system of depicting different wind strengths uses observations of the state of the sea rather than apparatus designed for measuring wind strength, and was devised in 1805 by Sir Francis Beaufort, an Irish hydrographer who served in the Royal Navy. The Beaufort scale evolved over many years and was formally adopted by Captain Robert FitzRoy as he chartered the HMS Beagle carrying Charles Darwin to South America. FitzRoy would later go on to set up the Met Office which still uses the Beaufort scale in its forecasts. Today it can also be used for determining conditions on land.
Much in the same way that one person's light shower is another's deluge, wind strength can be a bit of a debatable experience. The Beaufort scale provides a handy method of categorizing different wind speeds into relatable, tactile experiences – for example, if the trees are swaying or how difficult it will be to use an umbrella – that can help us to determine whether or not it's a good idea to get outdoors. Without it, you might not go hiking on a day calling for wind when in fact, the worst conditions are a light breeze and conversely, you might find yourself up an exposed peak in a gale.
Virtually any weather forecast will give you the expected wind speeds, but on the face of it, that might not mean anything to you. After all, ten miles an hour is very fast when you're trail running but almost as slow as it gets when you're driving a car. So is a 10mph wind fast or slow? According to the Beaufort scale, it's a gentle breeze that will move flags but not blow you off a ridgeline. When put like that, there's no reason at all not to get your hiking boots on.
How is the Beaufort scale calculated?
The Beaufort scale rates wind strength from zero to 12 using the following descriptions. It's worth noting that levels 10-12 are rarely seen inland and for adventure purposes, you'll want to pay the most attention to levels six and onwards. There are a further five classifications after the hurricane status, however those only apply to tropical typhoons in southeast Asia.
Swipe to scroll horizontally
The Beaufort scale

| Beaufort scale rating | Wind speed | Description |
| --- | --- | --- |
| 0 | 0 mph | Still and calm, smoke rises vertically |
| 1 | 1 - 3 mph | Light air movement, smoke drift reveals wind direction |
| 2 | 4 - 7 mph | Gentle breeze can be felt on face, leaves rustle |
| 3 | 8 - 12 mph | Light breeze, flags will be extended, leaves constantly fluttering |
| 4 | 13 - 18 mph | Moderate breeze, dust will pick up and swirl, small branches moving |
| 5 | 19 - 24 mph | Fresh breeze, small trees sway, waves begin to crest in coastal areas |
| 6 | 25 - 31 mph | Strong wind, large branches moving, wind whistles in the air, difficult to use an umbrella |
| 7 | 32 - 38 mph | High winds, whole trees moving, walking is affected |
| 8 | 39 - 46 mph | Gale, small twigs may break off trees, difficulty walking |
| 9 | 47 - 54 mph | Severe gale, slates blowing off rooves, structural damage possible |
| 10 | 55 - 63 mph | Storm, trees uprooted |
| 11 | 64 - 72 mph | Violent storm, widespread damagae |
| 12 | > 73 mph | Hurricane, devastation |
How can you use the Beaufort scale on your adventures?
The next time that you're looking at the forecast before you head out into the wild, simply compare the miles per hour with the descriptions on the Beaufort scale to understand what it might mean for you. It's fair to say that anything rated from 2 - 5 calls for a windproof, waterproof jacket. However, remember that if the temperatures are already low, you can expect wind chill and should prepare with an insulating layer such as a fleece jacket underneath your waterproof. In conditions that are wet and cold as well as windy, you should read our article on what to wear for winter hiking.
Once you start to see winds that are rated six and above, you might want to choose a trail that is lower in elevation and bring hiking poles to help you maintain balance and at eight and above you might want to stay home. For more on this, read our article on wind safety to understand how to approach windy days on the trail safely and with confidence. You may also be interested in our article on how not to be struck by lightning.
All the latest inspiration, tips and guides to help you plan your next Advnture!
Julia Clarke is a staff writer for Advnture.com and the author of the book Restorative Yoga for Beginners. She loves to explore mountains on foot, bike, skis and belay and then recover on the the yoga mat. Julia graduated with a degree in journalism in 2004 and spent eight years working as a radio presenter in Kansas City, Vermont, Boston and New York City before discovering the joys of the Rocky Mountains. She then detoured west to Colorado and enjoyed 11 years teaching yoga in Vail before returning to her hometown of Glasgow, Scotland in 2020 to focus on family and writing.