Wind safety for hikers: how windy is too windy to go walking?
We outline wind safety for hikers, from the risks involved to how to prepare so you can stay safe no matter how gusty it gets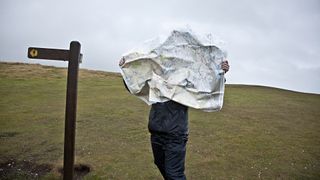 (Image credit: Justin Lambert)
Few diehard hikers wait for a sunny day to get their hiking boots on the ground and while some extreme weather events like lightning or flash flooding are worth waiting out the storm for, others like rain and cold temperatures are more a reason to prepare properly than stay at home. So what about hiking in high winds? In this article we discuss wind safety for hikers, from the risks involved to how to prepare so you can stay safe no matter how gusty it gets.
Even though wind can feel like a normal part of everyday life, high winds can be very dangerous. In 2020, high winds caused the most weather-related injuries in the US only after tornadoes, according to the National Safety Council and high winds are a common reason for mountain rescue callouts. According to the Beaufort Wind Scale, anything under 12mph is considered a gentle breeze and certainly nothing to worry about but once you get to 32mph it's a gale and you're going to want to think twice about getting up high.
Is it safe to hike in strong winds?
Perhaps more important than deeming hiking in strong winds to be safe or dangerous is to identify the risks of hiking in high winds. First, the most obvious and alarming danger is the increased possibility of falling when hiking in high winds, which can knock you off your feet resulting in injury. This risk is increased when you're in an exposed area close to an edge or a cliff where there is a drop on the other side.
Next, there's the possibility of being hit by flying debris, such as tree limbs and branches.
Less dramatic, but equally important, is that hiking in high winds can be much more tiring, which can mean you run out of energy or start to make bad decisions on the trail. It can also just mean that you adapt your gait which might lead to small tweaks and strains on a long walk.
Then there's the issue of windchill, where the passing air lowers your body temperature, which is a problem when temperatures are at or below freezing, and can expose you to conditions like frostbite and hypothermia.
Finally, if high winds are combined with other weather factors like rain, it may become difficult or impossible to see where you're going, increasing your risk of getting lost.
What wind speed is dangerous for hiking?
There's not an official consensus on how windy is too windy for hiking, but according to Mountaineering Scotland, at 30mph winds can start to affect your gait and balance, at 40mph walking becomes difficult and at 60mph it's downright dangerous to be hiking.
How to plan and prepare for a hike in high winds
While we can't recommend going hiking in high winds for the reasons given above, we do understand that you can't always avoid it. The weather isn't as predictable as technology has led us to believe, and it's always windier the more elevation you gain. You might live in an especially windy area and let's be honest, some of the most beautiful hiking spots like coastal paths, deserts and moorlands are characterized by patterns of high wind.
Here are our top tips to plan and prepare for a hike in high winds so you can stay confident and safe in a gale.
1. Check the weather forecast
Use a good weather app and start getting used to checking out the wind speed when you're looking at the forecast and not just whether to expect sun or rain. Find a repot that includes wind speed, gusts and direction and know that the conditions will be further dangerous if it's also very cold, or if there is any precipitation which can turn into driving rain, painful hail or snow when it's windy.
2. Choose a lower route
If high winds are expected, you might choose a route that is lower in elevation and less exposed, and make up for the lack of altitude with more distance. It's a good idea to choose a well-marked trail or one that you're already familiar with. Some valleys can provide shelter from winds while walking around a lake may be much more pleasant than summiting a peak, and it's a good idea to stay out of heavily wooded areas to avoid falling trees and branches.
3. Stay away from cliffs and climbs
In high winds, avoid routes that take you close to a cliff edge or an area where scrambling is required where you could get blown over the edge. If you're already up a mountain when the wind hits, stay away from ridgelines.
4. Lean into the wind
If the wind is strong enough to make you feel unbalanced, hunch over a bit and lean your weight into the wind to counteract its force.
5. Dress in layers
In windy conditions, it's extra important to dress in layers. Start with a breathable wool base layer, wear an insulating layer on top like a fleece jacket, and wear a waterproof jacket to block the wind even if it's not raining. Make sure to tuck in straps and zippers that might slap you painfully in the face and could cause injury to your eye.
6. Protect your map
Windy days are a good time to say goodbye to items like your best hiking gloves and maps forever if you're not careful. Your map can easily get torn or blown away, leaving you in a pickle if you're on a new route. Place your map inside a protective plastic cover to keep it safe by attaching it to your backpack.
7. Carry a compass
Windy days are good days to carry a compass for navigation. While you might lose your map and your phone could die if the air is cold, your compass will remain accurate no matter how gusty it gets.
8. Use hiking poles
Hiking poles are extremely useful when hiking in high winds to help you stabilize yourself and keep from losing your balance.
9. Get down quickly
If you're up at high elevations and high winds come, they might bring other unwanted weather conditions hot on their tail. It's unlikely that you'll want to loaf around at the top anyway, but do make sure you prioritize getting down to lower elevations briskly. Even just descending a few hundred feet in elevation can bring markedly more manageable conditions.
All the latest inspiration, tips and guides to help you plan your next Advnture!
Julia Clarke is a staff writer for Advnture.com and the author of the book Restorative Yoga for Beginners. She loves to explore mountains on foot, bike, skis and belay and then recover on the the yoga mat. Julia graduated with a degree in journalism in 2004 and spent eight years working as a radio presenter in Kansas City, Vermont, Boston and New York City before discovering the joys of the Rocky Mountains. She then detoured west to Colorado and enjoyed 11 years teaching yoga in Vail before returning to her hometown of Glasgow, Scotland in 2020 to focus on family and writing.