What kind of socks are best for hiking? A guide to choosing the perfect pair for adventures (and feet) of all shapes and sizes
Don't know what kind of socks are best for hiking? Our guide covers all the ins and outs of hiking hosiery, from the ideal height and thickness all the way through to fit and fabric type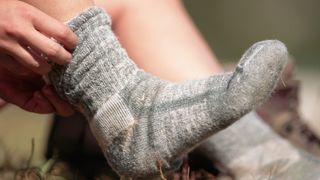 (Image credit: Layne Kennedy (Getty))
Feet. We've all got 'em, and we all rely on them to schlep the rest of us from our A's to our B's. It's surprising, then, that so many of us are apt to overlook the importance of taking care of them – particularly when we're tasking them with doing all that schlepping over many miles of rough-and-tough, far-from-foot-friendly trails in footwear that's often equally far from slipper-like.
While there are various ways that we can show our feet a little more love, when it comes to hiking, the most important is kitting them out in the best hiking socks our budgets will stretch to. As with all hiking gear – from the best tents and best sleeping bags all the way through to the best hiking boots and best hiking shoes – finding the perfect pair of socks for you will ultimately depend on when and where you plan on doing your hiking.
Below, we explain what kind of socks are best for hiking different types of trail, in different weather conditions, and for different activity types.
What kind of socks are best for hiking? Height, fit, fabric, and cushioning
Height
Hiking socks, like regular socks, come in four general styles: no-show socks, ankle socks, crew socks, and knee-high socks. Below, we've added a brief overview of the benefits and drawbacks of each height for hikers:
No-show: Intended for use with trail running shoes and low-cut hiking shoes – both of which you'll find in our guides to the best trail running shoes and best hiking shoes – these minimalist socks usually offer very little in the way of cushioning and no ankle protection. Because they sit below the ankle, they also provide no protection against abrasion caused by the collar of shoes rubbing against your skin. On the plus side, no-show socks' sparing design means they can help your feet stay cool in toasty weather and take up very little room in your pack on multi-day trips.
Ankle: These often offer a little more cushioning in the heel and ball of the foot and reach just over the ankle, meaning they provide some protection for your ankle bone and help to prevent the cuff rubbing against your skin when wearing low-cut trail shoes.
Crew: These are the most common form of hiking socks and typically reach to around the midpoint between your knee and your ankle. The added coverage crews provide might make them a bit sweatier in high temps but it also provides protection against abrasion from the cuffs on your boots and against scuffs and scratches from undergrowth, roots, and rocks on the trails.
Knee-high: While not the best bet for hiking in warmer conditions, these socks are a great option for winter hiking, hiking in terrain that's rich in undergrowth or plant life that might do exposed shins and calves harm (heather, poison ivy, stinging nettles), or mountaineering.
So, which height of socks will be best for you?
As a general rule, low-cut socks are only advisable in high temps and on well-maintained trails. If you're hiking off-trail or outside of the summer season, crew or knee-high socks will provide your lower legs with the protection needed to keep your lower legs warm and get through the day scrape- and scratch-free (in many cases, even if you're wearing pants). Whatever kind of trail you're hiking, and whatever the weather conditions, however, you should always choose socks that cover the cuff/collar of your footwear – if not, that collar could soon rub the skin around your ankle raw.
Cushioning
The amount of cushioning used in any sock affects warmth and comfort levels, and the amount you need from a sock will depend on the kind of trails you plan on hitting, the way you plan on hitting them, and the weather conditions.
Cushioning refers to the added material used in certain areas of the foot, usually the heel and toe areas, and occasionally around the ball of the foot. This provides added underfoot protection on gnarlier trails and buffers impacts when trail running or hiking with a heavier pack. While extra protection and comfort is something we'd all like to have, socks with plentiful cushioning are always warmer than those with light cushioning, so finding the perfect pair for your needs usually requires a little bit of experimentation and having a few pairs for different weather conditions.
Fabric type
Most hiking socks combine two or more materials in a bid to provide the perfect combo of stretch, durability, comfort, warmth, and breathability (see: breathability ratings explained). The most common materials used are wool, polyester, nylon, and spandex.
Wool: Wool is an outstanding choice of hiking sock fabric for a number of reasons. First up, it's one of the best thermoregulators out there, meaning it boasts the ability to keep your feet warm in cool conditions and cool when the mercury is high. It's highly breathable, wicks well, and also has natural antimicrobial properties that help to keep your feet smelling fresh no matter how hard you're hitting your trails. Merino wool also feels nice and soft against the skin and scores higher in the comfort and cushioning stakes, ounce for ounce, than most of its synthetically produced peers.
Polyester: This synthetic fabric doesn't have merino's antimicrobial qualities, but it insulates well, is highly breathable, dries quickly, is a little more durable, and is less prone to developing holes in pressure points around the toes and heel.
Nylon: Nylon is another synthetic fabric that is often blended with merino wool to boost socks' durability. Performance-wise, it's very similar to polyester, though it's a little more durable and a fraction less breathable.
Spandex: Most hiking socks incorporate a small amount (usually 3-7%) or spandex (aka elastane) to help maintain their shape and give the material a little extra stretch. Compression socks typically use more spandex in order to provide a tighter, more supportive fit around the calves and lower legs.
Fit and sizing
As with your hiking shoes, getting the size of your socks right is imperative to having a comfortable time on the trails. Socks that are too big tend to bunch up inside your shoes or boots, creating wrinkles or folds that can cause blisters (more on this in how to avoid blisters); socks that are too tight, on the other hand, can cause foot cramp, cause discomfort in your toes by squeezing them together, and create achy pressure points across the forefoot and around the heel. The goal is to find socks that are a snug fit, but not tight.
Because footwear sizing can vary from brand to brand, it's a good idea to actually measure your feet rather than relying on the size of shoe or boot you usually take. Once you've done this, you can use the measurement to find an appropriately sized pair of socks using the size chart on the packaging.
All the latest inspiration, tips and guides to help you plan your next Advnture!
Former Advnture editor Kieran is a climber, mountaineer, and author who divides his time between the Italian Alps, the US, and his native Scotland.
He has climbed a handful of 6000ers in the Himalayas, 4000ers in the Alps, 14ers in the US, and loves nothing more than a good long-distance wander in the wilderness. He climbs when he should be writing, writes when he should be sleeping, has fun always.
Kieran is the author of 'Climbing the Walls', an exploration of the mental health benefits of climbing, mountaineering, and the great outdoors.