What size tent do I need?: for solo adventures, weekenders, thru-hikes, and family camping trips
If you're considering the question: what size tent do I need? Here's advice on finding a tent that's neither larger than you need nor conducive to coffin-like claustrophobia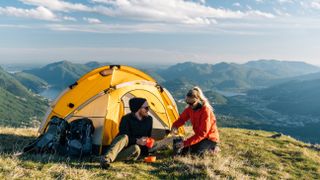 (Image credit: Getty)
"What size tent do I need?" It's one of the questions the peeps here at Advnture are most frequently asked by newcomers to the outdoors. Of course, the question usually continues, so more accurately we are asked: "What size tent do I need for [insert activity type, group size, trip duration, time of year]?"
As with all aspects of outdoor kit, the answer isn't cut and dried, and finding the ideal size for your adventures will ultimately depend on a number of variables, including the number of campers in your team, the season you're camping in, how much kit you're bringing, and whether you plan on backcountry or frontcountry camping.
The best camping tent for you will be different to someone else's perfect castle of canvas. While we cover the essential factors to consider when buying a tent in our guide on how to choose a tent, the size question is such an important one that we decided to take a deeper dive into dimensional considerations with a stand-alone post.
What size tent do I need?: general observations and pitfalls to avoid
All tents are classified by their makers as 1-person tents, 2-person tents, 4-person tents and so on. Although these capacities offer you a general idea of how many sleepers the tent will accommodate, there are a few reasons why they're best taken with a (hefty) pinch of salt.
First of all, the number of people a tent can accommodate will very much depend on the size of the people in question. For example, four fully-grown, 200-pound adults aren't going to find that same tent quite so commodious as two smaller adults camping with their kids.
Secondly, the type of tent in question usually has a significant bearing on its spaciousness. While 4-person car-camping tents are usually roomy enough for 4 adult sleepers, 4-person backpacking tents are – for the most part – spatially equipped to host no more than four real-life hobbits (or very small humans).
Finally, tentmakers are often apt to overstate the capacities of their tents, basing their estimations on highly optimistic calculations of how much square footage the average human needs for a comfortable night's sleep.
The take-home from all of the above is that person capacities stated in product listings or specifications should not be relied upon as a measure of any tent's suitability for a given number of sleepers. Instead, we should take a closer look at the following: the tent's square footage, floor dimensions, and peak height. The last thing you want to find is that your family doesn't fit in the family tent you've bought.
Square footage
The average adult sleeper needs roughly 14 square feet of floor space for a comfortable night's sleep under the canvas. When buying your tent, therefore, all you have to do is divide the tent's total square footage by the number of people it will be accommodating and then you'll have a more accurate impression of whether or not the tent will be spacious enough for your needs.
For example: 65 square feet divided 5 campers = 13 square feet per sleeper (= doable, but a bit of a tight squeeze if all of those sleepers are adults!)
Floor dimensions
Most tent manufacturers include a "floor plan" or an illustration of the tent's measurements with online listings. When buying, it's worth taking a look at these to check if the tent will be wide enough to accommodate all the sleeping pads you plan on squeezing in there (getting these out to measure them is the best policy) and long enough that none of the tent's taller occupants will be sleeping with a faceful of wall fabric. Ideally, the tent should leave a few inches either side of the pads for personal space and general elbow room, and a foot or so at the top and tail of the pads for storing gear or clothing.
Peak height
Peak height (aka "center height") refers to the height of the tent at its tallest point. Tents with a taller peak height provide more headroom, allow you to move around easily (i.e. without ducking) inside, and, importantly, make succumbing to cabin fever less likely if you're spending more than a night or two under the canvas.
But what's the ideal peak height?
Well, if you're backpacking, the ideal peak height range is 35 to 45 inches: any lower, and your tent will start to feel more like a coffin than simply "cozy"; any higher and you'll sacrifice stability in high winds and pay a price in terms of weight – extra height means extra fabric, extra fabric means extra poundage.
If you plan on using your tent primarily for car camping trips, then you can afford to choose a tent with a taller peak height – mainly because you won't have to carry your tent so far before pitching and because established campsites are usually less exposed to the wind than wild ones. Just how tall you should go will depend on the height of the members of your camping crew and whether or not you're okay with hunching your shoulders when walking around inside the tent. If you or one of your co-campers pip the 6-foot mark, then a tent with a peak height over 72 inches is your best bet; if your camping cohorts are shorter or simply happy to hunch over to avoid the roof canopy, then peak heights of 60-70 inches will suffice.
Vestibules
Vestibules are the sheltered areas at the side or the front of your tent that are used for stashing any gear you don't want to take inside the tent with you – i.e. boots, wet or dirty clothes, camping stoves and cooking equipment, backpacks, etc.
The size of vestibule you need, simply put, will depend on how much kit you plan on carrying on your camping trips. The larger the vestibule, however, the more room you can free up inside the tent by leaving your gear in this sheltered area. If you're camping with your kids or carrying kit for gear-intensive activities like rock climbing, then a larger vestibule (10-15 sq. ft.) will make life at camp a lot more comfortable and convenient, especially if you're camping in the rain; if the only things you need to stow in your vestibule area are your boots and backpack, then <8 sq. ft. will likely suffice.
All the latest inspiration, tips and guides to help you plan your next Advnture!
Former Advnture editor Kieran is a climber, mountaineer, and author who divides his time between the Italian Alps, the US, and his native Scotland.
He has climbed a handful of 6000ers in the Himalayas, 4000ers in the Alps, 14ers in the US, and loves nothing more than a good long-distance wander in the wilderness. He climbs when he should be writing, writes when he should be sleeping, has fun always.
Kieran is the author of 'Climbing the Walls', an exploration of the mental health benefits of climbing, mountaineering, and the great outdoors.