What to wear for bikepacking – from head to foot
Tips for practical clothing, footwear and equipment when on and off the bike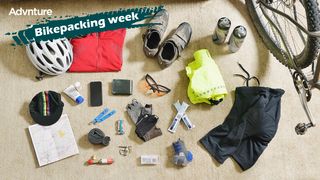 (Image credit: Getty)
Comfort is key when bikepacking, especially as you will be cycling for many days in a row. What you wear and pack for bikepacking will depend on the type of trip you are planning. If you will be camping on your bikepacking adventure, there will be different considerations for what to wear, compared to bike packing trips that include overnight accommodation in B&Bs, guest houses or hostels.
Space and weight are at a premium when you're riding, so you'll only want to take the gear that will really serve you well, keeping you warm (or cool) and comfortable. Here are our top recommendations for happy riding.
The essentials: what to wear while bikepacking
Cycling shorts or legwear
Padded shorts or cycling legwear will be an advantage for bikepacking. You could get by with hiking pants or running leggings, but when you're spending many hours on the saddle, you'll want to avoid rubbing and chafing.
Some bikepackers choose to wear tight-fitting Lycra cycling shorts, while others pick looser-fit mountain biking style shorts. The looser fit shorts will still incorporate a padded area to provide comfort on the bike seat. Make sure the shorts fit well; if the padding is loose and moves about, it'll rub.
Tops and layers
Jerseys designed specifically for cycling have have the advantage of including back pockets, which are useful for carrying bits and pieces, such as a waterproof jacket, snacks and spare gloves. They also tend to be longer in the back to keep you covered when you're sitting.
However, any sports top will work as well. The aim will be to layer thinner tops so that you can add and take off clothing depending on the temperature.
A good quality wicking base layer is a good place to start, then add a short-sleeved or long-sleeved top to suit the weather. You'll probably need to choose something warmer than you would if you were running. Choose tops that fit neatly and have good levels of stretch so you feel comfortable in a riding position.
Waterproof jacket and pants (maybe_
It is a good idea to pack a waterproof jacket – or at least a windproof jacket – for bikepacking. Even if you are sure it won't rain, a layer that keeps out the breeze will be useful for chillier days, or when you are starting out early and the sun is not yet warm. Again, make sure the waterproof jacket offers comfort and good coverage when you are in a cycling position. You might want to invest in a cycling-specific waterproof jacket.
Waterproof pants for cycling are a love-hate sort of thing. Some people rarely wear them and prefer to have wet legs. Other people swear by them. If you are buying waterproof trousers for cycling, make sure they allow you to pedal easily while wearing them and ensure they are lightweight and breathable, otherwise you will end up wetter from sweat than you would have been from the rain.
Another alternative is to accept that your legs will be wet, but invest in a pair of overshoes to keep your feet dry.
Socks and gloves
You can buy cycling-specific socks, although most sports socks will be suitable for cycling so you can use your trail running socks instead. Choose socks to suit the conditions, weather the weather will be hot, cold or wet. Waterproof socks can be a great idea if you know it is likely to be wet and cold.
Cycling gloves are a great idea. Choose short-fingered gloves or gloves with full coverage, again to suit the conditions. Cycling gloves usually have padded palms, which can be helpful for preventing rubs from the handlebars when riding on rough terrain or if you have sweaty hands.
Bike helmet
Many people choose to wear a helmet when bikepacking, and there are plenty to choose from. If you take a fall, it will provide good protection in many situations.
A lightweight helmet is often a good choice, and if you will be cycling where it is sunny or wet, choose a helmet with plenty of air ventilation and a small peak or visor.
Cycling shoes
There is a wide choice of cycling shoes, from road, mountain bike or gravel shoes. Some can be fitted with cleats so that you can clip your shoes to the pedals. Other cycling shoes have flat soles, and can be used on flat pedals. You can also wear road running shoes or hiking shoes if you like.
Your choice of footwear is important when you consider the hours you will be spending off the bicycle during a bikepacking trip. Will you be taking a spare pair of shoes to wear in the evenings? Do you plan to wear your cycling shoes for the full trip?
It is important to consider how comfortable and easy it is to walk in your cycling shoes. For example, bike shoes are better for walking about if they have a sunken cleat, rather than one that protrudes from the base of the shoe.
Consider choosing waterproof cycling shoes, or add covers to your cycling shoes to keep out the wet and cold.
If your bikepacking holiday is in a warm location, choose shoes that have plenty of air vents to reduce the amount of nasty foot sweat.
Other kit
A gaiter or neck tube can be useful for adding warmth around the neck or over the head and under a helmet.
Arm sleeves and leg sleeves can offer an extra layer if you are wearing short-sleeved tops or shorts. They are easy to add and peel off depending on the temperature. They also offer protection if the sun is hot. Choose white sleeves for the best sun protection.
Sunglasses are a must for cyclists. Even it is not going to be sunny, a pair of wraparound sports glasses will stop the wind, rain or grit getting into your eyes.
How many clothes should you pack for bikepacking?
The fewer items you take the lighter your bike packs will be, and the easier it will be to cycle, but weight isn't the only factor. The answer to this question depends on your thoughts about body odor and also what the weather is likely to be like. The clothing you pack will depend on your choice of overnight stops, too.
If you'll be camping on your bikepacking trip, or you know you will have limited access to washing facilities, it's a good idea to pack a spare pair of shorts to change into, as well as a spare top.
The issue is less about being smelly, and more about hygiene. For example, wearing close-fitting shorts day after day can lead to infections. This is especially true for women. If you will be able to wash your shorts and clothes, even if it is just in a shower when you wash yourself, and you know you will be able to get the items dry overnight then you will only need one set of cycle clothing.
If you plan to stop at towns and cities overnight and explore a bit, you might want to pack different clothes for this. A full set of lightweight clothes, such as hiking shorts or pants, T-shirt and an insulated jacket, will be ideal. Consider whether you might want to pack a pair of lightweight shoes or hiking sandals for walking about when off the bike.
If you are camping on your bikepacking trip, it will be a good idea to pack a warm layer for the evenings. Even on hot days, temperatures drop at night and if you are tired and a bit damp from sweat, your body will quickly chill.
This article is part of Advnture's Bikepacking Week 2023 (running from Monday 22 to Sunday 28 May), our ultimate guide to adventuring on two wheels including essential advice, gear, and features to help you plan the perfect expedition.
All the latest inspiration, tips and guides to help you plan your next Advnture!
Fiona Russell is a widely published adventure journalist and blogger, who is better known as Fiona Outdoors. She is based in Scotland and is an all-round outdoors enthusiast with favourite activities including trail running, mountain walking, mountain biking, road cycling, triathlon and skiing, both downhill and back country. Her target for 2021 is to finish the final nine summits in her first round of all 282 Munros, the Scottish mountains of more than 3,000ft high. Aside from being outdoors, Fiona's biggest aim is to inspire others to enjoy the great outdoors, especially through her writing. She is also rarely seen without a running skort! Find out more at Fiona Outdoors.