What is a Wilderness Area?
We explain this common designation in the US, what it protects, and what you can do in a Wilderness Area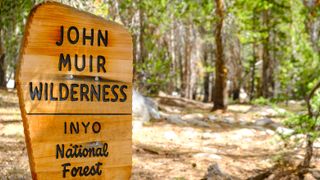 (Image credit: Matthew Herman)
If you do a lot of hiking in pretty much any rural environment in the US, you'll have come across signs that designate certain areas as wilderness areas. You could be hiking a Colorado 14er, backpacking in the badlands of New Mexico or bird watching in a swamp in New Jersey – pretty much any area or trail you might roam in your hiking boots may eventually lead to a Wilderness Area. But what is a Wilderness Area? Is it like a National Park where you're meant to pay an entrance fee? Can you camp here? In this article, we give you the skinny on these protected areas.
What is a Wilderness Area?
Generally speaking, wilderness is land that is uncultivated and uninhabited by humans, and a Wilderness Area in the US is a federal designation to protect such lands from human interference such as infrastructure, agriculture or mining of natural resources. Congress established the Wilderness Act in 1964, making the US one of the first countries to designate land as wilderness, and set an official definition of wilderness as follows:
"A wilderness, in contrast with those areas where man and his own works dominate the landscape, is hereby recognized as an area where the earth and its community of life are untrammeled by man, where man himself is a visitor who does not remain."
The very first Wilderness Area in the US was the Great Swamp of New Jersey, part of the remnants of a former glacial lake, and the act initially designated 9.1 million acres of land to be protected as wilderness. Today, the Wilderness Act protects over 100 million acres of US land across 803 individual sites – which explains why you see so many Wilderness Area signs. In total, this accounts for over four percent of the land in the US, and more than half of the Wilderness Areas are in Alaska. The National Wilderness Preservation System (NWPS) is managed by the National Park Service, Bureau of Land Management, US Fish and Wildlife Service, and US Forest Service.
In terms of terrain, Wilderness Areas can be tremendously diverse, but they all serve the following functions:
Size: Wilderness areas vary in size from the smallest – Pelican Island National Wildlife Refuge in Florida at just five acres – to the nine million acres that make up Alaska's Wrangell-St Elias. However, most Wilderness Areas are more than five thousand acres.
Purpose: The purpose of Wilderness Areas, much like National Parks, is to protect natural resources such as flora and fauna from human development. This ensures that areas of natural interest and beauty are preserved for future enjoyment, and also that natural ecosystems are protected. They are also used as areas for scientific study of the natural world.
Usage: Wilderness Areas are protected for gentle recreation, such as hiking, camping and bird watching. However, motorized and mechanized vehicles are prohibited in Wilderness Areas.
What is an example of a wilderness area?
Because there are so many Wilderness Areas stretching from Alaska all the way to Puerto Rico, what they look like can really run the entire gamut of natural ecosystems. While they are mostly on land, more and more marine areas are being designated as Wilderness Areas. Here are some examples of Wilderness Area to help you see how broad a term it really is:
What can you do in a wilderness area?
It's normal to see a sign and think that it's telling you to keep out of an area, but Wilderness Areas exist for your enjoyment – as long as you follow the principles of Leave No Trace and don't try to drive a vehicle on one.
According to the San Gabriel Mountains Forever Act, many types of recreation are permitted in Wilderness Areas including hiking, camping, hunting, fishing, guiding, water sports, backpacking, horseback riding, skiing, snowshoeing and birdwatching. So, grab your hiking boots, cross country skis or binoculars and go and enjoy yourself!
Recreational activities that are commercial in nature, or involve the use of either a motorized vehicle (such as a four wheeler or snowmobile) or a mechanized vehicle (including mountain bikes and e-bikes) are generally prohibited. During times when there may be ongoing scientific research and nature study or fire control, your access may be restricted.
Do you have to pay to enter a Wilderness Area?
There aren't typically fees charged to enter a Wilderness Area, however some wilderness areas overlap with areas such as National Parks where there might be an entrance fee, for example Death Valley National Park. If you're simply hiking in the backcountry and come across a sign advising you that you've entered a Wilderness Area, there's nothing you need to do except for Leave No Trace.
All the latest inspiration, tips and guides to help you plan your next Advnture!
Julia Clarke is a staff writer for Advnture.com and the author of the book Restorative Yoga for Beginners. She loves to explore mountains on foot, bike, skis and belay and then recover on the the yoga mat. Julia graduated with a degree in journalism in 2004 and spent eight years working as a radio presenter in Kansas City, Vermont, Boston and New York City before discovering the joys of the Rocky Mountains. She then detoured west to Colorado and enjoyed 11 years teaching yoga in Vail before returning to her hometown of Glasgow, Scotland in 2020 to focus on family and writing.