Wireless vs wired headphones for running
Do you want to plug in or lose the wire on the trail?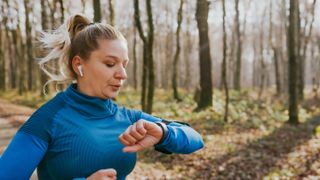 (Image credit: SimonSkafar)
Though we love listening to the ambient sounds of nature when we're on the trail, we know there are lots of great reasons why you might want to wear running headphones when you're on the go. The right playlist can really help motivate you when you start to flag on the uphills, you might be using the time to listen to lectures or you might need to monitor work messages and not want to keep checking your phone.
Whatever your reasons, when you're lacing up your trail running shoes, you've probably already made your mind up about whether or not you want to run with headphones, so the only question that remains is what type of headphones do you want?
Do you want to keep things simple and affordable and use a good old fashioned pair of wired headphones that plug into your phone, or turn your Bluetooth on and enjoy the technological genius that is wireless headphones? Read on to discover all the pros and cons of wireless vs wired headphones for running to help you make up your mind.
Wireless vs wired headphones: sound quality
Let's start by saying that the sound quality of your headphones depends on the model you buy, but there is one aspect of wired headphones that can affect your listening experience that doesn't apply to wireless models, and that's the wire itself. If you're running with wired headphones, the wire will rub against your running top and that can make an annoying rustling noise.
That said, we've encountered some models with a microphone, which are usually wireless headphones, that pick up the sound of the wind.
Wireless vs wired headphones: staying power
It doesn't matter how good the sound quality is on your headphones if they keep falling out, and headphones that refuse to stay in can be the result of a few reasons, which we discuss in our article on running with Airpods.
However, one thing is for sure – if your wired headphones fall out when you're running, at worst, it's annoying. If your wireless headphones fall out when you're running, you might never see them again, which is annoying and expensive. If you're dead set on wireless headphones, make sure you place them properly and consider wearing a running headband over the top to hold them in place.
Better yet, consider a pair of headphones that hook over the top of your ear, like bone conduction headphones, which stay put.
Wireless vs wired headphones: ease of use
Using headphones shouldn't exactly be rocket science, but wireless models can add a little more complexity. With wired headphones, you just plug them in and go.
Wireless headphones require a Bluetooth connection, which works anywhere in the wild and the world for that matter, but sometimes your wireless headphones will refuse to connect, which means you're standing around at the trailhead fiddling with your phone when you just want to be running.
Furthermore, if you've got yourself a fancy pair of wireless headphones where you can tap to skip or pause, you might accidentally stop your playlist trying to secure your headphones, but that's a minor irritation and happens less as you get used to them.
Wireless vs wired headphones: battery life
We increasingly live in a battery-powered world, where every trip involves carrying at least three chargers, and a pair of wireless headphones only adds to this collection of tangled wires that is modern life. Wireless headphones aren't difficult to charge, but if you forget, you might find they die half way through your favorite podcast. If you're going out on longer runs, choose a model like the Shokz OpenRun Pro, which have a battery life of 10 hours.
Wireless vs wired headphones: functionality
Your basic set of wired headphones has one function, and that's to transmit sound into your ears, though you can pay a little more for a pair with a microphone. Wireless headphones can have all sorts of functions, from letting you skip songs with a touch, taking calls, reading your text messages to you and even pairing with your GPS watch to track your heart rate like the Amazfit Powerbuds Pro.
Wireless vs wired headphones: durability
The durability of your headphones will depend on the model, but there are a few factors that might undermine your headphones' lifespan. Moisture isn't great for either type – with wireless headphones, the sweat on your head and inside your ears might cause damage over time, while with wired models its moisture getting into the headphone jack on your phone on a rainy day that can cause issues.
Additionally, the wire on your wired headphones won't last forever, especially if you tend to wind it up and shove them in the pocket of your running jacket between uses.
Wireless vs wired headphones: price
This one's easy – you can pick up a pair of wired headphones at any gas station for about $10 if you just want a cheap pear. Cheaper, generic models of wireless headphones are beginning to emerge, but they're not that cheap and a good pair can run into the hundreds of dollars.
Wireless vs wired headphones: the verdict
Both wireless and wired headphones will get the job done when you're out on the trails, but we think this one really comes down to cost and functionality. If you want to save money and are too fussed about having loads of extra features, a pair of wired headphones is your best choice, even if it means you sacrifice a little sound quality and durability.
If you want to be able to take calls when you're running or just tap to pause, you'll want to fork out for a techy pair of wireless headphones – just remember to keep them charged up and secure them properly so they don't roll off into the bushes never to be seen again.
All the latest inspiration, tips and guides to help you plan your next Advnture!
Julia Clarke is a staff writer for Advnture.com and the author of the book Restorative Yoga for Beginners. She loves to explore mountains on foot, bike, skis and belay and then recover on the the yoga mat. Julia graduated with a degree in journalism in 2004 and spent eight years working as a radio presenter in Kansas City, Vermont, Boston and New York City before discovering the joys of the Rocky Mountains. She then detoured west to Colorado and enjoyed 11 years teaching yoga in Vail before returning to her hometown of Glasgow, Scotland in 2020 to focus on family and writing.