A guide to running with AirPods
We lay out the pros and cons of running with AirPods, plus offer valuable tips for keeping yours from falling out when you're on the trot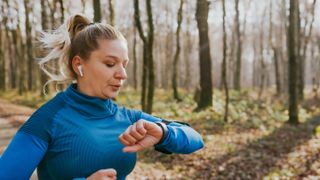 (Image credit: SimonSkafar)
AirPods have become so commonplace I no longer bat an eyelid when I pass someone in the street having an animated conversation with themself. I bought a pair of Pros a couple of years back for recording yoga classes during lockdown, but it never actually occurred to me to run with them until last year, when I couldn't find my regular old wired running headphones and I was heading out on the trail. After all, they're an expensive piece of equipment and I wasn't convinced they wouldn't fall out and bounce into the undergrowth, never to be seen again. But I decided to give them a go and after a few runs wearing them, I think there are definitely some pros and cons to running with AirPods. Read on to find out the advantages and disadvantages, plus how to keep yours from falling out when you're moving fast in your best trail running shoes.
Running with AirPods: the pros
There are a few good reasons why a lot of runners have embraced the switch from regular running headphones to earbuds like AirPods. First, the lack of a wire flapping around is a huge plus. I don't know about you, but I'm forever snagging my cord on bushes when I'm running on an overgrown trail only to feel my headphones popping out, and when I tuck the cord into my running jacket to avoid this, I often tuck it too tight which means they pop out when I turn my head. Annoying.
Next up, AirPods have a touch-control function, which means if you just want to pause the music for a moment to hear whether that rustling is coming from you or a mountain lion, you don't have to remove them or pull your phone out. They also pair with your Apple watch, if you have one, and you might find it easier to control your playlist from your watch without breaking stride.
AirPods are really portable, with no annoying wires to untangle with every use and a neat little carrying case that's also a charger, which means it's easy to bring them with you on any run or hike. Plus, the battery lasts for up to five hours if you're just listening to music or a podcast (and not talking) which should get you through even a long run.
Running with AirPods: the cons
As with all running technology, there's bound to be a few downsides to running with AirPods, not least of which is that if they fall out on the trail, you don't have that handy wire to make sure they don't go bouncing off into the bushes or a nearby river. I have a lot of friends who are now the proud owners of only one Airpod because of how easy they are to lose, and it's an expensive mistake to make.
Further, even though we mentioned their great battery life, there is the obvious factor that they do indeed rely on a battery, meaning that they're limited in a way that regular wired headphones aren't.
Finally, though your AirPods are water-resistant, they're not waterproof, so you'll want to take some precautions if you're a big sweater or running in hot weather – keep reading for some tips.
Why do my AirPods fall out when I run?
Basically, your AirPods probably fall out when you're running due to the existence of anatomical difference. AirPods come in one size, while ears come in all different shapes and sizes. My mum's ears look like a pretty normal pair of ears, but the woman has literally never been able to find a pair of headphones or even ear plugs that will stay in.
However, it is possible that you're just not placing them in deeply enough or properly, so if you've already shelled out for a pair and you want to make it work, make sure you're putting the right bud in the right ear, the left bud in the left ear. Press the bud in gently but firmly, and rotate it so that the stem fits in the natural groove above your earlobe (if you don't have one, this may be part of the problem).
How do you secure AirPods while running?
If you're sure that you're placing the AirPods in the right way and they still keep pinging out, there are a few things you can try. First, if they've become greasy with use (think, natural oils from your skin, sweat, insect repellent and sunscreen from your ears) you might find that all they need is a quick wipe with a damp cloth to clean them. You should also give the insides of your ears a wipe while you're at it, since that might be the problem.
If the above doesn't work, I've heard of runners using waterproof tape to keep their AirPods in place, though honestly, taping anything to my ear doesn't really appeal. What I've found to be the most effective is to place my AirPods in my ears, then cover them with one of my running headbands. This helps keep my AirPods in – and if they do fall out, they don't go far – and also helps to wick away sweat which means my ears don't get all greasy. Problem solved.
For a pricier option, you can buy hooks for your AirPods which hug the tops of your ears and keep them in.
Can I run in the rain with my AirPods?
As previously mentioned, AirPods are water-resistant but not waterproof. This means that they will stand up against a light rain, but if you're running in heavy rain, you should probably leave them at home and go old-school instead. If your AirPods are at all damp after use, which they probably will be after running, it's important to dry them properly with a tissue or soft, dry cloth before returning them to the charging case. They may also lose some of their water-resistance over time.
Is it safe to run with AirPods?
The issue of whether or not it's safe to run with AirPods doesn't, of course, stop with just AirPods – any time you're running with headphones in your ears, you miss hearing the warning signs of impending traffic, mountain bikers, falling trees and bears. For this reason, I actually prefer running with bone conduction headphones, which loop over your ears and rest just in front of them, leaving your ear canals open, and saving my AirPods for work. Check out the Shokz OpenRun Pro – they let you rock out to your favorite playlist or train your brain with an informative podcast without blocking out ambient noise.
All the latest inspiration, tips and guides to help you plan your next Advnture!
Julia Clarke is a staff writer for Advnture.com and the author of the book Restorative Yoga for Beginners. She loves to explore mountains on foot, bike, skis and belay and then recover on the the yoga mat. Julia graduated with a degree in journalism in 2004 and spent eight years working as a radio presenter in Kansas City, Vermont, Boston and New York City before discovering the joys of the Rocky Mountains. She then detoured west to Colorado and enjoyed 11 years teaching yoga in Vail before returning to her hometown of Glasgow, Scotland in 2020 to focus on family and writing.