How to be a better adventurer in 2022: why being eco-aware will make the trails better for everyone
Our resident wanderwoman has five suggestions on how to reduce your impact on the planet, while still enjoying outdoor adventures in 2022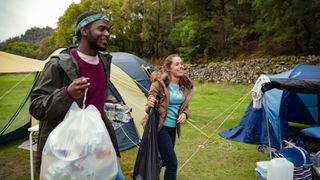 (Image credit: Getty)
We all love wild adventures, but outdoor culture is quite kit heavy and often involves travel, so is it possible to enjoy such escapades and be kinder to the environment? Of course it is, if you know how. Here's how to be a better adventurer in 2022 – with this guide we can all do our bit to make the new year our greenest 12 months in the outdoors yet.
1. Leave no trace
As the old and oft-quoted adage goes, a good outdoors person 'Takes only photos and leaves only footprints'. This is way more than just a cliché. Leaving no trace of your visit is the hallmark of an experienced adventurer. That means no fires – unless you know for sure they're allowed and can be safely contained (campfires can and have destroyed fragile ecosystems), and you can return this site to exactly how it was; no breaking tree branches to create a 'perfect' camp spot; and no leaving behind rubbish – and that includes toilet paper. Instead, invest in something that can hold a self-contained fire like the Solo Stove or BioLite stove, work with nature to make your campsite fit the space (not vice versa) and always dig a 'toilet' hole, 15cm (6 inches) deep – and at least 50 metres (165ft) from any path, buildings or water source.
2. Pick up litter – even if it's not yours
While most of us wouldn't dream of littering in outdoor spaces, there's a lot to be said for making sure there is no rubbish in our favourite adventure spots. I always carry a spare tough bag (an old drybag is a good option) to enable me to take out any rubbish I find on my trips – even if it's not mine. After all, trash breeds more trash. So if you pack it in, pack it out, and when you do pick up other rubbish – shout about it on social media, action speaks volumes and encourages others to follow your lead.
3. Reuse, repair, recycle or gift your kit
While it's tempting to chase after the latest jacket/tent/'insert most wanted gear item here', do think carefully about if you really need to buy something brand new. Before investing, consider reusing your old piece of clothing, bag or tent, or buying secondhand (there's a great Facebook group where this is done regularly). Think your gear is no longer fit for purpose? Think again – jackets can be reproofed, zips replaced and even waterproof fabric can be mended with special iron-on patches. If it really is of no more use to you, see if the company you bought it from operate a recycling scheme or a repair service themselves – some offer money off something new if you bring in your old kit. If it's an item you no longer use or need consider donating it to someone who will use it. Gift Your Gear helps provide outdoor clothing and equipment to UK community organisations, youth groups and charities working with young people in the outdoors, giving it a new life beyond your own adventures.
And, when you do buy new, look for green credentials in the gear you purchase – such as recycled elements, low-carbon footprint, ethical practices (both in the manufacturing process and in sourcing of materials such as down) and bluesign approval.
4. Think about your waste
This is particularly pertinent when considering food to eat on the move on overnight wild camps and multiday treks. Consider buying ingredients not wrapped in lots of needless plastic; for hot drinks and water, there's really no excuse for not having a reusable bottle or cup – same goes for cutlery, when a Spork will do very nicely. Consider alternatives to tin foil and clingfilm (silicone mats or beeswax wrap are good options), look for camping meals not packaged in plastic – Firepot, for instance, now offer some of their meals in compostable brown packaging.
5. Make getting there part of the journey
Most of us naturally jump in our car to head to the start of our adventure, but consider this – if you make reaching the trailhead part of your journey, your outdoors experience can last even longer. Check the map – does a bridleway mean you can take a mountain bike to your start? Is there a cycle route to take your backpack on the road? Is your destination serviced by public transport? (Hoping on a night bus means you can skip the boring drive and get some kip on the way.) There are so many options now beyond the car.
Phoebe Smith is host of the Wander Woman Podcast, an award-winning travel and adventure writer, photographer, broadcaster and presenter and author of 10 books on the outdoors including Extreme Sleeps: Adventures of a Wild Camper and Wilderness Weekends. She is co-founder of the #WeTwo Foundation which works with underprivileged young people to change their lives through adventure.
All the latest inspiration, tips and guides to help you plan your next Advnture!
Creator and host of the Wander Woman Podcast, extreme sleeper Phoebe Smith is an award-winning travel and adventure writer, photographer, broadcaster and author of 10 books about the outdoors. She's the first person to have slept at all the extreme points of mainland Britain, solo on consecutive nights. In 2021, Phoebe and Dwayne Fields will take a group of underprivileged young people to Antarctica through their #WeTwo Foundation. The strangest place she ever wakes up is in her own bed – as she's so rarely there…