How to build a campfire in winter: a survival guide for cold weather camping
By Julia Clarke
Knowing how to build a campfire in winter can unlock a whole new season of exploring the outdoors, bring welcome warmth and save your life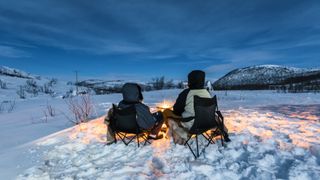 (Image credit: Westend61)
Campfires are a lot like hot tubs: we tend to only use them in the summer but they're actually far more useful in winter. Knowing how to build a campfire in winter can be the key to unlocking a whole new season of exploring the outdoors, and it can be a life-saving skill to harness in colder weather.
Heading into autumn and throughout the winter, building a campfire due to the cold temperatures and lack of dry timber available combined with a short supply of patience. If you're already cold, you're less likely to take your time over the fire-building ritual the way you do in summer, not to mention the fact that you're likely to have your movement restricted by extra layers of winter clothing, all of which makes the task more arduous. But if you're cold and wet, you can't just rely on having a good sleeping bag – you'll want to get that fire going as quickly as possible to stay safe out there.
Once you know how to build a campfire in winter, you can enjoy year-round adventures in the wild gathered round the fire with friends, drying out any wet clothes and enjoying welcome warmth and good hot food.
1. Winterize your fire pit
Needless to say, you'll want to find a dry, snow-free spot that's sheltered from the wind in which to build your fire pit. If there isn't one, grab your shovel and get digging. Frozen ground won't do as once the fire melts the snow, the water will extinguish your fire. One solution is to place stones on the ground and build your fire on top of them.
2. Hunt for dry tinder
Okay, you don't necessarily have to hunt. You could just bring some dry firewood with you if you're car camping. If you're sourcing it in the wild, finding dry firewood can be the trickiest part of building a campfire in winter. Wet kindling will do you no good but you can work with fallen branches covered in dry, powdery snow, which contains little moisture. Dust them off and they should be usable. You may need to go a bit deeper and higher into the brush to find tinder that's not been touched by rain and snow.
3. Add some spark
You'll probably need the help on an accelerant when it's time to get your fire going. The easiest solution is to bring some fire starter with you, but if you don't have any or are seeking a more natural approach, you can use newspaper, pine needles, pine cones and tree bark to help get things going.
4. Stoke your fire
Your fire will need a little extra TLC in winter weather so don't think you can just light it and then kick back. Gather round the fire and keep stoking it and adding fuel regularly to help it stay alive.
5. Dry out more firewood
If you're staying a few nights and want to have another campfire, a great tip is to surround your fire with damp logs to dry them out so you have a good stash all ready to go for tomorrow.
Julia Clarke is a staff writer for Adventure.com. She is an author, mountain enthusiast and yoga teacher who loves heading uphill on foot, ski, bike and belay. She recently returned to her hometown of Glasgow, Scotland after 20 years living in the USA, 11 of which were spent in the rocky mountains of Vail, Colorado where she owned a boutique yoga studio and explored the west's famous peaks and rivers. She is a champion for enjoying the outdoors sustainably as well as maintaining balance through rest and meditation, which she explores in her book Restorative Yoga for Beginners, a beginner's path to healing with deep relaxation. She enjoys writing about the outdoors, yoga, wellness and travel. In her previous lives, she has also been a radio presenter, music promoter, university teacher and winemaker.
All the latest inspiration, tips and guides to help you plan your next Advnture!
Thank you for signing up to Advnture. You will receive a verification email shortly.
There was a problem. Please refresh the page and try again.