How to go truck bed camping
Truck bed camping can be a low cost and no-fuss way to go camping – learn benefits different types of setup, and what you need to get started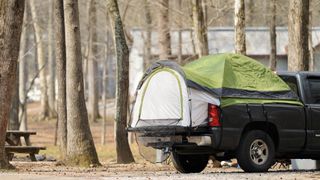 (Image credit: sshepard)
If you drive a pickup, chances are that you're already thrilled with its ability to haul your camping gear around and tackle those high clearance backcountry roads that lead to the best secret camping spots around. When you arrive, you can pitch your tent the old-fashioned way, but the back of your truck might provide an even comfier place to catch some kip. Truck bed camping can be a really low cost and no-fuss approach to camping, though like most things it can range from ultra basic to almost Van Life-like opulence, depending on how much you want to spend, how often you want to do it and where you're going. Here we talk you through the benefits of truck bed camping, different types of setup, and what you need to get started.
Why go truck bed camping?
Assuming you actually own a truck already, truck bed camping – or sleeping in the back of your truck instead of using your camping tent – has several advantages. First, it's quick and easy to set up, leaving you more time to chop firewood, cook dinner or hang out in your camping chair with a cold drink. Even though some people put quite a lot of money into kitting out their truck, you can do it on the cheap too and save quite a bit of money compared to van camping while enjoying quite a bit of the same comforts. How cheap and easy it all is depends on your setup, but we'll get to that in a moment.
The design of your truck itself also offers some distinct advantages. The bed gets you up off the ground, away from snakes, creepie crawlies, lumps and bumps, and provides an ideal space to build a really comfy sleep system. With the right setup, you'll be better protected from the elements than in a tent. Then you've got your tailgate, which provides a really hand surface to set up your camping stove, camping coffee maker and the rest of your camping kitchen.
Truck bed camping might offer you more access too. If you want to get on the trail early, you may not be allowed to set up a tent at the trailhead, but if you're allowed to park overnight you can just put the handbrake on, climb into the back and catch some shuteye. Of course, if you're on a longer road trip, you can camp at rest areas, truck stops and Walmarts along the way in a truck and have more room (and storage) than sleeping in your car. And finally, speaking of storage, truck bed camping can allow for quite a bit of secure storage for all your pricey camping gear too.
Types of truck bed camping setup
There are a few different setups for truck bed camping that will determine your overall spend and comfort.
1. Rustic truck bed setup
The first setup is basically no setup at all. If you're camping somewhere that you can easily go days or weeks without seeing a cloud, and the weather is warm, it's not impossible to simply unroll your sleeping pad and sleeping bag in the bed of the truck and catch some kip under the stars.
This is the most affordable option, but it definitely has a few drawbacks. Namely, you don't have any protection from the elements or bugs, then you've got your bigger critters – if a curious bear comes sniffing around your campsite, you won't feel as safe as campers inside tents.
Of course, you can use a tarp and a mosquito net to help out, but this no-frills option really isn't a good idea if there's any chance at all of rain.
2. Truck bed tent
A step up from the rustic approach that still doesn't involve spending a lot of money is using a truck bed tent. Truck bed tents are camping tents designed to fit in – and secure to – the bed of your truck. Once they're erected, the door faces out over your tailgate so you can easily climb in and out. After parking, you'll need to set up your tent and sleep system, of course, break it all down when you want to move on, but these tents are pretty affordable and really easy to set up.
You might well be wondering why you wouldn't just set up your camping tent on the ground, but a truck bed tent does offer you some advantages over traditional tent camping. In addition to being up off the ground, the sides of your truck bed act as wind barriers, so overall you get a bit more protection than you will from a tent on the ground in rough weather, and arguably you'll be better protected from bears too. And as we mentioned before, there are lots of areas where you can't set up a tent on the ground but you can sleep in your vehicle, so you'll find more access to camping spots this way.
3. Camper shell
A pricier but more robust option is to purchase a camper shell which is fitted to the bed of your truck. These shells provide great protection from the elements, secure your gear when you're on a hike and best of all there's no set up or breakdown required. If you're going to be doing a lot of truck bed camping, you'll like the convenience of a shell, though make sure yours is well sealed to keep the damp out. If you already have one of these, there's nothing you need to do, and if you don't, it's probably going to cost you more than a tent, somewhere between $1000 to $3600, but you may be able to find a used one cheaper.
If you use your truck for other purposes such as hauling equipment, chances are you'll just want the shell and set up your camping gear in the end when you need it, but if you plan on using your pickup primarily for camping, you can definitely go to town here and build it out with a sleeping platform for your bed, storage underneath for your gear, shelving units and lighting. Obviously, this costs a bit and means you can't so easily use your truck to help your friends move house, but hey, maybe you consider that a bonus.
What do you need for truck bed camping?
Once you've got your shelter picked out, you basically want to bring everything that you usually would for car camping. When it comes to sleeping, you should definitely make the most of things and bring an air mattress or even a memory foam mattress that fits in your truck bed, rather than relying on a skimpy sleeping pad. That on top of the truck bed will feel almost like your bed at home. If the weather is cold, you'll actually find that sleeping off the ground is chillier, so make sure you bring lots of insulation in the form of good sleeping bags or cozy camping blankets.
Trucks are also great for hanging solar/gravity camping showers if you're heading out on a longer road trip and want to freshen up, and with your tailgate folded down you can definitely afford to bring a double-burner stove or grill instead of a backpacking stove for your meals.
Finally, if the bed of your truck is filled up with a double-sized mattress, it's going to take up all the space, so you'll want to organize storage for your stuff while you sleep. Camping storage boxes that can be easily stowed in the truck cab or underneath the truck make life much easier.
All the latest inspiration, tips and guides to help you plan your next Advnture!
Julia Clarke is a staff writer for Advnture.com and the author of the book Restorative Yoga for Beginners. She loves to explore mountains on foot, bike, skis and belay and then recover on the the yoga mat. Julia graduated with a degree in journalism in 2004 and spent eight years working as a radio presenter in Kansas City, Vermont, Boston and New York City before discovering the joys of the Rocky Mountains. She then detoured west to Colorado and enjoyed 11 years teaching yoga in Vail before returning to her hometown of Glasgow, Scotland in 2020 to focus on family and writing.