How to wash clothes while camping: get your garments clean in the backcountry
Our guide on how to wash clothes while camping is quick, easy and kind to the environment, whether you're at the campsite or in the wild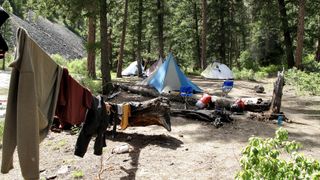 (Image credit: Getty)
Knowing how to wash clothes while camping means there's no limit to the length of your camping trip. Err… that is, apart from having to return to work and get the kids back to school. But, you get the picture. If you know how to wash clothes while camping, there's no reason to cut a trip short just because your garments have started to smell.
However, there are a few of dos and don'ts when it comes to getting your clothes clean. Don't ever wash them in a natural water source, as you will contaminate the ecosystem, even if you use biodegradable soap. By all means, collect water from a stream but washing here is a no-no.
While not as serious, don't wash your clothes at the campsite spigot or at the sinks either. Again, there's no problem with collecting your water from the spigot and taking it back to your washing site closer to your camping tent. When it comes to the washroom sinks, it's just plain rude to dirty the area with your soiled clothes; they're there for washing your hands, not your base layers.
So, that's what not to do, let's get into the things you should do when it comes to exactly how to wash your clothes while camping. The best way doesn't involve sinks, nor does it involve camping buckets, though you will need a large dry bag…
How to wash clothes while camping: what you'll need
Biodegradable soap
A large dry bag (10 liters or more) or a Scrubba Wash Bag (or similar)
Water
Portable clothesline
Microfiber towel
Pegs
How to wash your clothes while camping: a step by step guide
1: Load clothes into your dry bag
A 10-liter dry bag will allow you to do two pairs of the best hiking socks, base layers and underwear at once, while with a 20-liter beast you can double the load.
2: Add water
You'll want to add water until the drybag is about half full. If you're using a Scrubba Wash Bag or similar, there are lines that indicate how far up to fill it. As you'd expect, warm water is better than cold and it should go without saying that the cleaner the water is the better. However, as you won't be ingesting any of it, there's no reason not to use stream water if you're in a bind.
3: Add biodegradable soap
Add around a capful of biodegradable soap to the mix.
4. Add an object to agitate
This is an optional step and isn't needed if you are using a Scrubba Wash Bag or similar, as the internal washboard in the bottom of the bag will do this. However, if your garments are particularly dirty, you'll want to add something to agitate matters and get the dirt out. There are various objects you could use but something like a spiky massage ball is perfect.
5. Close dry bag
Roll the dry bag four or five times and blip the ends together and you're good to go.
6. Scrub, press and rub
Rub the bag to work the clothes into your object or, in the case of a Srubba Wash Bag, into the washboard. You can afford to be quite aggressive here to get things as clean as possible. Spend three or four minutes giving everything a good rub.
7. Dispose of gray water
Water that's left behind after washing clothes (or dishes and cookware, for that matter) is called gray water and when following leave no trace principles, there's a correct way to dispose of it. You should dispose of gray water at least 200 feet away from any water source, such as streams and lakes. To allow it to evaporate as quickly as possible, you should find a space that sees plenty of sun and empty the water out across a large area, rather than just tipping it out so it forms one big puddle. Make sure your clothes remain inside when you empty – you don't want them falling on to the ground having just washed them.
8. Wring out your clothes
Hold the opening of your dry bag with one hand so that your garments won't slip through, turn it upside down and squeeze the bag against your torso with the other hand to wring out your clothes.
9. Repeat without soap (optional)
For a comprehensive wash, you may want to do a rinse cycle, which repeats the wash process but without adding soap.
10. Wring your clothes again, but better
Even after you've wrung out your garments in the bag, they're still going to be sopping wet. Wring them out by hand before you start to get them dry. While items like your best hiking pants and base layers are usually pretty quick drying, you may want to speed up the process beyond just putting them on a washing line, especially if you need them for the trail the next day.
Lay your garments out across a microfiber towel, before rolling the towel over them tightly – a bit like when you're packing away your best two-person tent. The towel will absorb much of the water and your clothes will be ready for the line.
11. Hang your clothes out to dry
Run a clothesline from your tent to a tarp, or between trees and peg your clothes up to dry. If you're backpacking and travelling especially light, you can hang your clothes from branches or even fashion a line from one of your tent's guy lines. If you're moving out from camp, hang them from your backpack and get them dry while on the trail.
The video below shows how to wash clothes while camping using a Scrubba Wash Bag in even more detail:
All the latest inspiration, tips and guides to help you plan your next Advnture!
Alex is a qualified Mountain Leader, adventure writer and content creator with an insatiable passion for the mountains. A Cumbrian born and bred, his native English Lake District has a special place in his heart, though he is at least equally happy in North Wales, the Scottish Highlands or the European Alps. Through his hiking, mountaineering, climbing and trail running adventures, Alex aims to inspire others to get outdoors. He is currently the President of the London Mountaineering Club, training to become a Winter Mountain Leader, looking to finally finish bagging all the Wainwright fells of the Lake District and hoping to scale more Alpine 4000ers when circumstances allow. Find out more at www.alexfoxfield.com