Missing hiker found near Grand Canyon after being lost for 7 weeks
Sixty-year-old Stephen Coleman, of Portland, Maine, had been hiking alone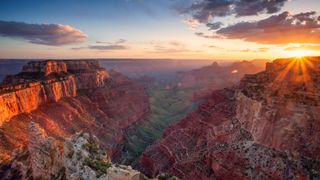 (Image credit: Getty)
A 60-year-old man who went missing in December at Grand Canyon National Park has been found alive nearly 50 days later.
The National Park Service (NPS) (opens in new tab) had reported that Stephen Coleman, of Portland, Maine, was last seen on December 20, 2020, on the South Rim of the Grand Canyon. NPS officials said he was believed to be traveling alone and had indicated he was going hiking.
Coleman had told a friend to look after his things before he went hiking into the canyon, but he never returned to claim his stuff. On February 6, NPS posted that they were conducting a missing persons search for Coleman.
Officials with the Grand Canyon National Park office tweeted on February 7 (opens in new tab) that Coleman was found safe and in good health, according to news reports. (opens in new tab)
Joelle Baird, a spokeswoman for the National Park Service, told the Press Herald (opens in new tab) on February 6 that because the Grand Canyon is so vast, and the service didn't have any more specific information on where Coleman might be on the South Rim, so it was waiting for more tips to come in before sending a search party into the canyon.

"Just from the South Rim, there are a dozen or more different trails that go into the Grand Canyon," Baird said. "We need more specific information to narrow the search area."
A search wasn't needed. Later in the day, Coleman was located outside the park safe and "in good health," the park service said in a statement. No other information was provided.
Baird said earlier that park rangers believe Coleman arrived in the Grand Canyon area around Halloween last year and was living a "nomadic" existence while in Arizona. He had been staying with different people in a community of about 2,500 who live in apartments and homes along the South Rim.
NPS says they were only notified of Coleman's disappearance in early February. Baird said she doesn't know why there was such a long gap between Coleman's disappearance and reports of him being missing to park officials.
Brian is an award-winning journalist, photographer and podcaster who has written for Runner's World, The Times, Outside, Men's Journal, Trail Runner, Triathlete and Red Bulletin. He's also the author of several books, including Kicksology: The Hype, Science, Culture and Cool of Running Shoes. He lives in Boulder, Colorado, and loves to run, bike, hike, camp, ski and climb mountains. He has wear-tested more than 1,500 pairs of running shoes, completed four Ironman triathlons, as well as numerous marathons and ultra-distance running races.
All the latest inspiration, tips and guides to help you plan your next Advnture!
Thank you for signing up to Advnture. You will receive a verification email shortly.
There was a problem. Please refresh the page and try again.