Stop the slide: 8 tips for camping on a slope
Our tips for camping on a slope can help you nod off, rather than roll off, and get the rest you need before the next day's big adventures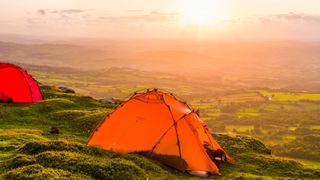 (Image credit: fotoVoyager)
If you close your eyes and picture your ideal camping spot, chances are it's an idyllic hideaway high in the mountains, probably with your own personal pristine lake nearby. But the thing about mountains is that they're not known for being particularly flat, which means that finding a practical spot to camp isn't always as easy as social media makes it look. While frontcountry camping usually all but guarantees nice, even tent sites, once you get into the backcountry it's almost inevitable that you're going to end up camping on a slope once in a while.
Camping on an incline invariably means a night of slowly sliding into the downhill wall of your tent, made worse by slippery sleeping bags and pads. So is there anything you can do to make your night more comfortable, besides nailing your sleeping pad into the ground, or ditching your best sleeping bag and sleeping in a climbing harness attached to a tree? Our eight tips for camping on a slope help you nod off, rather than roll off, and get the rest you need before the next day's big adventures. Always research your camping area before you set off to make sure you have what you need, and of course look for the flattest spot available when pitching your tent.
1. Level your tent
It may be possible to level your tent if there are plenty of branches down on the ground. Drive a couple of tent pegs into the ground then lay a good sized log or branch against them. Fill in the gap between the log and the hill with smaller branches and, if possible, leaves and pine needles for a softer base for your tent. This does rely on their being a lot of material available, but it's been done before.
2. Pitch your tent parallel with the slope
There are two schools of thought when it comes to how to pitch a tent on a slope, and which you choose may come down to a combination of personal preference, the steepness of the slope and what gear you have available. The most common advice is to sleep with your head uphill, which means pitching your tent parallel to the slope. The advantages of this are:
You can sleep with your head uphill which means you don't wake up in the middle of the night with a headache.
You won't keep rolling onto your downhill side.
Your entrance to the tent isn't downhill so you won't catapult out in the morning.
Honestly, this setup is perfectly fine when it's a very gentle slope, however if it's a bit steeper, you'll want to place your backpack down at the foot end of your tent to help keep you from sliding. Some campers actually put the pack or their clothes under their feet for more of a hammock-like effect.
3. Pitch your tent perpendicular with the slope
The other option is to set up your tent perpendicular to the slope so that your head and feet are level, but one side is lower than the other when you're sleeping. For this option, if it's anything more than a very gentle incline, you'll need to pad the downhill side of your sleeping pad or camping mattress with clothing to create an even surface. If you have enough clothing, this can work really well and may be more comfortable than having your feet downhill, however make sure to pitch your tent so that the entrance is facing uphill – that way if you drop your water bottle while you're climbing out in the morning it won't tumble into the valley below, never to be seen again.
4. Let some air out of your pad
When comfort is at stake, your first response is probably to inflate your sleeping pad as much as possible, but when you're camping on a slope, this doesn't really do anything to offset the slope – it just raises you up a bit. If you're camping with an inflatable sleeping pad, you can try letting a little air out of your pad to allow the heavier parts of your body to sink down more, which may help stop the slide.
5. Make your sleeping pad more grippy
Another issue is that camping gear such as your tent, sleeping bag and sleeping pad all tend to be extraordinarily slippery. The key is to stop your sleeping pad from moving around so much on the floor of your tent body. Some sleeping pads, like the EXPED Synmat UL Unisex, are made using more grippy material (some only use it on one side, so make sure that side is facing down) but if yours is very smooth, you can stick some grip tape – also known as anti slip tape – to the underside. If you're sleeping with your head uphill, apply a strip roughly under where your shoulders, hips and feet will be, and if you're sleeping perpendicular to the slope, one long strip along your downhill side will usually suffice.
6. Don't camp downhill in wet weather
If you're camping in the rain, you'll need to think about your safety as well as comfort. Don't pitch your tent at the bottom of the hill – even if it has taped seams, it probably isn't designed to withstand camping in a small stream, which your campsite might become in a matter of minutes. The last thing you want is to wake up in the middle of the night with all of your best gear soaked. Worse still, you could be at risk for dangerous flash flooding and mudslides. Check the weather forecast and if there's rain on the way, move further up the hill or keep walking until you find a safer spot.
Some campers recommend digging a trench uphill from your tent, which certainly might do the trick, but isn't really in line with our promise to leave no trace in the wild, and is a lot of work. Save that solution for last resort emergencies only.
7. Sleep in a hammock
An option that's becoming increasingly viable with the advent of really great camping hammocks such as the Amok Draumr is not to sleep on the ground at all. If there are plenty of trees around and you have a proper camping hammock, you can set up anywhere and snooze away in thin air.
8. Use a camping cot with adjustable legs
We've been focusing on backcountry camping and backpacking, but it is possible that you find yourself on a slope when you're car camping too. In that case, you might want to invest in a camping cot with adjustable legs, instead of using a sleeping pad, and simply make the downhill legs longer to even things out.
All the latest inspiration, tips and guides to help you plan your next Advnture!
Julia Clarke is a staff writer for Advnture.com and the author of the book Restorative Yoga for Beginners. She loves to explore mountains on foot, bike, skis and belay and then recover on the the yoga mat. Julia graduated with a degree in journalism in 2004 and spent eight years working as a radio presenter in Kansas City, Vermont, Boston and New York City before discovering the joys of the Rocky Mountains. She then detoured west to Colorado and enjoyed 11 years teaching yoga in Vail before returning to her hometown of Glasgow, Scotland in 2020 to focus on family and writing.