Sleeping pad vs air mattress: the battle of the sleep system stalwarts
By Alex Foxfield published
Our sleeping pad vs air mattress guide explains the advantages and disadvantages of these two camping sleep systems for campsite and expedition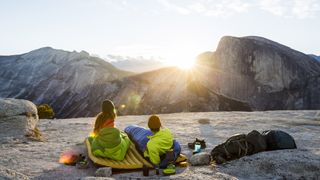 (Image credit: Getty)
It's the showdown of the sleep systems stalwarts: sleeping pad vs air mattress. The importance of a good night's sleep can make or break all kinds of adventures. It's exceedingly difficult to match the comforts of home on a camping trip, unless you get your teeth into some serious glamping action. However, you can recreate some of the luxuries of your humble abode on the campsite with an air mattress. On a backpacking trip, a sleeping pad is your ticket to a restful slumber, which is so important after the exertions of the expedition.
So, whether you're driving your best tent to a campsite or lugging it through the backcountry on an epic thru-hiking adventure, you're going to have some kind of sleeping mat to keep you insulated from the ground and provide the platform for a sound night's sleep. We consider the ease of use, the comfort and warmth, the portability and the value of the best sleeping pads (and best women's sleeping pads) when compared to air mattresses to arrive at our final verdict.
Sleeping pad vs air mattress: ease of use
Where sleeping pads are concerned, they've got ease of use down to a tee. Though not all sleeping pads are born equal. Closed-cell foam mats simply unroll and are ready to go. However, as when you unfurl wrapping paper, the ends often roll back up meaning you have to pop something heavy, like a pair of full dry bags, on either end. Foam core self-inflating mats (SIMs) are just as easy to set up, just lay them out, open the valve and voila! Just don't forget to close the valve before you climb on top of it. They pack away quickly and easily too, just open the valve and roll them up, pushing the air out as you go. An insulated air mat is a step up, occupying the middle ground between a pad and a full-on mattress. They require a small amount of effort to pump up, but it's well worth it for the enhanced comfort on offer.
Some standard air mattresses come with a hand or foot pump and take a bit of graft to inflate. With bigger air mattresses, gone are the days where you'd hammer a foot pump over and over for ten minutes, sounding as though you were repeatedly pummelling a one of the Chipmunks into ground. These days, they invariably feature a powered pump and almost magically self-inflate. The best thing is, many work on batteries as well as household electricity, meaning it's perfectly feasible to bring the kind of double mattress luxury we associate with home on car camping trips. Deflating them is great fun too, if a little time consuming. Think: a couple of minutes of doing snow angels until your weight has pushed all the air out. Maybe get the kids to do it…
Sleeping pad vs air mattress: comfort and warmth
Sleeping pads have come a long way from the closed-cell foam mats that used to be commonplace. Self-inflating and well insulated pads offer enhanced comfort and warmth. How well a pad will insulate you from the cold is indicated by its R-value, which stands for (thermal) "resistance". The value indicates how much resistance the pad or mat provides against conductive heat loss to the ground. R-values range from 0-7: the higher the numbers, the greater the thermal resistance. R-values in excess of 2.5 are fine for 3-season use, while you'll be wanting something around 5 or greater for extreme winter conditions. Systems can be combined to provide even greater insulation. For example, you can add a closed-cell foam mat underneath an insulated air mat with an R-value of less than 5 to ensure a warm night when sleeping on frozen ground or snow.
However, sleeping pads can't rival an air mattress in terms of sheer volume. An air mattress will lovingly cradle you high above the groundsheet and thanks to modern valve locking technology, they don't lose air during the night like they used to. Few things in life are as irritating as waking up on a sagging bed. This luxurious volume, along with velvety covers and enough space to roll around on, makes air mattresses the obvious choice for comfort. The insulation they provide is also conducive to a cozy, warm night's sleep.
Sleeping pad vs air mattress: portability
This is one is a no brainer. A sleeping pad's lightweight qualities and the fact that many pack down into a compact stuff sack mean that they are always going to win in the portability stakes. You simply would not take a large air mattress into the wilderness, as there'd barely be any room for your other hiking essentials in your backpack.
Within the sleeping pad bracket are various options. Closed-cell foam mats are not particularly portable, as they lose none of their volume when rolled up and take up a lot of space. They can often be seen strapped onto the exterior of a backpack, along with items like trekking poles. Sleeping pads that get their insulating qualities when inflated with air (foam core self-inflating mats and insulated air mats) generally fold down to a much smaller size and are the optimum in portability.
Sleeping pad vs air mattress: value
On the face of it, you get more bang for your buck by purchasing a large air mattress than you do with a specialist expedition sleeping pad. Unless you are a wilderness adventurer or keen wild camper, it makes perfect sense to get yourself a large air mattress and use the remaining cash to get yourself other items on your camping checklist.
If you are looking to wild camp in summer, a fairly basic pad with a low R-value won't set you back too much and will do the job perfectly well. More specialized pads with higher R-values designed for harsher conditions are more expensive. At the end of the day though, you can't put a price on a decent night's sleep.
Sleeping pad vs air mattress

| | Sleeping pads | Air mattresses |
| --- | --- | --- |
| Ease of use | Easy and minimal | Hand or foot pump required |
| Warmth | Moderately warm | Very warm |
| Comfort | Moderately comfortable | Very comfortable |
| Portability | Lightweight and packable | Too bulky and heavy for backpacking |
| Value | Less value for your investment | Great value for money |
Sleeping pad vs air mattress: the verdict
This is a fixture where the champion emerges depending on the venue of the bout. When these two stalwarts of the sleep system take to the field on a campsite, there's a clear winner: the air mattress. With models that resemble your bedroom's king-sized mattress and even pump themselves up (with the help of a few batteries), what's not to love?
However, the air mattress doesn't fare as well in the away leg, when the bout moves to the backcountry. Here, the sleeping pad is king, particularly foam core self-inflating mats and insulated air mats. Their lightweight qualities and small packed size make them the ideal choice for backpacking expeditions. High-end models boast R-values that can cope with the worst mountain winters out there, though they do come with a heftier price tag.
Alex is a freelance adventure writer and content creator with an insatiable passion for the mountains. A Cumbrian born and bred, his native English Lake District has a special place in his heart, though he is at least equally happy in North Wales, the Scottish Highlands or the European Alps. Through his hiking, mountaineering, climbing and trail running adventures, Alex aims to inspire others to get outdoors. He is currently training to become a qualified mountain leader, looking to finally finish bagging all the Wainwright fells of the Lake District and hoping to scale more Alpine 4000ers when circumstances allow. Find out more at www.alexlangfield.com
All the latest inspiration, tips and guides to help you plan your next Advnture!
Thank you for signing up to Advnture. You will receive a verification email shortly.
There was a problem. Please refresh the page and try again.