Best women's down jackets and puffers: padded yet packable mid layer jackets for outdoor adventures
By Sian Lewis
Our pick of the best women's down jackets and puffers for keeping you snug on frosty mornings and chilly evenings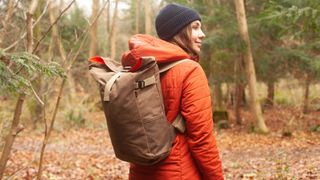 (Image credit: Sian Lewis)
Ever heard of the onion method? Well, the best women's down jackets and puffer jackets can be a vital part of that method. It's the best way to stay warm in the outdoors, and it involves layering up in order to trap your body heat around you and stay cosy in all conditions.
The best down jackets are the hero piece of such a layering system and give you instant warmth without adding much weight. We've picked ten of the best women's down jackets and puffers on the market, suitable for different outdoor activities and scenarios, including lightweight, packable jackets, perfect as mid layers for when you're getting active, as well as bulkier insulated coats ideal for really cold conditions.
Our buying guide below explains what features to look for in these garments and explores the key differences between the best women's down jackets, and the best women's puffer jackets insulated with synthetic materials. Our chosen puffy jackets differ in design, but have all proven to be warm, comfortable and great quality when tested out in cold conditions. And if you want to learn more about how female-specific kit has come a long way since the days of the 'shrink it and pink it' approach, read our Is women's outdoor gear up to scratch? article.
The best women's down jackets and puffers
Beautifully made, light and very warm, the Fenrir is a very versatile bit of kit for mountain lovers
RRP: £295 (UK) / $409 (US) / €335 (EU) | Fill: 850 fill goose down | Sizes: XS–L | Weight: 250g / 8.8oz | Colors: Aegean blue / Black / Dark Ink
Brilliant warmth-to-weight ratio
Lovely fit
Works well under backpacks
High price tag
Jottnar's outdoor pieces are designed with mountaineers in mind and named after mighty Norse gods, and the tough Fenrir (a mythological wolf) is one of the brand's standout down jackets.
We tested the Fenrir over a year of hiking and mountain adventures and found ourselves reaching for this versatile mid layer again and again. It's lightweight and packable, squishing down into its own stuff sack for easy transportation, but offers fantastic warmth thanks to animal down that meets the Responsible Down Standard.
The Fenrir works both as a mid layer under a waterproof shell and as an outer jacket on cold-but-dry days. The fit is perfect; the jacket is not restrictive anywhere and allows good freedom of movement. An adjustable hood keeps your face and head cosy, and a dropback hem warms the lower back and stays put when the Fenrir is worn with a backpack. The outer material is also water-resistant enough to bead off light rain. Well worth the spend if you get outside all winter long.
A jacket as warm and snug as your favourite duvet, but best for casual cold weather wear
RRP: £154 (UK) / $213 (US) | Fill: 600 fillpower down and synthetic insulation | Sizes: XS–2XL | Weight: 513g / 18oz | Colors: Winetasting / Night sky / Black/ Icy morn
Comfort
Responsibly sourced down
Not adjustable at the neck
Salomon's snug Transition Down may be as close as you'll come to wrapping yourself in your favourite duvet. If comfort is top of your shopping list, pick this hooded jacket. The Transition Down mixes animal down and synthetic insulation – the down used is responsibly sourced, and each jacket comes with a number you can check on www.trackmydown.com to see the material's provenance and ethical credentials. This is coupled with synthetic insulation in areas likely to get wet in sudden rainfall – a clever touch (because down's downfall is that it doesn't perform well when wet).
This cosy coat didn't prove very breathable on test and it feels rather bulky under waterproofs, but we rate it for more casual use such as cold weather camping and winter walks. We definitely recommend picking a size up from your usual, especially if you want to layer up base layers or fleeces underneath, as the waistband is rather slim-fitting. There's a nicely designed hood that can be tightened, but we would have liked the jacket to be adjustable around the neck too, to further trap warmth.
A packable down offering powerful warmth and good breathability – you'll either love or hate its looks
RRP: £270 (UK) / $374 (US) | Fill: 800 fill down | Sizes: XS–XL | Weight: 390g / 13.75oz | Colors: Black / Bold Orange / Bright Geranium
Omni-Heat technology traps in warmth
Packable
Great warmth-to-weight ratio
Slick shiny looks aren't for everyone
Columbia promise 'powerful warmth' to wearers of this packable jacket, and we'd have to agree with their tagline. The Alpine Crux is lined with 800 fill power of responsibly sourced down, offering a great warmth-to-weight ratio for such a packable jacket, which stuffs easily into its own hand pocket.
There's more heat-trapping technology at play here – Columbia line their winter jackets with their own-brand Omni-Heat material, a fabric covered in little raised silver dots that works rather like a space blanket and reflects your body heat back, while doing a good job of quickly trapping warmth around your torso.
The Alpine Crux is also more breathable than some of the other jackets we tested, making it ideal for use as a mid layer for sports where you're alternating between working hard and cooling down, such as climbing and skiing. The rather shiny padded looks of this slim-cut jacket aren't for everyone, but if they're your cup of tea then you're getting a high-performing bit of kit that makes a good choice for urban day-to-day excursions as well as for when you're mountain-bound.
This good-looking – and fully recycled – insulated number is perfect for spring
RRP: £165 (UK) / $228 (US) / €185 (EU) | Fill: Recycled synthetic down | Sizes: 8–16 | Weight: 400g / 14oz | Colors: Baltic Blue / Black / Rust Red/ Sunset / Kingfisher Blue / Spectrum
Smart looks and colorways
Great fit
Recycled materials
No zipped pockets
Not warm enough for mid winter
The Nimbus is Finisterre's bestselling women's insulated jacket, and for good reason. There's lots to like here, not least the jacket's smart looks and earthy colorways. The Nimbus is slim-fitting and bulk-free, but it's not as warm as more padded jackets, making it best suited for use as a light jacket on spring walks or for wearing under a shell on coastal hikes.
This jacket is firmly in the casual camp, but the lack of bulk coupled with a great cut makes the Nimbus work brilliantly over a fleece or sweater and under a waterproof for daily wear. There are other nice design touches here, such as a fleece-lined collar and an adjustable hood, and the Nimbus packs down into its own chest pocket, ideal for carrying with you on walks or on the commute, but it's a pity the pockets aren't zipped.
In line with Finisterre's ocean-loving ethos, the filling, material and zip are all recycled, which definitely gets our vote.
The last word in light and packable, this barely-there jacket offers warmth on the go
RRP: £180 (UK) / $250 (US) | Fill: Recycled PrimaLoft Gold Insulation Eco | Sizes: XS–XL | Weight: 284g / 10oz | Colors: Birch White / Black / Classic Navy / Spanish Red
Easy to pack away
Recycled insulation
Great fit
Easy to rip
Patagonia's Nano Puff has a big fanbase, and for good reason. There's no bulk at all to this jacket, which is light as a feather to wear and packs down into its own pocket, brilliant for adding an extra layer over base layers and under winter coats.
The Nano isn't thick or warm enough to work alone in bitter winter, but it's the perfect mid layer for spring and autumn, or for use when you're cycling or climbing and want a breathable insulated layer you can chuck on and then chuck in a bag when not in use. We also like the zipped pockets, high neck and slim but comfortable fit.
An elasticated waist and cuffs trap heat in, and the Nano Puff stays warm when wet and dries very quickly, making it a versatile pick when you're packing for all weathers. We tested out the white version of the jacket – while it's great for low visibility, it shows dirt quickly, so we'd advice picking a darker colorway.
This highly reflective jacket is warm, comfortable and ideal for keeping safe on nocturnal adventures
RRP: £170 (UK) / $236 (US) | Fill: Down | Sizes: 6–18 | Weight: 600g / 21.2oz | Colors: Silver
Extremely reflective
Great hood
Very comfortable
No info on the origin of the down
Stay bright and visible at night in this (literally) eye-catching down jacket. We've been wearing Proviz's excellent reflective shell cycle jackets for years, so we were pleased to see a warmer down jacket added to the brand's line-up.
The reflective outer material is coated in thousands of tiny beads that bounce back light and make you very visible in any light source (such as car headlights), ideal for anyone out exploring at night. In daylight, the 360 jacket is a smart silver/grey.
The jacket also stood out on test for its comfortable long and boxy cut, which keeps more of your torso warm and allows for easy layering. The jacket is insulated with real down (of unknown provenance, sadly, as it's always better to know whether down has been sourced ethically) and while it's not super lightweight or breathable at 600g, it does instantly trap heat and warm you up in chilly conditions. Save it for being seen in the bitter cold rather than for more aggressive hikes and cycles.
A smart and versatile gilet that warms up the torso without restricting movement
RRP: £325 (UK) / $450 (US) | Fill: Duck down | Sizes: XXS–XXL | Weight: 290g / 10.2oz | Colors: Black / Navy / Burgundy
Versatile
Breathable
Pricey
One way to keep your torso warm without overheating when you're out getting active is to pick an insulated bodywarmer rather than a jacket. The Nobis Lily is our top choice if you're in the market for a gilet (insulated vest) – it's so light you'll barely notice you have it on, but it does a brilliant job of warming you up without weight and still lets the body breathe, thanks to warm duck down sourced from Canada as a by-product of the poultry industry.
Ideal for keeping warm without hindering movement, it's very easy to layer with, and we found it ideal for fast-paced activities where you work up a sweat but are still likely to feel the cold as soon as you stop, such as snow sports. Whether or not you like the look of a gilet, the simple Lily is very easy to wear anywhere. A pity it's so expensive – one to snap up in a sale.
With great comfort, warmth and timeless looks, Fjällräven's Expedition is a wear-anywhere packable jacket
RRP: £269 (UK) / $373 (US) / €310 (EU) | Fill: 700 fill power goose down | Sizes: XXS–XL | Weight: 435g / 15.3oz | Colors: Navy / Dandelion / True Red / UN Blue / Black
Warm
Comfortable
Smart retro-inspired looks
Doesn't pack down as small as other packable designs
Most of Fjällräven's down jacket offerings are huge coats designed for Arctic conditions – this Expedition Pack Down model is far more slim, packable and versatile. We tested it out when hiking in the Dolomites (you may also want to check out our look at the Best Women's Hiking Boots) in both sun and snow, and really rated its reliable warmth and great fit, which makes it comfortable to wear mile after mile.
Like all outdoor clothing from Swedish brand Fjällräven, whose motto is 'functional, durable, timeless', there are good eco credentials here. The down used is ethically sourced and the outer material is fully recycled. The waistband is easy to adjust with a cord hidden inside the pocket, and we also like the adjustable hood, which is warm and flattering, and the handy inner pocket for stashing your phone.
While the Expedition doesn't pack as small as some other jackets on this rundown of the best women's down jackets and puffer jackets, you can squash it to the size of a large pencil case, so it's still easily transportable in your backpack. We also love the retro looks of the jacket, which are inspired by Fjällräven's first down coats designed in the 1970s. Colorways range from sunshine-bright yellow or red to more toned-down navy or black.
A bulk-free mid layer that goes effortlessly from city to countryside
RRP: £200 (UK) / $277 (US) / €230 (EU) | Fill: PrimaLoft Gold Active+ synthetic insulation | Sizes: XS–XL | Weight: 460g / 16.2oz | Colors: Skagen Blue / Ice Blue / Raspberry / Melon / Royal Blue / Nightshade / Blue Tint / Black
Slim looks
Great for layering
Not as stretchy as its name attests
If you hate the Michelin-man puffy looks of most insulated jackets, you'll love Helly Hansen's sleek Odin. Popular with ice climbers and hikers alike, this light jacket has insulation but no quilting, allowing for easy layering without any added bulk or restriction of movement.
We're not sure the jacket is stretchy enough to deserve its Stretch title, as the only give is in the small panels under the arms. That said, these insulation-free sections do allow for better unimpeded movement of the arms when you're climbing or scrambling.
On test we rated the soft fleecy inner lining, which feels comforting in the cold, plus the easily adjustable waist and comfy high neck. The outer material is also waterproof enough to repel light rain and snowfall. We tested out the black version of the Odin, which is easy to wear everywhere from city streets to hillside trails.
A tough external shell makes the warm Talus hardier than your average jacket
RRP: £140 (UK) / $194 (US) | Fill: Primaloft Gold | Sizes: 8–20 | Weight: 500g / 17.6oz | Colors: Marine / Dark Purple / Deep Blue / Red
Helmet-compatible hood
Stretchy side panels
Not the warmest jacket on test
The Talus is the workhorse of our round-up of the best women's down jackets and puffer jackets. Its ripstop outer material is far more resistant to tears and scratches than most down jackets (which can often rip at the slightest brush with a thorn) and you can tell this jacket was designed in Scotland, where four seasons in a day are likely – we found it water-resistant enough to put up with sudden rain, and it still offers warmth when damp, and dries quickly.
It's also windproof enough to cut chill, making it a great standalone jacket on warmer days. Flexible, fleece-lined panels run all the way up the inside of the arms and offer great freedom of movement; coupled with a lighter dose of synthetic insulation, these make the Talus ideal for sports.
A reinforced peaked hood keeps water and sun out of your eyes and is also compatible with a helmet. The Talus' fit runs small, and we'd advise going up a size if you want to wear more than a base layer underneath.
Choosing the best women's down jacket or puffer for you
1. Insulation
Insulated jackets use either animal down or synthetic insulation to trap in heat and keep you warm. Animal down, usually derived from duck or goose down (down are the clumps of fine feathers found under a bird's tougher exterior feathers) offers a brilliant warmth-to-weight ratio in dry cold weather, but is useless when wet. Brands using animal down will also list the 'fill power' of a jacket, such as 400, 600 or 800. The higher the fill power, the warmer the jacket is likely to be. Animal down was traditionally warmer than synthetic insulation, but synthetic materials are rapidly catching up. Synthetic insulation has other benefits – it still offers some warmth when wet, it dries faster and it can be made using recycled materials.
There's also an animal welfare issue with the production of some animal down jackets. The cheapest down may be harvested from live animals, a cruel and unnecessary act. You'll see other down jackets labelled as 'humanely harvested', which means the down is a by-product of food production. You can also choose to purchase ethically sourced down (look for the RDS, or Responsible Down Standard, used to denote down obtained from animals that have not been subjected to unnecessary harm) – here's everything you need to know about ethical down for jackets and sleeping bags.
Synthetic down jackets avoid the problem all together, and we'd recommend spending a little more on a jacket that either uses synthetic insulation or humane, traceable down. You can learn more in our Down vs synthetic fibre guide.
2. Design features
Many of the best women's down jackets and synthetic insulated jackets aren't waterproof, so you'll need to pop a waterproof shell jacket on top in heavy rain, but some are water resistant and will withstand a light shower or snowfall, and are thus a more versatile pick for the ever-changing great outdoors.
We look for jackets with close-fitting hoods, to keep your head warm in windy conditions, and a high neck to protect more of your face. If you want to wear your jacket for climbing or cycling, look for a helmet-compatible hood. We also recommend designs with stretchy or close-fitting cuffs and an elasticated or adjustable waistband, to keep heat in trapped around your body. Zipped pockets and internal pockets for storing your valuables are also handy.
3. Packability
Insulated jackets roughly fall into two categories – lightweight and packable jackets suitable for use as mid layers, and bulky but very warm jackets that double up as coats in dry conditions but which are less easy to pack away. If you need a jacket you can stuff into your backpack (or even your pocket) when you're out hiking or cycling, pick a packable jacket weighing under 500g that comes with a stuff bag or fits into its own pocket. If you're after a warm jacket for bitterly cold weather and for sports where you'll be standing still or cooling off for longer periods of time, pick a larger insulated jacket or coat.
An award-winning travel and outdoors journalist, presenter and blogger, Sian regularly writes for The Independent, Evening Standard, BBC Countryfile, Coast, Outdoor Enthusiast and Sunday Times Travel. Life as a hiking, camping, wild-swimming adventure-writer has taken her around the world, exploring Bolivian jungles, kayaking in Greenland, diving with turtles in Australia, climbing mountains in Africa and, in Thailand, learning the hard way that peeing on a jellyfish sting doesn't help. Her blog, thegirloutdoors.co.uk, champions accessible adventures.
All the latest inspiration, tips and guides to help you plan your next Advnture!
Thank you for signing up to Advnture. You will receive a verification email shortly.
There was a problem. Please refresh the page and try again.