Best camping gifts: 12 perfect Valentine's Day presents for lovers of outdoor life
By Sian Lewis
Make your outdoorsy friends and family happy campers this Valentine's Day with our best camping gifts for glampers, wild campers and anyone who loves sleeping out under the stars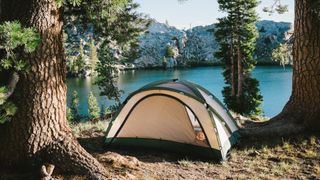 (Image credit: Getty)
Struggling to think of a gift for the outdoors lover in your life? Make their Valentine's Day one to remember with one of the items in our buying guide.
2021 promises to be the year of getting outside, with homestays and camping wilderness vacations likely to be the get-away of choice, so why not give the gift of enhanced experiences in the outdoors? Here are our suggestions for the top 12 perfect presents for the discerning campers, glampers and campervan cruisers in your bubble.
If you're still looking for Valentine's Day present ideas, check out our guide to the best gifts for hikers.
LifeStraw Go Steel 1-litre water bottle and filtration system
RRP: $59.95 (US) / £49.95 (UK)
Brand new from LifeStraw, this 1-litre/34oz water bottle is an up-sized version of their mega popular Go 2-Stage 650ml/22oz bottle, for adventures who need a little more clean water when they're back in camp after a day on the trails. The supersmart two-stage filtration bottle transforms almost any non-salt water source into clean, safe and tasty drinking juice without the use of chemicals or batteries. The bottle is BPA free, and the filtration system protects against 99.999999% of bacteria, 99.999% of parasites and microplastics and chlorine, organic chemical matter, dirt and cloudiness – plus it improves the taste. There's also the new Go Steel version – RRP $59.95 (US) / €59,95 (EU) / £64.95 (UK) – which is made with stainless steel and features double-wall vacuum insulation that keeps water cold for hours.
Columbia Grand Trek down jacket
RRP $199 (US)/£140 (UK)
Get camp cosy in the warm Columbia Grand Trek down jacket. Our tester described this jacket as 'tough, rugged and fully waterproof', and it's that rare thing – a lightweight insulated jacket that can also withstand the rain, making it perfect for year-round camping. Men's and women's versions both available, making it the perfect gift for campers.
Biolite Powerlight
RRP $79.95 (US) / £65

The clever Biolite Powerlight flat torch works as two different lights: as a lantern, emitting a warmer, softer light, or as a powerful hand-held torch, with a 250-lumens bulb. Its versatility (and its pocket-friendly size) makes it perfect for camping and caravan living. Not only is the Powerlight USB rechargeable, it also works as a powerpack for charging your other devices, making it one of the best camping gifts for remote wild camping trips.
The Camper Van Cookbook
ebook from $3.99 (US) / Hard copy RRP £22 (UK)

Know someone who loves to cook up a storm in the great outdoors? This hefty cookbook is perfect for food al fresco. The Camper Van Cookbook is designed for 'life on 4 wheels, cooking on 2 rings', but it's not just for van fans – it's stuffed with recipes to help you whip up a feast on a portable camping stove, over an open fire or on a barbeque. Breakfast bacon frittata, anyone? One of the best camping gifts – and something that may get you a good meal.
MSR Windburner stove system
RRP $149.95 (US) / £150 (UK)

Shopping for a proper wild camper who only sleeps soundly when far from the madding crowd? They'll love this wilderness-ready stove. The MSR Windburner MSR Windburneris a totally enclosed stove system, so no more desperately shielding a weak flame with your jacket when it's raining and you're desperate for a cuppa – instead, the protected burner will heat water in no time and in any conditions. The whole thing packs up into a one-liter pot, too.
Helinox Chair Zero
RRP $125 (US) / £108 (UK) / $170 (AU)
The Helinox Chair Zero may look and feel like your standard comfortable camping chair, but this clever design from Downunder weighs just 490g/1lb and packs down small enough to fit in or clip onto any rucksack. Ideal for wild campers and bike campers who travel fast and light, and a great storage saver in small vans, too.
DD Hammocks Camping hammock
RRP $49 (US) / £27 (UK)
We can't think of a better plan for a summer's day at our favourite campsite than lounging around in a hammock, and DD Hammocks' camping hammock is designed specifically for camping and campervanning – it's lightweight, portable and a doddle to string up between trees, and there are even internal pockets for valuables. DD's hammock weighs a paltry 650g/1lb 7oz and comes inside a small stuff bag, making it easy to pop in a backpack or store in a tent.
Finisterre Cutlery set
RRP $27 (US) / £20 (UK) / €23 (EU)

Ditch flimsy and wasteful single-use plastic and upgrade your camping cooking setup with this smart cutlery set from Finisterre's collaboration with Mizu, makers of sustainable bottles. The perfect stocking filler for eco-friendly campers and globetrotters alike, this set includes knife, fork, spoon, chopsticks and a metal straw, all in a zippable, portable bag.
Fjӓllrӓven Vardag beanie
RRP $23 (US) / £30 (UK)

Brave camping in bracing winter weather in this snug, lined, Fjӓllrӓven beanie hat. The Swedish brand make covetable outdoor apparel ideal for getting out in the elements and their warm Vardag beanie is no exception. A guaranteed crowd-pleaser present for any camper – and the beanie is made with recycled polyester, for extra brownie points.
WildBounds Spun iron camping pan
RRP $74.85 (US) / £56 (UK)

Cook up a cracking camp breakfast in this small yet mighty iron wonder, made at the Netherton Foundry in Shropshire and ideal for using over an open fire. This portable spun iron camping pan is pre-seasoned with flax oil, rendering it non-stick and easy to wipe clean. The oak wood handle can be quickly unscrewed for easy transportation, and this pan is so handsome and hardwearing you'll want to cook with it at home, too.
Original Selk bag
RRP from $170 (US) / £90 (UK)

No, it's not a rogue yeti – it's a Selk bag, a sleeping bag with arms and legs, removable booties and a kangaroo pocket on the front. Yes, it looks pretty weird – but pop a Selk Bag on and you might just be hooked. The Selk was designed in the snowy Chilean Andes, and is so warm and comfortable you'll find yourself tempted to wear it around the house after your camping trip, too. Perfect for the camper who has everything – and there are also mini versions available which make lovely gifts for intrepid camper kids.
Huckberry Swedish Fire Torch set
RRP $40 (US) / £30 (UK)

Bring your own little campfire with you wherever you set up your tent with this clever fire log set. The Huckberry Swedish Fire Torch is a nifty little log that burns for 90 minutes from the outside, using non-toxic fire starters and leaving little mess behind, so it's ideal for smaller spaces and for taking to campsites that permit fires. This two-pack also comes with roasting sticks – so don't forget the marshmallows.
An award-winning travel and outdoors journalist, presenter and blogger, Sian regularly writes for The Independent, Evening Standard, BBC Countryfile, Coast, Outdoor Enthusiast and Sunday Times Travel. Life as a hiking, camping, wild-swimming adventure-writer has taken her around the world, exploring Bolivian jungles, kayaking in Greenland, diving with turtles in Australia, climbing mountains in Africa and, in Thailand, learning the hard way that peeing on a jellyfish sting doesn't help. Her blog, thegirloutdoors.co.uk, champions accessible adventures.
All the latest inspiration, tips and guides to help you plan your next Advnture!
Thank you for signing up to Advnture. You will receive a verification email shortly.
There was a problem. Please refresh the page and try again.