Best camping gifts: great gear makes happy campers
By Julia Clarke
The best camping gifts will keep the outdoorsy folks in your life happy whether they're huddled round the campfire or sleeping under the stars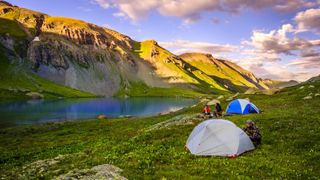 (Image credit: Kyle Ledeboer / Aurora Photos)
With wilderness vacations, glamping and family camping trips on the rise, there's bound to be a few people on your list this year who would love some new camping gear. Why not wow the wilderness lovers in your life with the best camping gifts and help them get the most out of their time in the outdoors?
Our guide to the best camping gifts covers everything from small tokens to add comfort at camp to show stopping gear that will revolutionize your loved ones' time in the outdoors. When you're seeking something to enhance their safety or comfort, we've got you covered.
If you're still looking for outdoorsy gift ideas, check out our guide to the best gifts for hikers.
Camelbak Horizon Vacuum Insulated Tumbler
What says you care more than making sure the camper in your life can enjoy a cozy cup of joe round the campfire? The Camelbak Horizon Vacuum Insulated Tumbler is a big mug with impressive thermal insulation. The mug's clear plastic lid is a push-on fit with tight seals to retain heat, while the sipping slot has a three position slider which, when fully closed, will prevent slopping if jogged or big spills if tipped over.
A silicone base pad gives the Horizon good grip on smooth and even sloping surfaces, and the power-coated stainless steel body resists drops and knocks. The tumbler is also available in 300 (10 fl oz), 350 (12 fl oz), 600 (20 fl oz) and 850ml (30 fl oz) sizes – or, for those who prefer a more compact shape with a strong and comfortable handle, the mug version (350ml/12 fl oz) has the same insulation properties and lid. Though predictably good at keeping drinks piping hot for hours, and cooled for even longer, the tumbler also has potential as a 'hay box' cooker.
Nite Ize Inova T7R Powerswitch Flashlight
Light the way for you camping friends with this versatile flashlight which you can shift from spotlight to wide flood with a simple twist of the head. The end cap switch activates six illumination modes, from a high beam to a momentary strobe. The PowerSwitch dual power delivers juice through micro USB rechargeable Lithium-Ion batteries or two CR123 batteries – which aren't included but are widely available. Having this option means you can take spare batteries on longer adventures, where you won't be able to plug the torch in and recharge.
A charge indicator light turns from red to green when fully charged, and visa versa, so you can make the switch to batteries in good time, and there's no more worrying about a fading light just when you need it most. The precision-machined, rugged mil-spec aluminum body is shockproof, crushproof and water-resistant (not waterproof, though). A steel belt clip keeps the flashlight secure and accessible.
Gerber Center Drive Multitool
Thing about getting someone a multitool as a gift is if means you get them at least 10 gifts in one. The Center Drive has upgraded the definition of a best multitool with its longer tools and a center-axis driver system that uses standard bits. That design allows for the same maximal torque and handling as traditional tools. It has a full-size (3.25-in blade) outboard knife, an extended bit driver, standard pliers, spring-loaded needle nose pliers, a fine/coarse file, serrated blade, awl, pry bar, nail puller, ruler, bottle opener and wire cutters.
It's as good as an accessory tool for a craftsman as it is for a camper. There's no skimping on tool size or functionality with the Center Drive. It packs down to a compact design in the closed position, but it comes to life with a single-button, thumb-operated opening system.
Powertraveller Falcon 21 Solar Charger
Ever wish your loved one could check in from camp, but their phone is dead? Get them a solar charger and they can keep their phone, camera and other gadgets juiced up and ready to go. With the Powertraveller Falcon 21 Solar Charger, in bright, sunny conditions there's the opportunity to recharge two devices simultaneously from the one via the 5V USB port and the other via a 20V DC connector, designed for laptops (up to 40W).
The charger's light weight for a 21W panel makes it an attractive choice for backpacking where every gram counts, and it's easy to hook on to a rucksack or tent thanks to metal eyelets and carabiners (included in the box). The three solar panels fold up to a neat size, too, when not in use, and their IPX4 rating means they'll withstand water splashes and dust.
SOTO Windmaster Camping Stove
Make sure the camper or backpacker in your life ends the day with a hot, tasty meal. As a classic screw-in type stove, the SOTO Windmaster has all the traditional advantages of a conventional canister-top design, namely, quick and easy set-up plus minimal weight and pack size. This makes it a good choice for extended backpacking trips or fast and light missions. However, as its name suggests, the Windmaster also offers superior performance in breezy and gusty conditions compared to most of its screw-in rivals.
The secret is its effective engineering. The concave burner head has a small but well-designed protective lip, while the low-profile pot support places the pot very close to the flame. Together, these features combine to offer excellent wind-resistance.
Coleman Deck Chair
You don't want your outdoorsy friends to be sitting on the wet ground, so why not get them the best camping chair? Keep your camping drinks and snacks on hand with Coleman's comfy director-style chair – the handy side table means you don't need to bring a separate folding camp table with you. We like the curved arms and wide supportive back panel of this model, which only weighs 3.5kg but can still take up to 113kg of weight. A smaller weight and size makes the Deck ideal for popping into motorhome storage space and car boots when you're on the go.
Top marks for easy transportation, too – the chair folds up in seconds, and two built-in straps mean you can carry the Deck chair without needing to stick it in an easy-to-misplace carry bag. The aluminium legs are connected, so you won't sink into soft ground.
Sea to Summit Ultralight hammock
We can't think of a better way to support your camping friends than with a hammock for sleeping under the stars and swinging in the breeze. Clever design and high-tech materials have been used to create a fully functioning hammock that compresses down to a grapefruit-sized bundle, so it can be slipped into a pack side pocket. The suspension straps (an add-on buy; you can also use correct strength ropes) are quick to deploy while the slide buckles allow for precise alterations to get the centering and the height right. Sea to Summit advises against sleeping more than 18 inches above the ground, but that's about the right height for comfortable and practical use anyway.
Despite its tiny packed size the Ultralight has the necessary length and breadth for sleeping on the diagonal comfortably.
PrincetonTec Helix Backcountry Lantern
There's something both symbolic and practical about a lantern as a gift, and the PrincetonTec's Helix Backcountry lantern is sure to please the camper in your life. There's a lot to love about this little lantern – it may only weigh 155g and pack down to the size of a coffee cup, but it's a very useful light source. Dim the light from a bright 150 lumens down to a more ambient 30 lumens, or switch to the red light mode when you want to locate something without blowing your nightvision, or if you're flying under the radar on wild camping trips.
We love the concertina-style lamp, which is easy to erect or fold down on the fly. The lantern has sturdy tripod-style legs for use on the floor, or can be turned upside down and hung from a branch or a tent loop – it's is also water-resistant if you encounter stormy weather. This lamp is USB chargeable.
Thermarest Compressible camping pillow
Make sure your camping friend gets a good night's sleep in the wild with Thermarest's Compressible pillow. This pillow is packed with comfortable foam but still manages to compress down to the size of a water bottle and weighs a middling-to-light 260g.
Thermarest also recommend this pillow for flying – it's perfect for long haul journeys, especially if you hate inflatable neck pillows, and this versatility makes the pillow's more expensive price point more palatable. This was the only pillow we tested with patterned designs available, which are great for kids or for cheering up your campervan, bell tent or even your sofa. The foam stuffing is also fully recycled, and four sizes of the pillow are available (we tested the medium, but you can also choose small, large and extra large).
Yeti Tundra 35 cooler
Whether they'll admit it or not, all any camper wants is a Yeti cooler. The Yeti Tundra has long been considered the gold standard in hard-sided camping coolers. And with good reason. More than any other cooler out there, the Tundra is equipped to keep your food and drinks cool on multi-day trips, all while standing up to the rough treatment of life on the road and at camp.
The Yeti is made with three-inch-thick walls of polyurethane foam insulation and uses heavy-duty rubber latches and freezer-quality gaskets to ensure your food and drinks are kept cool for up to six days. The exterior is filled with handy features too. The most impressive and useful of these are a duo of anchor points that let you strap the cooler down to your truck, boat or gear trailer, military grade rope handles, non-slip feet, and interlocking hinges that ensure an ultra-tight seal.
OlPro Pop pop-up tent
If you're buying for a camper with kids, consider making their trips easier with a pop-up tent. This good-looking tent looks too classic to be a pop-up – but pop-up it does, almost instantly, and the Pop is also quick and headache-free to dismantle. Inside there's a generous bedroom with lots of space for two people and two doors for easy access, and we like the domed roof with good space for sitting up.
Outside, there's a mini porch that keeps rain off when you're getting in and out of the tent. This is a great tent if you want an easy summer-ready pop-up that can still deal with bad weather if a storm is looming. It's a twin skin product with an outer fly that is waterproofed to 3,000mm (meaning it can withstand heavy rain), and the crossed poles and guy ropes make it reasonably sturdy in windy weather. There's also a good, thick groundsheet to keep your sleeping bag dry. Top marks for this weatherproof but affordable instant tent.
Nemo Tensor Ultralight Sleeping Pad
What's better than making sure your loved one has a comfortable place to lie down after a long day in the hills? Nemo's lightest pad still offers luxurious comfort. It comes in ten shapes and sizes, five insulated and five not, including short, mummy, and rectangular, wide, and long. One of our only complaints is that it is hard to pick which shape and size to get, because there are so many options, but all versions of the mat are 3 inches thick and structured with 'Spaceframe' baffles, which are both stable and which distribute your weight evenly.
Happily, the insulated pads are as silent as the non-insulated while you sleep, because the body-heat reflecting insulation is suspended inside the pad. The zero-profile, multi-functional, micro-adjustable valve doesn't stand proud of the pad, and it's placed where it's easy to let a little air out if the pad feels too hard. The pad comes with Nemo's Vortex pump sack, which helps minimize moisture from your breath getting inside.
Julia Clarke is a staff writer for Adventure.com. She is an author, mountain enthusiast and yoga teacher who loves heading uphill on foot, ski, bike and belay. She recently returned to her hometown of Glasgow, Scotland after 20 years living in the USA, 11 of which were spent in the rocky mountains of Vail, Colorado where she owned a boutique yoga studio and explored the west's famous peaks and rivers. She is a champion for enjoying the outdoors sustainably as well as maintaining balance through rest and meditation, which she explores in her book Restorative Yoga for Beginners, a beginner's path to healing with deep relaxation. She enjoys writing about the outdoors, yoga, wellness and travel. In her previous lives, she has also been a radio presenter, music promoter, university teacher and winemaker.
All the latest inspiration, tips and guides to help you plan your next Advnture!
Thank you for signing up to Advnture. You will receive a verification email shortly.
There was a problem. Please refresh the page and try again.