Best gifts for hikers: perfect presents for backpackers and trekkers
These best gifts for hikers this Christmas will have them planning epic adventures with gusto for 2022 and beyond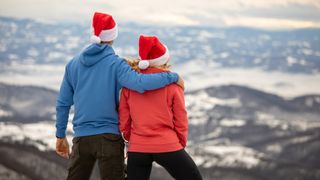 (Image credit: Getty)
We've rounded up what we think are the best hiking gifts, just in time for Christmas. While your loved ones may not welcome them quite as much as solid gold, these are gifts that easily trump frankincense and myrrh, as well as many other gift ideas you may have had in the run up to this festive season.
With so many outdoor products out there, it can be a bit dizzying trying to select kit for your chosen recipient. That's why we've curated this list of 10 of the best gifts for hikers. The items listed all get our stamp of approval as some of the finest hiking kit available. And the great thing about hiking gifts is that they provide inspiration for awesome adventures 2022. After all, all those Christmas treats aren't going to burn themselves off!
Our best hiking gifts feature everything from stocking fillers like beanies, socks and compasses to amazing presents, like the Polar Grit X GPS watch and the Deuter Trail Pro 36, one of the best hiking backpacks money can buy. In short, they're sure to provide inspiration for your Christmas shopping.
If your loved ones love nothing more than a camping trip or a backpacking holiday, check out our guide to the finest camping gifts for yet more festive inspiration. We wish you a merry Christmas and a hikey New Year!
Deuter Trail Pro 36
What better way to let that special someone know you've got their back than with a new hiking backpack? The Deuter Trail Pro 36 is a pack that has it all. From pole, ice axe and helmet attachments to a lid pocket, two side pockets (one zipped, one stretchy) and an internal valuables pocket, to a wet kit compartment and a rain cover, it's a fully featured beast. But its smartest feature is arguably the breathability of its porous foam back pads, and the wide ventilation channel up the spine, facilitating airflow without compromising your centre of gravity.
Black Diamond Distance Carbon Z hiking poles
Keep the hiker in your life on their feet with new hiking poles to help them navigate steep downhills and rough terrain. A versatile piece of kit for both hiking and running, Black Diamond Distance Carbon Z trekking poles are light, compact and user-friendly. The three-section poles lock into place with a quick tug on the EVA foam handle, clicking the connected carbon sections into one stable and solid carbon shaft. Flexible 'speed cones' between sections guide the sections together smoothly. Put simply, these are some of the best trekking poles out there.
LED Lenser MH8 headlamp
As the days get shorter, you can light the way for the hiker in your life with a new headlamp. The LED Lenser MH8 is an ideal option if you are looking for a versatile headlamp for a multitude of different uses and activities – say, one that offers proximity lighting for moving around in camp, plus dynamic settings for hiking on the move and a spotlight beam for picking out distant objectives. It features boost, high, medium and low power modes, as well as a strobe setting, plus red, green and blue ambient light modes. This versatility makes it an obvious choice among the best headlamps for the trails.
Optimus Vega camping stove
If you're searching for a gift for someone who loves overnight trips, making sure they have a warm meal at night is sure to impress them. A serial winner of outdoor magazine gear tests, the Optimus Vega is one of the few stoves designed to take winter temperatures in its stride, making it one of the best camping stoves for year round adventures. Flip the gas canister upside down (there are support legs to hold it in place) and the heat gets a 'Turbo Boost' – ideal for cold temperatures or if you need to cook in a hurry. Boiling or cooking in sub-zero temperatures may sound extreme, but early mornings at altitude in summer can see the mercury tumble.
Outdoor Research Crocodile Gore-Tex Gaiters
Who doesn't want their loved ones to have warm, dry feet on their expeditions? Outdoor Research's Crocodiles have been around for years and are now widely regarded as the best gaiters, especially in the USA. Extending to just below the knee, and available in a wide range of fits including dedicated women's sizes, they provide full coverage and protection as well as a fairly close, snug fit that effectively fends off snow, moisture and trail debris. They feature a 70-denier nylon upper panel backed with a three-layer Gore-Tex waterproof-breathable membrane.
Rab Logo Beanie
The eponymous logo on this hat carries a certain amount of cachet among outdoorsy types, so you'll immediately fit in when you stroll into a climbers' café or walkers' pub. The Rab Logo Beanie comes in loads of colors, so there'll be a hue to match your waterproof jacket or puffer jacket of choice. As a warm hat for winter and springtime hiking, climbing or even a good old-fashioned snowball fight, it does the job. It's made of a lightweight single-knit fabric that provides moderate warmth without causing your head to overheat. Unlike cheaper imitations, it also has a fleecy internal headband to keep ears toasty, minimize irritation and generally add to the performance. It's easily one of the best hiking hats out there.
Injinji Trail Midweight Crew
Cozy socks are a classic gift and there's something very Christmassy about toe socks. Injinji are the pioneers of the toe sock, creating some of the most innovative and best hiking socks available. The Trail Midnight Crew is a nuggety and versatile weapon, which can be deployed during challenging treks through the mountains, or for running escapades across rough and rugged terrain. They're up for anything. The idea of the toesock is that it prevents you pinkies rubbing together and causing blisters or hotspots, and it allows for greater dexterity on technical trails because you can splay your toes. Having used such socks for years, I can say that all this works perfectly (the only downside being that it takes me a while to squeeze my toes into them).
The North Face Montana Futurelight Etip
The wonderfully warm North Face Montana Futurelight Etip gloves are perfect for cold-weather hill walkers, even though it's marketed mainly towards skiers and snowboarders. Despite this, there's still a pair of the best hiking gloves money can buy. TNF's proprietary Heatseeker Eco insulation (70% recycled) does an excellent job of heating hands. On top of this, brand's Futurelight membrane insert is both breathable and waterproof, preventing moisture from getting in or building up inside the glove, even during stiff climbs. The outer also has a water repellent finish.
LifeStraw Go 1-litre (34oz) water bottle and filtration system
This water bottle/filtration system from LifeStraw is sure to be a welcome gift for anyone who spends time in the backcountry. It's of the best water bottles out there, especially considering its filtering qualities. The ingenious two-stage filtration bottle transforms almost any non-salt water source into clean, safe and tasty drinking juice without using chemicals or batteries, by forcing it first through a membrane microfilter (which lasts for up to 4,000 litres – or over eight years of continuous use) and then an activated carbon filter (with a lifespan 100 litres) – both of which can be replaced. The bottle is BPA free, and the filtration system protects against 99.999999% of bacteria, 99.999% of parasites and microplastics and chlorine, organic chemical matter, dirt and cloudiness – plus it improves the taste. There's also the new Go Steel version (£64.95), which is made with stainless steel and features double-wall vacuum insulation that keeps liquids cool for hours.
Silva Expedition Type 4 Compass
The symbolic connotations of a compass make it a great gift, and especially for a hiker. Silva's Expedition Type 4 is arguably the definitive baseplate, the best compass out there, the stalwart of the navigation world. It's used for everything from Mountain Leader training courses to international expeditions. It is lightweight and sits easily in the hand, with an oil-damped needle that is weighted for use in the northern hemisphere (magnetic equator and magnetic south variants also available). Orienting arrows and lines, the direction of travel arrow and degree markings on the dial are all crisp and clear, as are the Romer scales on the baseplate, in 1:25k, 1:40k and 1:50k. The bezel shows the four cardinal compass points plus numeric 20-degree increments, with hashing every 2 degrees. The compass features luminescent markings too, enabling low-light use.
Celestron Nature DX ED 8x42 binoculars
A pair of the best binoculars are the perfect way for your loved one to enhance their appreciation of nature. If you're looking for an entry-level pair of binoculars that squeeze under a particular price point, then the Celestron Nature DX ED 8x42 are definitely worth your consideration. You get a good wide field of view – which is really important if you're watching birds or fast-moving wildlife. The 42mm objective lens and ED glass technology deliver an image with bright, natural colours. And the fact that it can focus down to 2m make these contenders for the general wildlife watcher. These are a serious pair of nature binoculars that will meet the needs of the majority users and that deliver a really impressive image for your money.
Polar Grit X
The perfect gift for off-grid adventurers, The Polar Grit X combines a sturdy build, a streamlined design and a wide range of activity, nutrition, sleep and recovery functions, making it one of the best GPS watches available today. It has a long battery life and a wide range of features built specifically for hiking and trail running adventures, including ultra running, but is less optimal for traditional road running training.
The Training Load Pro feature monitors the impact of your efforts, FuelWise keeps track of your fueling and hydration needs, FitSpark suggests workouts to aid recovery and Nightly Recharge and Sleep Plus Stages provide good sleep assessments relative to your fitness and training load.
All the latest inspiration, tips and guides to help you plan your next Advnture!
An outdoors writer and editor, Matt Jones has been testing kit in the field for nearly a decade. Having worked for both the Ramblers and the Scouts, he knows one or two things about walking and camping, and loves all things adventure, particularly long-distance backpacking, wild camping and climbing mountains – especially in Wales. He's based in Snowdonia and last year thru-hiked the Cambrian Way, which runs for 298 miles from Cardiff to Conwy, with a total ascent of 73,700 feet – that's nearly 2½ times the height of Everest. Follow Matt on Instagram and Twitter.