Black Friday hiking boot deals: find the biggest savings on the best boots
Don't miss the best Black Friday hiking boot deals. Your feet will thank us for this round-up of brilliant boots at amazing prices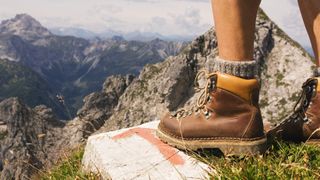 (Image credit: Getty)
When it comes to finding the best Black Friday hiking boot deals we have done all the leg work for you. Hiking boots are the most important piece of kit for any hiker. You're hopefully going to be walking a long way in them so it's good to get the best possible pair. By taking advantage of Black Friday discounts and offers you can make your money go further and bag a pair of boots you've had your eye on all year. 
Black Friday is on November 27 this year but here at Advnture, we're mindful of the fact that the shopping event of the year is now spread over a week or more. So we'll be searching out hiking boot price cuts and deals you won't want to miss right up until the big day and beyond to Cyber Monday on 30 November. Bookmark this page if you want to know the best hiking boot deals and read on to see what we've discovered so far.
Black Friday hiking boot deals
Black Friday is finally here. And lots of hiking boot brands are currently available at hugely reduced prices. Here are the best deals we've come across...
Black Friday hiking boots deals from around the web
When it comes to finding the best Black Friday hiking boot deals, let us save your searching shoe leather. We have put together a list of some of the most popular and well-respected retailers so you can find the best deals this Black Friday and buy your boots safe in the knowledge that you're getting what you paid for.
Amazon: The world's biggest retailer has a huge range of hiking boots with whole ranges discounted for Black Friday.
If you want to buy your hiking boots from a specialist there are plenty out there. We've compiled a list of retailers who can be relied on for a good deal when Black Friday arrives.
US retailers:
UK retailers:
What products are discounted in Black Friday hiking boot deals?
Everything is potentially up for a deal on Black Friday. It's become a shopping festival on an unprecedented scale. Retailers know millions of shoppers will be looking for bargains and make the most of the opportunity to sell, sell, sell.
You're certain to see prices plummeting on hiking boots along with other hiking equipment, as you can see in our guide to the best Black Friday hiking deals. We'll be sifting through the sales to find the biggest reductions and best deals. So bookmark this guide and keep coming back to see the latest hiking boot offers.
When is Black Friday?
In 2020, Black Friday is on November 27. As usual, since internet shopping took off, what is now a week or more of discounted sales, culminates on Cyber Monday, which this year is on November 30. Some retailers keep their sales running further into that week too where it all flows into Christmas shopping time. It's been a difficult year for many shops this year so we expect there to be plenty of hiking boot bargains as retailers make the most of this opportunity to clear 2020 stock.
When do Black Friday hiking boot deals start?
Black Friday used to be just a single day. But retailers now spread the sales (and make the deliveries more achievable) over a week or more with deals and reductions all the way up to the big day and beyond. This means the bargains aren't as concentrated into one 24 hour period so are potentially harder to find. Which is where we come in. We have scoured the internet to find hiking boot deals that are genuine bargains. This means highly-rated boots at great prices. The kind of deals that you have to tell all your friends who hike about (after securing a pair for yourself, of course).
How long do Black Friday hiking boot deals last?
There is no set time for how long deals last. Sometimes, they last mere minutes as once all the stock has gone, that's it. Other hiking boots will be on offer to the end of Cyber Monday. Speaking from experience, if you see the right boots at the price you want to pay, it's worth snapping them up before they sell out. Avoid Black Friday regret and annoying everyone with talk of the ones that got away.
Advnture's expert hiking buying guides
When it comes to buying essential new outdoor gear like hiking boots, it's important to get some expert advice. To help you pick the best Advnture has put together a range of definitive buying guides dedicated to hiking and camping equipment. These guides are written by experienced outdoor experts with huge knowledge of how equipment performs in the field so you can trust their recommendations. 
We constantly update these buying guides with the best offers available online. So bookmark them and check them often for the best deals Black Friday has to offer.
All the latest inspiration, tips and guides to help you plan your next Advnture!
Thank you for signing up to Advnture. You will receive a verification email shortly.
There was a problem. Please refresh the page and try again.