9 essential running hacks that you need to know
Make your running more enjoyable with these great tried-and-tested tips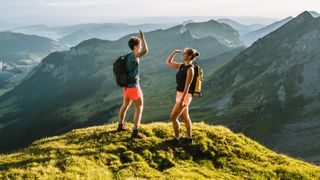 (Image credit: Getty Images)
If you are a keen runner who likes to enjoy an adventure, whether solo or with a friend, you'll enjoy our useful hacks. These tips for easier adventures are aimed at people who like to run and explore. It could be you are keen to run a longer route over one day on trails, or in the hills and mountains. Alternatively, you might be planning a running adventure that takes place over multiple days. All the hacks will be useful for runners who like an adventure.
1. Choose natural fibers
A running adventure is always more enjoyable if you have a lighter pack but that means choosing your kit and clothing wisely.
Merino wool is our first tip for an easier adventure because clothing made with natural fibres, rather than synthetics, are really good at keeping you warm when it's cold and cool when it's hot. This means you won't need more than one or two running tops, for example a baselayer T-shirt and long-sleeve merino top.
Merino, compared to synthetic, has the added bonus of being much less whiffy after lots of exercise.
This useful hack applies to the best running socks, too.
2. Be smarter with water
Water is a vital component of any running adventure, but you can keep it to a minimum – and therefore reduce the weight of your pack – if you plan ahead. We're not saying you should try to scrimp on water, which would be a dangerous idea, but remember that finding water sources during your adventure means you'll have less to carry.
The volume of water that you will need to take with you will depend on how far you are going and what natural water supplies there will be en route. As a minimum you should make sure you have filled your water carriers, whether this is a hydration bladder or soft flasks.
However, our hack is to make sure you carry a lightweight packable drinking cup so you can scoop up fresh water when you see it during your adventure. If you are not sure how clean the water will be, take a small and portable water filtration system, which means you will have access to fresh water even if it doesn't look so appetising.
Another tip is that if you know it will be hot when you are running, freeze water in your hydration flasks the night before you set off.
3. Vest packs are best
Not all backpacks are made the same. For this reason, our second hack for an easier running adventure is to make sure you choose a running-specific vest pack.
A vest pack keeps the pack higher on your back and shoulders compared to a traditional backpack, and it offers a neater and more snug fit. This means that the weight of the pack is easier to carry because of where it sits on the body and the fact it is less likely to move about.
If a pack fits neatly you are less likely to suffer rubs and irritations when running.
There are many good running specific vest hydration packs that come in a range of sizes to suit different physiques and also have a variety of volumes to suit your adventure.
Look for vest packs with plenty of stretchy pockets and compartments so that you can easily add and access your kit.
4. Simplify navigation
It used to be that adventure runners needed to take a full-size map and compass with them for safer navigation. These days there are plenty of other options, although it is still vital that you have the tools to ensure you know where you are and where you are going.
You could choose to print only the section of map that you require and add a good quality compass. A reliable navigation app is a good backup. Why not plan ahead and add your hoped-for route to the app? Many apps sync with modern GPS sports watches so you can have turn-by-turn route details on your wrist,
In fine weather, many people now use map and navigation apps as their first choice for checking route details on the ground, but they should never be your only resource. Phones can fail, but if you have a small section of map and a compass stashed in your pack somewhere, you can use your phone app as guidance.
Another way to reduce the need for navigation is to choose signposted trails and routes. For example, the West Highland Way in Scotland is way marked. It's still important to have a map with you in case you miss a signpost but many routes are easy to follow by waymarkers alone.
5. Learn to lace
There are different ways to lace up your running shoes to give better support and comfort. One of the lacing methods could be the simplest hack you do for an easier running adventure.
6. Run slower
Reducing your pace a little is likely to have the bonus of allowing you to increase your distance. If you use up all your energy in the first few hours by setting a fast face, rather than staying in your comfort zone, you will suffer overuse of your muscles and you will be ore likely to pick up an injury. Learn how to pace yourself to be able to run further and with greater enjoyment.
Another great hack is to walk the ups and run the flats and downs. You will preserve lots of energy and keep running muscles in better condition by employing the technique of many ultra-distance runners.
7. Use running poles
Making use of running poles can help to reduce fatigue on longer distance running adventures, especially if there is a lot of elevation. The poles help to keep some of the weight and excess of activity off the leg muscles and distribute it more evenly across the body.
Poles are also useful on rough ground to maintain balance and they are a great aid when crossing stream and rivers.
8. Waterproof on the cheap (and remember duct tape)
A cheaper alternative to a dry bag or waterproof phone case is to use a sealed ziploc-style bag. It's a useful way to protect clothes, kit and valuables from rain and the moisture of sweat.
Duct tape wrapped around the front of your running shoes can help to keep out the wet from rain or wet ground if you are suddenly caught in a storm.
In fact, duct tape is an essential extra piece of kit for any adventure. It can be used to mend equipment, such as a waterproof jacket, trail running footwear and a running pole, or you can use it for blister protection. Add a length of duct tape wrapped mourned another mite of kit, such as your running pole.
9. Buy shoes after a run
If you need new running shoes, it's better to get fitted for a pair after you have run. When we run, especially longer distances or on warmer days, our feet swell. The last thing you want on a running adventure is shoes that are too tight.
So our final tip is to go for a run before you head to your local sports shop to choose new trail running footwear.
All the latest inspiration, tips and guides to help you plan your next Advnture!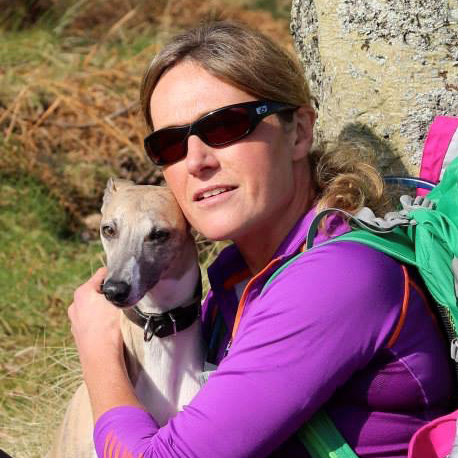 Fiona Russell is a widely published adventure journalist and blogger, better known as Fiona Outdoors. She is based in Scotland and is an all-round outdoors enthusiast with favorite activities including trail running, mountain walking, mountain biking, road cycling, triathlon and skiing (both downhill and backcountry). Aside from her own adventures, Fiona's biggest aim is to inspire others to enjoy getting outside and exploring, especially through her writing. She is also rarely seen without a running skort! Find out more at Fiona Outdoors.