Essentials for solo hiking: tips and gear for awesome adventures alone
Our guide to vital kit and skills if you plan to go walking on your own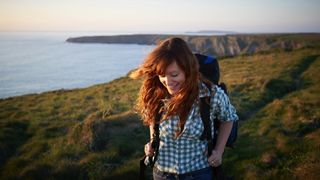 (Image credit: Getty Images)
Are you a keen solo hiker, or thinking about spending more time walking on your own? People who hike solo, or go solo backpacking, talk about many benefits, such as feeling more fully immersed in nature and having a greater awareness of their surroundings, especially the wildlife.
Doing outdoor pursuits on your own can also improve self-confidence and enhance skills, such as navigation, self-reliance and resilience. Another advantage of solo hiking is that you choose where you go, what pace you walk at and when you stop for a snack or breather.
We're not saying that solo hiking is always better than walking with your partner or friends, but it does have many plus points.
If you already enjoy hiking solo, or you're planning to go on your first walk alone, these tips and gear recommendations will help you have a great time and enjoy your adventure safely.
Tell a friend
Make sure a friend or relative knows where you plan to go for your hike and when you expect to be back. If you don't check in as expected, they'll be able to contact the appropriate emergency services to find you.
Learn to navigate
A reliable form of navigation is needed when heading off for a solo hike. This might include a navigation app but you should also carry a map and compass. However, there is no point in taking a map and compass if you do not know how to use them for safe navigation.
While many people do follow a route on an app or their GPS sports watch, technology can go wrong and it is vital that you have a back up for navigating your way.
There are plenty of navigation skills courses to sign up to, as well as a wealth of books that can give you an overview and/or refresher of how to navigate in the hills and mountains.
Consider a personal locator beacon
It might seem like we are only mentioning the potential hazards of solo hiking at this stage but when you are on your own in the countryside there is no one with you to offer a back up if the worst happens.
If you become injured or lost, try phoning emergency services. Also read these tips for getting emergency help. But if you have no phone or broadband coverage, you'll need a PLB (personal locator beacon). It could be your only hope of being able to get a message to someone to help you.
Take your phone
One of the great pleasures of a solo adventure is the opportunity to disconnect from technology and get back in touch with nature, but it's still essential to have your phone with you in case of emergencies. Make sure it's fully charged, and consider taking a power bank if there's a chance it might run low before you're back. Remember that using GPS will reduce your phone's battery life significantly.
GPS sports watch
We have mentioned a watch as part of a good navigation system. A GPS watch also allows you to track where you have been and tells you other essential information such as the time, how much further you have to walk and even details such as the time of sunset. Look out for adventure watches, which typically have tougher cases designed to resist knocks and scratches, and longer battery life so they won't run out of charge partway through your expedition.
All your own kit
When you are hiking solo, there is no one else to rely on for spare bits of kit and clothing. Your food and hydration is also your own responsibility.
It is up to you to remember to pack all the essentials. If you are out for a day's hike in summer, as well as what you are wearing, you should take hiking gloves, headwear, a lightweight insulated jacket, waterproof jacket and waterproof trousers, as well as an emergency blanket or emergency bag or bivvy.
In winter, you'll need the same essential kit, but more items, too, such as cold weather gloves, a heavier weight insulated jacket, spare base layer, waterproof socks and, if conditions require it, an ice axe and crampons. (Again, you do need to learn how to use an ice axe and crampons for safety.)
The same applies if you plan to camp as part of your solo hike. You'll need all your own camping equipment.
Duct tape
One of the best essential items for all kinds of outdoor activities is duct tape. Carrying a section of tape such as wrapped around a trekking pole, can prove to be a life saver. You can use duct tape to repair a ripped jacket, tape up a hole in hiking footwear, fix a broken pole etc. You can also use duct tape to protect blisters.
Solo hiking first aid kit
Again, you will only have yourself to rely on if you suffer an injury or pain. Make sure you pack a small personal first aid kit with a few hiking essentials.
All the latest inspiration, tips and guides to help you plan your next Advnture!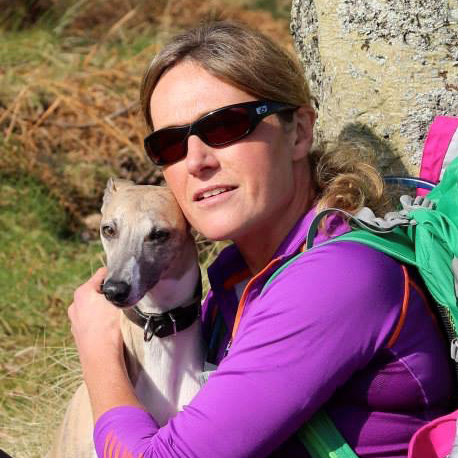 Fiona Russell is a widely published adventure journalist and blogger, better known as Fiona Outdoors. She is based in Scotland and is an all-round outdoors enthusiast with favorite activities including trail running, mountain walking, mountain biking, road cycling, triathlon and skiing (both downhill and backcountry). Aside from her own adventures, Fiona's biggest aim is to inspire others to enjoy getting outside and exploring, especially through her writing. She is also rarely seen without a running skort! Find out more at Fiona Outdoors.