No signal? These are the 6 best ways to call for help in the mountains
From low-fi to high-tech, we help you raise the alarm when you need to shout for help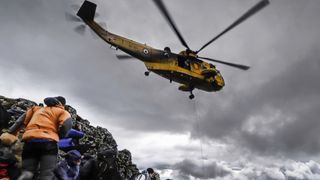 (Image credit: Hans Neleman)
If you're planning on spending a lot of time outdoors, you've hopefully already done your research on what to do if you get lost or even have to spend the night on a mountain. From carrying a first aid kit to building a shelter, there's lots you can do to keep yourself alive while you're waiting for help to come – but what about actually calling for help in the first place?
As you no doubt realize, in a lot of the places you might head for an adventure, including National Parks, cell service can be scant at best, and of course, cell phones themselves have an annoying habit of running out of battery when you need them the most.
Back in 2014, my friend became lost then injured while climbing North Maroon Peak, a Colorado 14er near Aspen. He was unable to call for help and had to wait for his girlfriend to realize he had fallen into trouble, which happened the following day, then alert mountain rescue. He ended up spending two nights out in the bitter cold before helicopter pilots spotted him waving his arms, and sadly, his climbing partner died. Knowing how to signal for help may not have changed their outcome, but it could have reduced the amount of time he spent sheltering on a mountainside.
Signaling is a vital first step in hiking safety, and there are a variety of different ways to alert other hikers to your plight, or to help guide mountain rescue to your location. Signaling can use cutting edge technology, or be surprisingly low-fi, and it's important to know several methods in case one fails you for any reason. Read on for the six best ways to call for help in the mountains.
1. Whistle
Compared to lighting flares or using a satellite device, using a whistle might sound a bit rudimentary. However, just the other week I was out in the Scottish highlands with Arrochar Mountain Rescue where they revealed they'd recently rescued an injured hiker who was able to alert them to their whereabouts by using a good old fashioned whistle.
"People forget about whistles but they're so effective. The sound of a whistle goes for a very long way. Very often there's somebody around somewhere, so they'll come and investigate," says Mike Pescod of Lochaber Mountain Rescue.
Obviously, you can shout for your help, but your voice isn't as loud as a whistle, and eventually, you lose your voice. A hiking whistle can reach volumes of 120 decibels which makes it more audible to other hikes and rescue teams, and it's easier to use continuously. Furthermore, they're affordable, light and many hiking backpacks have them already built in. My Osprey Talon Earth 22 has one built into the chest buckle and in fact, all Osprey packs do.
To call for help using a whistle, the Alpine distress signal is six blasts in quick succession repeated once per minute and the SOS signal is three short blasts in quick succession, followed by three long blasts, followed by another three short blasts, repeated every minute. Learn more in our article on how to use a hiking whistle, and discover what to do if you hear someone calling for help.
2. Flashlight
Another piece of kit that you hopefully already carry with you on every hike and can be used to signal for help, particularly if you're stranded in the dark, is a flashlight or headlamp. A lost hiker recently used his cellphone's light to signal for help while hiking in Hawaii, but that's going to use up your phone battery quickly, so we recommend always carrying a charged flashlight or headlight plus extra batteries for this purpose. I love my Lighthouse elite Focus100 LED Torch for this purpose because it's the size of a pen and I can carry it everywhere.
Calling for help using your flashlight is actually just like using a whistle: the Alpine distress signal is six flashes in quick succession repeated once per minute and the SOS signal is three short flashes in quick succession, followed by three long flashes, followed by another three short flashes, repeated every minute.
One important note here: if you have a more modern torch or headlamp, you'll soon realize that you can't just click the on/off button because that will likely switch through different modes like low and high beam, strobe and red light function. If so, you'll want to just leave it on high beam then use your hand to cover and uncover the beam.
3. Signal mirror
For a low-fi signal, on a sunny day you can use a mirror – or anything reflective really – to call for help or announce your location. You can actually buy signal mirrors like this one on Amazon for just this purpose, but if you carry a compact, a strip of kitchen foil or an emergency blanket, you can use this too.
Mirror signaling is definitely low tech, but it takes quite a bit of skill and of course the sun and your target need to be positioned correctly, however it's still worth knowing about. To signal for help using a mirror, you need to hold the reflective material up next to your face and face the sun (without looking directly into the sun). Then hold your hand out and make sure you can see the reflection in your hand, and make a V sign with your fingers, aiming the beam through them. Then you can guide the beam toward your target (a person) and move the mirror up and down three times quickly.
4. Written signals
Writing out large signals works particularly well if you're stranded in the snow or sand, but it's possible in any large flat area if there are stones or even sticks available. You don't have to write out an entire message, but you can construct a large 'V' for help or an 'X' if you require medical attention and these messages may be seen from aerial crews or even by hikers flying drones. Remember, your sign needs to be as big as possible to be seen from above.
5. Personal locator beacons
Moving on to the world of emergency tech, an emergency beacon for hiking (also known as a personal locator beacon, or PLB) is a small handheld device that will send out a distress signal in the event of an emergency.
PLBs operate using satellite technology, and therefore work even when you don't have cell service, which is why they're recommended for backcountry hikers and skiers. When activated, your PLB will transmit a homing signal which communicates your exact location to a global system of satellites which then communicate that information to the appropriate mountain rescue team to mobilize a search and rescue mission.
A true PLB serves a single purpose – to send out a distress signal when you need help. For a one-time investment of a few hundred dollars, PLBs like the ACR Electronics rescueME PLB1 Personal Locator Beacon provide you with a simple-to-operate device that has a battery that will last for years, but has no other functions.
6. Satellite messenger
If you're serious about being able to communicate in the backcountry, and you're able to spend some money, it may be better to invest in a satellite messenger rather than a PLB.
Basically, satellite messengers like the Garmin InReach Messenger are the holy grail of calling for help. They cost anywhere from $200 to $700, and also send a distress signal when activated. This signal goes to GEOS Worldwide, a 24/7 emergency monitoring and incident response service which is now owned by Garmin and based in Texas. Satellite messengers not made by Garmin use the same network.
Satellite messengers require a monthly subscription plan, so they involve a bigger investment, but they also provide other functions, such as the ability to send and receive messages, as well as navigation and weather reports. Some will even sync with your phone, GPS watch or fitness tracker. Satellite messengers have rechargeable batteries which usually hold their charge for a few days or a couple of weeks.
What about sending smoke signals?
Look, smoke signals aren't just for the Hardy Boys – in fact, it's probably the oldest form of communication when it comes to alerting others to danger or calling for help. That said, the reason we haven't included it in this article as a one of the best means of signaling is because it can create a whole new hazard beyond your sprained ankle; you could start a wildfire.
Case in point: in 2018 one Arizona hiker started three wildfires trying to signal for help and was sentenced to seven years of probation. If your call for help spirals out of control, you could increase your own personal risk, harm wildlife, damage valuable ecosystems and even end up in jail.
It's not totally out of the question to use smoke to signal for help if it's your last resort, but basically you'd need to be capable of practicing wildfire safety and avoid it in dry, windy conditions, and know how to build a campfire properly to keep the fire from spreading.
All the latest inspiration, tips and guides to help you plan your next Advnture!
Julia Clarke is a staff writer for Advnture.com and the author of the book Restorative Yoga for Beginners. She loves to explore mountains on foot, bike, skis and belay and then recover on the the yoga mat. Julia graduated with a degree in journalism in 2004 and spent eight years working as a radio presenter in Kansas City, Vermont, Boston and New York City before discovering the joys of the Rocky Mountains. She then detoured west to Colorado and enjoyed 11 years teaching yoga in Vail before returning to her hometown of Glasgow, Scotland in 2020 to focus on family and writing.