Solo backpacking: the liberating experience of exploring the wilderness alone
Our guide to solo backpacking adventures in the great outdoors, how to stay safe when going it alone, and instances when you shouldn't go by yourself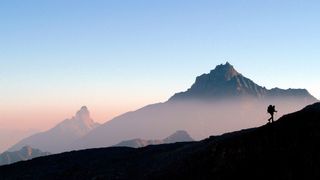 (Image credit: Getty)
Solo backpacking was often the preferred approach of some of history's most influential hikers. "Only by going alone in silence, without baggage, can one truly get into the heart of the wilderness," John Muir wrote to his wife in 1888. The iconic Scottish-American Father of the National Parks would often explore the Sierra Nevada backcountry on his own. Ironically, he's not alone in this view.
Alfred Wainwright, the legendary British hill walker and guidebook writer, conceded that, "I do prefer my own company to that of other people." During his walking years, he usually set out with his hiking boots into the fells on his own. These are just two examples; many great adventurers champion the experience of facing off one-on-one against the mountains.
You're likely to have read time and time again that "solo backpacking is dangerous" or that you should "never hike solo." Let's deal with the latter first. If you are a lover of the outdoors, you absolutely should hike solo. The sheer joy of wandering alone through the wilderness, carrying everything you need to survive in your hiking backpack and experiencing the outdoors on your own terms, is something everyone should try.
Whether or not solo backpacking is dangerous is entirely down to you. If you tell no one where you are going, head for a trail that's out of your comfort zone and have no plan B for when things go wrong, then I'm afraid solo backpacking is very dangerous indeed. If you plan accordingly and make informed decisions, there's no reason not to safely enjoy enough solo hikes to last a lifetime.
The thrill of solo backpacking
In today's busy world, we are rarely on our own. To stand alone on a windswept, high mountain summit and gaze out across an untamed wilderness that stretches as far as the eye can see is an intoxicating feeling. The sense of achievement is certainly confidence building, and the chances are that by going alone you will have learned much more about yourself and your ability to negotiate the backcountry. Furthermore, you'll feel an intimate acquaintance with the landscape that far outstrips that which you would have got from hiking in a group.
For many of us, the great outdoors represents an escape from everyday cares, to a place that is less ordered, less fraught and undoubtedly more beautiful. Solo hiking frees you up to explore at your own pace, to take your best hiking shoes wherever you fancy, make your own discoveries, drink in the sounds and revel in the sights. You suddenly realise how much easier decisions become when you're not considering your less experienced companions or worrying about whether or not the slightly faster hiker at the front is getting frustrated by your pace. Being master of your own destiny in an epic landscape, you'll probably feel like an energetic dog that's finally been let off the leash.
When you should not go solo backpacking
When you're new to the trails
Although solo backpacking is a great way to gain experience and become more self-sufficient in the wilderness, it is not how you should start out. Before you head off alone, you should know how to look after yourself out there and know how to read a map and how to use a compass too.
Learn your craft from more experienced friends and family before planning epic adventures that are yours alone. If you find yourself without someone to show you the ropes, there will probably be a walking group or a mountaineering club in your local area. Joining such a group is a great way to make new friends and learn how to approach the mountains.
Never hike across a glacier alone
There are certain situations where – no matter how many mountain days you've got under your belt – you shouldn't go solo. Some routes in the big ranges involve glacier travel. While these petrified rivers of ice are undoubtedly spectacular, crevasses – huge chasms beneath the surface – are a very real and serious danger. Most crevasses are obvious and easily avoided, but some are hidden by just a thin crust of ice. These are liable to collapse, particularly under the weight of an unsuspecting hiker. To cross a glacier safely, you must be roped up to a buddy, equipped with an ice axe and crampons and be well versed in crevasse rescue techniques.
Be mindful of bears
In certain parts of the American continent, the danger posed by bears means that solo hiking is a very bad idea. This is where research is crucial. National Park websites and guidebooks should have information about whether or not bears are an issue on the trails. Usually there is signage along the route to let you know of the dangers too. If in doubt, turn back.
How to stay safe when solo backpacking
Don't push your grade
Guidebooks, hiking magazines and internet articles usually state how strenuous and technical a certain trail or route will be. When choosing your solo adventures, don't push your technical grade beyond what you've achieved in the past. Choose a way up that is within your comfort zone and identify escape routes for if things don't go to plan.
Let a friend know where you are going
If you get into difficulty when you're on your own, there's likely to be no one around to help you. You need a backup for every situation. First and foremost, always tell a trusted friend exactly where you are planning to go and what your expected timings will be. During your hike, check in with your friend at key points so that they can follow your progress and let them know when you are safely at the end of the trail, or when you have pitched your one-person tent for the night. Even better, the best navigation apps like komoot feature live tracking, allowing a friend to follow your progress on a digital map.
Backpack essentials
It's good to have experience of night walking before you begin your solo backpacking career. This means it's no biggie if you are out later than you intended and night falls, as you will be comfortable solo hiking through the dark. Always take a headlamp for this eventuality. Other essentials include warm layers and a survival blanket. It's easy for even the most experienced hiker to badly twist an ankle. If this happens when you're on your own, you won't be getting off the mountain until mountain rescue come to get you. When the weather turns and night sets in, you'll be very glad of your insulated down jacket.
Take more food and water than you would usually need. Dehydration is a killer in the wild; it leads to fatigue, poor decision making and confusion. When you are cold, one way to get your body warming itself up again is to eat some grub. This also gives you much-needed energy for whatever challenges lie ahead.
Finally, make sure you stow a mobile power source in your day pack, such as a battery pack or solar charger. If you are out for longer than you intended, this allows you to keep your phone, smartwatch and headlamp juiced up, all of which can play a crucial part in keeping you safe.
All the latest inspiration, tips and guides to help you plan your next Advnture!
Alex is a freelance adventure writer and mountain leader with an insatiable passion for the mountains. A Cumbrian born and bred, his native English Lake District has a special place in his heart, though he is at least equally happy in North Wales, the Scottish Highlands or the European Alps. Through his hiking, mountaineering, climbing and trail running adventures, Alex aims to inspire others to get outdoors. He is currently President of the London Mountaineering Club, training to become a winter mountain leader, looking to finally finish bagging all the Wainwright fells of the Lake District and hoping to scale more Alpine 4000ers when circumstances allow. Find out more at www.alexfoxfield.com