Matches, lighter, flint and steel – what's the best firestarter for camping?
We shed some light on the three best firestarters for camping to help you choose the best one for the campfire or to light your camping stove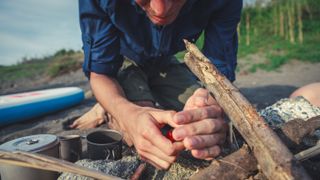 (Image credit: Steve West)
Regardless of whether you're car camping or backpacking, one thing is almost certain – if you can, you're going to want the means to start a fire. That might mean building a campfire to huddle around at night and keep the mosquitos at bay, or you could just want to light your camping stove to make some hot coffee in the morning, but either way, without that spark, camping just isn't as comfortable.
As a fairly minimalist camper myself, for years I'd just throw a cheap lighter in a plastic bag and assume that all would be well. And it was, until I was backpacking in the Rocky Mountains and set up camp only to discover my trusty lighter wasn't working, even though it had been when I'd tested it out the day before. It wasn't a disaster – there was actually a fire ban in effect that summer, the weather was warm and I had enough snacks to get by for the night, but I sure did miss my hot dinner and cup of tea in the morning.
The experience got me thinking a little more carefully about the best firestarter for camping. Assuming you're not going to try to get by with a magnifying glass, you'll want something reliable, lightweight and easy to use in all weather and a cheap lighter may not always be your best option, though it is an option. In this article, we shed some light on the three best firestarters for camping to help you choose the best one to light the campfire or fire up your stove.
Matches
First of all, when we say matches, we do mean waterproof matches for obvious reasons as a regular book of matches lifted from your last hotel stay won't do you any good if it gets damp inside your backpack. A set of waterproof, windproof matches such as the UCO Stormproof Match Kit will set you back more than regular box (to the tune of about $7 for 25 matches), but they'll light even if you drop them in the river while you're refilling your water bottle and that could save your life.
Pros of matches: Lightweight, easy to use and you can put the match in the fire after it's lit leaving you with no waste.
Cons of matches: Not reusable, you'll use one for every fire or each time you need to light your stove, waterproof matches are relatively expensive compared to other firestarters and they don't stay lit for more than about 15 seconds.
Lighter
Chances are, this is the firestarter that you're most comfortable and familiar with for use both at home and at camp. Lighters are available just about everywhere which makes this a super convenient option, but not all lighters are created equally.
You could just go with a super affordable Bic lighter which you can buy in bulk for about a dollar apiece and delivers up to an hour of flame time, which is plenty when you're only using it for five or 10 seconds at a time. These may get wet and work again, but sometimes they won't spark after a soaking, and they're not refillable.
Then you've got refillable butane lighters like these from Urgette which will set you back about $5 per lighter, are refillable and operate a bit like an adjustable mini blowtorch but may not work if you're camping in below freezing temperatures.
Pros of lighters: Lightweight, can be really affordable, easy to use, they stay lit for a long time and some of them are refillable.
Cons of lighters: Lighter mechanisms can fail, lighters can leak all over your bag, they cannot be recycled, may not operate below freezing and if you're using a refillable butane lighter, you'll need to keep an eye on how much fuel is left.
Flint and steel
If this one sounds a bit antiquated, well, humans have been using this method to start a fire for centuries. It's not as convenient as popping into the gas station on your way out of town and picking up a lighter, but it can be a reasonably reliable method of starting a fire if you're out on a long adventure like a thru-hike and you might just prefer it if you're into bushcraft or want to keep your costs and carbon footprint down.
If you don't know, this primitive firestarter consists of striking a piece of steel against a piece of flint or similar rock to create sparks that ignite kindling. You could search for steel and flint in the wild, but these days, you can buy a flint and steel firestarter kit like this one from Bushcraft Survival for $22. That's definitely pricier than the other options we've look at so far, but here's thing thing: a flint and steel set will endure for thousands of fires so depending on how much camping or backpacking you do, it could last for decades.
Pros of flint and steel: Works in all weather, reusable, lasts a long time, sustainable.
Cons of flint and steel: Requires some skill, a little heavier, pricier up front and it can be difficult to get the small sparks to start a fire.
All the latest inspiration, tips and guides to help you plan your next Advnture!
Julia Clarke is a staff writer for Advnture.com and the author of the book Restorative Yoga for Beginners. She loves to explore mountains on foot, bike, skis and belay and then recover on the the yoga mat. Julia graduated with a degree in journalism in 2004 and spent eight years working as a radio presenter in Kansas City, Vermont, Boston and New York City before discovering the joys of the Rocky Mountains. She then detoured west to Colorado and enjoyed 11 years teaching yoga in Vail before returning to her hometown of Glasgow, Scotland in 2020 to focus on family and writing.