Guided hiking: what's so great about it?
Two mountain guides explain the many benefits of guided hiking, from learning important safety skills to finding the best cake in town afterwards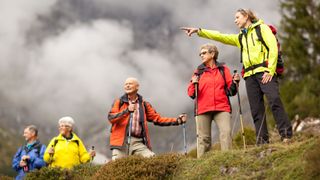 (Image credit: amriphoto)
In the age of information sharing, the best navigation apps are helping to get more people out on the hills in hiking boots than ever before. Whereas once upon a time, finding new hiking trails required a serious sense of adventure or access to insider knowledge gained only through word of mouth, today you can bring up a route app like Komoot, search the local area for a trail that meets your distance and difficulty requirements and head to the trailhead. So why would you consider guided hiking, where you pay someone else to lead you up a trail?
Though hiking and climbing with a guide is the norm in the Alps, in other places like the UK and the US, it tends to be less common. Most hikers are happy to get out there armed with a can do attitude, save themselves the expense and figure things out on their own. Most of the time, this approach works out well, but hiking with a guide carries a whole set of benefits, from your own education and experience to supporting the local economy. When you're hiking for the first time, heading out in a new place, or taking on a hiking trail that is at a higher difficulty level than you're previously attempted, hiring a guide can be a terrific way to have a safe and rewarding experience.
Mark Gibbings, Commercial Manager at the Lochaber Chamber of Commerce in the Highlands of Scotland, likens hiking with a guide to hopping on a red tour bus around a new city when you first arrive:
"It's about sitting back and absorbing yourself, learning something new about the local area and making that cultural connection. A hiking guide can do that for you in the mountains."
To learn more about the benefits of guided hiking, we spoke to two guides from Lochaber, which sells itself as the Outdoor Capital of the UK, to find out exactly why you should consider going out with a professional guide at least once in your life.
1. You'll learn from a local
Of course the caveat to this point is that you want to make sure your guide does live locally, for at least part of the year, but hiking with a guide can give you insider knowledge that you won't get hiking solo. This educational component is one of the key reasons to try hiking with a guide, according to Brian Sharp of Mountain Wave Coaching.
"You'll learn something. Hopefully your guide is incredibly passionate about the local area and not just being on mountains so they'll know everything about the local area from knowing where to get good cake after your hike to the names of the surrounding peaks," says Sharp, whose guiding approach entails special touches like brewing a fresh pot of coffee on the summit and isn't just about dragging his clients uphill.
British Mountain Guide Mike Pescod of Abacus Mountain Guides who provides skills training and mountain guiding in Scotland and the Alps says that teaching his clients about the local ecology isn't just informative – it's a way to fortify the movement towards more sustainable interaction with the outdoors.
"If I'm walking with somebody up Ben Nevis I'll probably talk about geology. You learn about the structure of the rock and then you can read the rock a bit better and figure out how to climb it a bit more easily. So there's that depth of knowledge that I think is part of our enjoyment of the hills. Walking up the hill is nice and you get some exercise, but if you walk up the hill and learn more about it, you develop a connection with it because of your knowledge of what grows there and how it all works, which just enriches the whole experience."
2. You'll gain important safety skills
We've devoted a lot of time to hiking safety, from articles on how to read a map to what to do if you meet a bear, and if you've been following along, you may well feel a bit overwhelmed with all you need to know in order to go out in the hills. Though there's certainly no replacement for experience in this department, hiking with a guide can be a great way to gain important safety skills and build confidence in a shorter amount of time.
"There's potentially more reward in not going out with a guide and learning the skills on your own, but then how do you learn those skills? You get an accelerated way of learning those skills that you need to become an independent walker or climber. We often learn by our mistakes anyway so let's learn from a professional that's already made those mistakes. So you learn quicker and start out doing it all right," suggests Pescod.
Your guide will also have safety equipment like crampons and ice axes that you may not want to invest in for a single hike. Of course, if this is your goal, you should make sure to let your guide know that you want to be confident hiking alone and ask lots of questions along the way.
3. You can focus on the experience
Particularly with a more challenging hike, there's a lot to think about when you're on the trail. Sometimes, worrying about safety and focusing on not getting lost can take up so much of your energy and attention that you forget to enjoy yourself. But if you hand over the reins of navigation to a guide, Sharp suggests that you can have a much more embodied and immersive experience.
"There is definitely something to be said about being led. You're being coached as you go up and you're not having to think about where you're going, you don't need to know what lies ahead, you can trust the person that's guiding you and the benefit of that is that you can then focus all of your time on being amongst mountains and feeling the power of them."
This delegation of mental planning begins even before you set foot on the trail, as you can trust your guide to make a plan, inform you about the weather and any other potential hazards, and tell you exactly what to wear and bring with you.
4. You'll support the local economy
Everyone we spoke to for this article pointed to guided hiking as a great way to support the local economy. Hiking can definitely be a very economical activity once you've got the basic gear like boots and a backpack, and it can be easy to roll into a new area, enjoy resources like roads, toilets, trail signs and parking, and leave without spending a penny. If you hire a local guide who pays taxes in the area, you not only support the guide and their family, but their tax money will go to support the very infrastructure that you enjoyed to get on the trail in the first place. Of course, the same goes for patronizing local businesses like restaurants, coffee shops and lodging while you're in the area.
5. You'll find the secret spots
If you're planning to tackle a popular hike, the chances are you don't really need to do so with a guide, since such hikes are usually well marked and there's often lots of information available about the route online. All of that of course means that the trail is likely to be crowded with other people who used all the same resources as you did to get there. If you want to get off the beaten path, a guide who knows the area can talk to you about your goals and take you to a less crowded – and typically much more scenic – trail where you can enjoy some of that peace and quiet you wanted in the first place.
"Ben Nevis is always busy, but on all the other hills around it you can go walking and climbing and not see anybody all day. If you want space and freedom to go wherever you want, it's brilliant," says Pescod.
All the latest inspiration, tips and guides to help you plan your next Advnture!
Julia Clarke is a staff writer for Advnture.com and the author of the book Restorative Yoga for Beginners. She loves to explore mountains on foot, bike, skis and belay and then recover on the the yoga mat. Julia graduated with a degree in journalism in 2004 and spent eight years working as a radio presenter in Kansas City, Vermont, Boston and New York City before discovering the joys of the Rocky Mountains. She then detoured west to Colorado and enjoyed 11 years teaching yoga in Vail before returning to her hometown of Glasgow, Scotland in 2020 to focus on family and writing.