Hiking trail signs: what they mean and how to use them
We offer a quick guide to some common hiking trail signs – and a few other types of markers – so you can use them to your advantage on your walks and hikes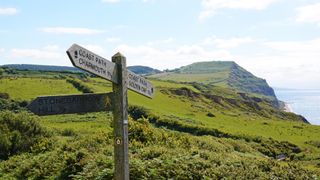 (Image credit: Pat Kinsella)
Hiking is a great way to get off the beaten path and away from civilization, but the trails we walk on are lovingly constructed and maintained by teams of rangers, forestry workers and volunteers who work tirelessly to keep the trails free of obstacles and often, to post handy hiking trail signs that help us on our way. Though not all trails have clear signs marking the way, and hiking trail signs different from state to state and country to country, there are some basic categories of trail signs that it's useful to understand before you hike, much in the same way you want to understand traffic signs before driving a car.
In this article, we offer a quick guide to some common hiking trail signs – and a few other types of markers – so you can use them to your advantage when it comes to remaining safe, sharing the trail, and staying on track when you're out in your hiking boots.
Trailhead signs
Designated trails should have a trailhead sign announcing the beginning of the path. This may be as simple as a wooden sign with the name of the trail and hopefully the walk distance, however it may also come with other informative details such as a route and area map, which is helpful to study in case you come upon an unmarked crossroads. If it's a long or complicated hike, a good hack is to photograph the map on your phone in case you want to refer to it later.
The trailhead may also have information regarding camping permits, wildlife safety and overnight parking if you're backpacking. Pause here to take stock of where you are and where you're going.
If you're hiking into a National Wilderness area, there may be a sign-in book here – be sure to sign your name so that if you get into trouble, search and rescue has some clues about who you are, where you went and when you set off.
Permitted use signs
Before you set off, look out for any signs indicating whether the trail is mixed use. These might be wooden or metal, but will typically have diagrams indicating whether the trail is open to hikers, bikers, horseback riders and motorized vehicles like dirt bikes and four wheelers. Any that are depicted are permitted, unless they have an X through them.
If bikers, horses or motorized vehicles are permitted on the trail you are using, you will want to make sure you aren't wearing your best running headphones so that you can hear other users coming and move out of the way as needed.
The signage may also indicate who has the right of way. Generally speaking, bikers should yield to hikers, however mountain bikers will be moving fast if they're coming downhill so it's best not to play chicken. Meanwhile, as a hiker, you should yield to horses. Read more in our article on what to do if you encounter a horse on the trail. Motorized vehicles should yield to hikers and should slow way down as you pass.
If you encounter users on hiking trails that aren't permitted to be there, alert park rangers or the forest service when you return to the trailhead.
Warning signs
There are various warning signs that you might encounter either at the trailhead or on the trail. These might include the following:
Wildlife warnings may tell you about bear prevalence in the area and what to do if you meet a bear, recent mountain lion sightings and may advise what type of protective equipment you need, such as bear spray.
Hazard warnings alert you to obstacles such as flooding on the trail, construction or trail closures – these should be heeded.
Stay on the trail signs along the way are placed there to keep hikers from cutting switchbacks, which can increase erosion or offset revegetation and conservation efforts.
Private property signs along the trail will alert you to any time you are crossing private land – be respectful in these areas by staying on the trail, not going to the bathroom and being friendly to any land owners you meet.
Livestock warning signs will alert you to the presence of cows where you are at risk of being trampled and will want to keep your dog on a leash.
Navigational signs
You can't rely on navigational signs along every hiking trail unless you're hiking in a National Park, but they sure are helpful when they're there. If you're lucky, these will be arrow-shaped wooden posts with the name of the trail or destination and indicating the direction and distance left to go.
However, they may appear in a different format, for example:
Colored signs: a simple method is just to nail small colored metal signs with arrows to trees or wooden posts.
Numbers: forest service trails may be marked only by number on a wooden or metal sign, instead of a name, so make sure you identify your trail number at the trailhead.
Long trail symbols: long distance trails like the Appalachian Trail and the Pacific Crest Trail will be marked by small signs displaying the trail's unique logo that will be nailed to trees or lamp posts along the way. These are useful when the trail crosses a road or briefly disappears in a more developed area.
Paint blazes: some trails are marked by small dabs of paint on the trees. These vary from state to state and are sometimes color coded or use systems such as different shapes or formats to denote different directions and details, while at their simplest they simply mark the way through the forest.
Flagging tape: instead of blazes, you might see pieces of tape, usually yellow, tied around tree trunks to mark the way. These can also be a way of marking diseased trees for removal so you'll want to be sure that they are for navigation before using them for that purpose.
Rock cairns: perhaps the original waymarker, rock cairns are piles of stones used for navigational purposes and are particularly helpful above treeline where there are no trees. Please do not disturb rock cairns – despite appearances, they aren't art.
Don't want to rely on the unpredictable and inconsistent world of hiking trail signs to navigate the trails? The best approach is to arrive armed with your own navigational tools. Start with our articles on how to read a map and how to use a compass and you shouldn't be lost for long.
All the latest inspiration, tips and guides to help you plan your next Advnture!
Julia Clarke is a staff writer for Advnture.com and the author of the book Restorative Yoga for Beginners. She loves to explore mountains on foot, bike, skis and belay and then recover on the the yoga mat. Julia graduated with a degree in journalism in 2004 and spent eight years working as a radio presenter in Kansas City, Vermont, Boston and New York City before discovering the joys of the Rocky Mountains. She then detoured west to Colorado and enjoyed 11 years teaching yoga in Vail before returning to her hometown of Glasgow, Scotland in 2020 to focus on family and writing.